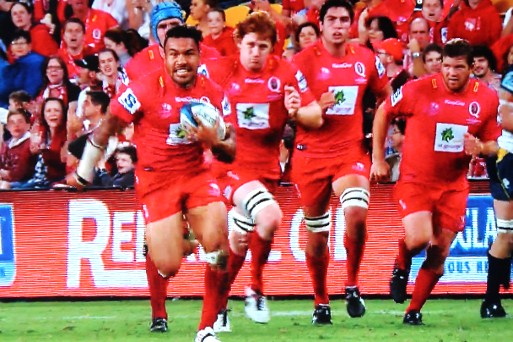 In the past few weeks the Brumbies have opened the door the Reds to take the conference lead. The Reds haven't been able to walk through that door. No such luck this week. Now the Reds need to win in South Africa to stay in touch. While the Stormers are struggling with a Reds 2012 like injury toll and are rolling out what can only be described as a 'B' team. If the Reds can't improve on their dismal record at the Cape it could really spell the end of their season!

Stormers v Reds – The Match
With the two best defensive sides in Super Rugby this year playing this was always going to be an arm wrestle. Neither side looked likely to cross the others goal line in the first half. With the only points coming in the fortieth minute from the lone converted penalty attempt. But that doesn't mean there hadn't been enterprising play from both sides. Genia and Cooper for the Reds seem to be in especially good form.
The second half starts with a bang with the Stormers running a great set move off a lineout. Jantjies cross kicked to Habana on the fly. He drew in his defender before passing to Pietersen on the inside. He drew the fullback before passing to De Villiers who scores out wide. Pietersen fails to convert but the Stormers have stretched the lead to 8 points. But that is the highlight of the match. But, unfortunately, that was the highlight of the second half. The sides traded penalties for the remainder of the game. And although the Reds briefly took the lead I never had the feeling that they were in control of the match or that they were likely to win.
The game drifted away into mediocrity making it incredibly hard to imagine either team playing much part in the finals. It also makes it incredible hard to write an entertaining match report.
---
The Game Changer
De Villiers try was the only moment of interest in this match.

The G&GR MOTM
Because I really can't think of anyone who stood out I pick Tiaan Liebenberg who was pretty good.

Wallaby watch
No one! Not one guy put their hand up tonight.

---
The Details
Crowd:
Score & Scorers
Stormers: 20
Tries: De Villiers 1
Conversions: 0
Penalties: Joe Pietersen 5

Reds: 15
Tries: 0
Conversions: 0
Penalties: Cooper 5
Cards & citings
None