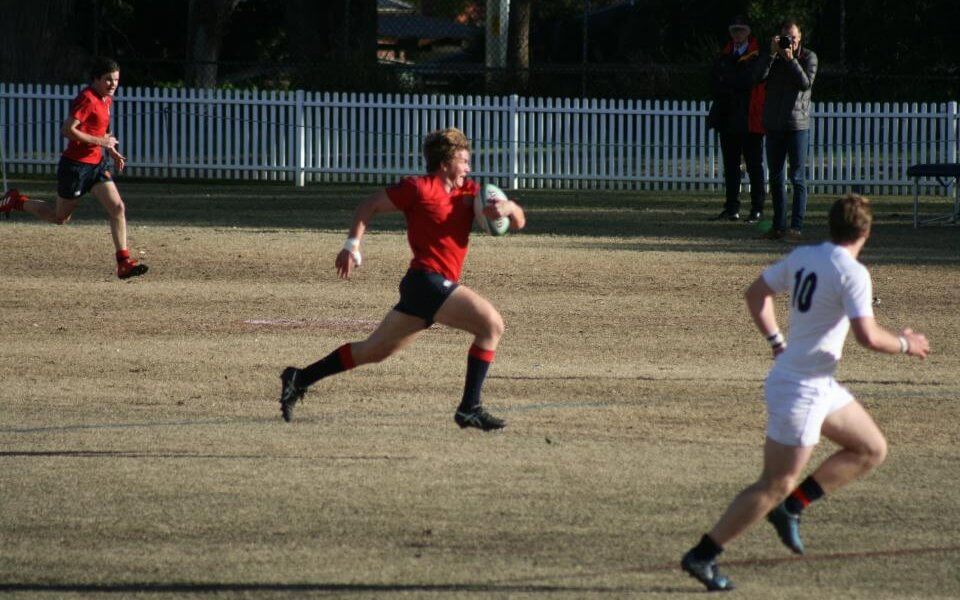 7th April 2018
Barker College has put all schools on notice that they are a serious force this season with a dominant display at Oakhill this afternoon. The final score of 57 nil was an accurate reflection on the difference between these two sides.
The run on teams looked pretty even in size with Oakhill containing some big boppers in prop George Ashkar and 5 Ryan Rhino Peacock.
But all that parity in size counted for nothing after the second scrum of the day when the Barker 8 demolished Oakhill for its first of many tight heads scrum wins on the day.
Coaches Hargreaves and Whittaker do an amazing job each year converting backrowers into props and this year Angus Collison(1) and Dane Wilson (3) were just ramrod straight providing the mighty engine room of Flaherty (5) and Dring (4) behind them, the opportunity to turn every scrum into an attack platform irrespective of whose feed.
With a dominant scrum, the lads in Red just went hard all day. Dominant at the tackle, Pollard (2), Wilson (3) Cameron (6) and Reimer (8) just stopped every Oakhill raid and invariably turned the ball over.
Ball in hand this forward pack works as one and after 8 minutes Flaherty was in for the first try of the day. The points flowed, with Nercessian (10) and Tejcek (9) scoring in quick succession. With Nercessian adding the extras it was 21 nil after 20 minutes.
Oakhill were lost at how to respond. They just were mentally spent as they could not rely on any first phase ball from either their scrums or lineouts. They are not a weak side, it's just the Barker lads were playing as one. Rhino Peacock was providing some starch defensively and was very game ball in hand. In the backs, Oakhill have a class player in Max Laurie (12) who ran hard and straight but against the Red wall he could not win this game by himself.
The Barker backs also shone, with captain Tejcek (9) and Nercessian (10) both putting their hands up for CAS selection. The centres clicked with Jack Dudley 12 and Matt Graham 13 combining superbly to score or set up several try's while being a brick wall in defence.
Hilton Ovendon 15 was all class in attack, running lines similar to Stephen Larkham with deceptive speed and a great swerve. His performance on the day is going to make the coaches scratch their heads when Jayden Kitchener returns from injury next term.
As usual Luke Reimer played a stellar game, just monstering the ball carrier in defence and proving unstoppable with ball in hand. Unless you cut his legs off he just keeps running carrying one two or three defenders with him.
With Cameron 6 and Weymouth 7 (Hugo) playing at flatout speed all day, not missing a tackle and being "Johnny on the spot" at the breakdown, the Oakhill lads could just not find a way through.
Oakhill I am sure will recover, as this was their first real hit out, while Barker will only improve making the trials against Kings, Joeys and Shore real contests.
written by Rod Skellet