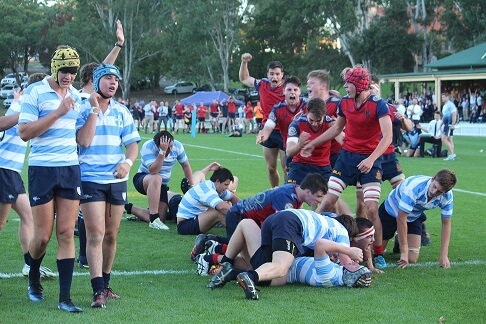 Knox vs Shore
Written by Up the Guts
For the first time in several years Shore made the trip down the Pacific Highway to compete against Knox at Wahroonga. Despite winning the 3rd and 2nd XV fixtures comfortably, Shore would still go into the 1st XV fixture as the underdog against the CAS heavyweights.
1ST Half
From the kick off, much like Shore's fixture against Waverly, it was clear that Knox's size advantage was going to be hard for Shore to overcome. Knox rumbled up the field relatively easily courtesy of some strong carries from their tight five and some slick offloading that allowed them to build momentum early and cross in the forwards within the first five minutes. The try was converted and it looked like Shore would be up against it if Knox continued to dominate territory and possession so easily.
From the restart, Knox were again able to make their way up field. Both out wide and in tight Knox's support play was superb, with runners offloading to players on their inside and outside Shore were constantly back-peddling in defence. Awarded a penalty right in front, Knox elected to take the shot making the score 10-0.
It was much the same story for most of the first half. Knox's dominant forward pack gave the backs the front-foot ball necessary to execute some nice set plays that yielded easy metres out wide. Once again in Shore's 22 Knox this time put it through the hands for 11, Tom Leigh, to dot it down in the corner. The conversion was unsuccessful leaving the score at 15-0.
Knox would score once again before half time in much a similar fashion this time with 14, Charlie Candrick, going over in the right-hand corner. The conversion, however, was again unsuccessful and the score remained at 20-0. Going into the half time break Knox really had left Shore without any highlights save a few big shots in defence from 8, Ben Brownie, including one on the halfway line which reverberated around Knox 1.
2ND Half
For Shore to have any chance at getting back in the game they would have to find a way to wrestle away control of possession from Knox's forward pack who were making too many easy metres in tight. It was not to be, however, as Knox made their way down field immediately after half time electing to take a penalty goal that would put their lead beyond three converted tries. The shot was successful and the score was 23-0.
However, from the kick-off Shore second rower Ben Wilkins charged through managing to gain possession and make his way into Knox's 22. In their first real attacking raid of the game Shore managed to get close enough to Knox's line for prop Will Cant to rumble over. The conversion was successful putting the score at 23-7.
However, Shore's lone try would be the last points of the game with Knox mounting some strong attacking raids in Shore's 22 but, unlike the first half, the passes just weren't sticking and Shore were able to thwart them close to the line a number of times. Towards the end of the game, admittedly after Knox had run on some replacements, Shore were able to dominate for a period and got very close to going over but it just wasn't to be and at full time the score remained at 23-7.
The Teams
Knox
Knox looked like a very well drilled side able to control the game through the forwards and put it through the hands in the backs when the opportunity presented itself. Whilst their offload and support play game was a highlight in the first half it broke down somewhat in the second half making it hard for them to cross the line. There will be some salivating clashes when Knox's forward pack meets that of Waverly and Barker throughout the CAS season.
Shore
Unfortunately, Shore didn't really look to be in the game in the first half at all. With a smaller pack, Shore will have to work on holding possession or it will be too hard to keep defending for long periods. On the brighter side, although Knox made metres up the middle much like Waverly, Shore made several notable one on one shots in defence, which, combined with the enthusiasm to regather the ball off the kick-off eventuating in a try, proved that they are well up for the contest of 1st XV football.
The Players
Knox
The whole forward pack looked to be strong and capable runners but prop Bill Pan, in particular, made some strong runs. Lock Benjamin Yates looks to be around the same sort of height as last year's Australian Schoolboy Nick Frost and gets around the park well for such a big man.
In the backs, inside centre Sam Rechner looked good and the back three also were all fast and skilful players.
Shore
Again, Ben Brownie at 8 was the standout for Shore and his bruising defence is building him an impressive highlight reel. Wilkins also carried strongly and Jackson's kicking game got Shore out of trouble in the 2nd half on several occasions.
Waverley vs Riverview
Written by WLF
A picture perfect day at Queens Park befitting a great Catholic Rugby battle.
Both sides had key players out, Riverview the centres Easy and Bell, and Waves Luca Moretti.
The game opened up as a real arm wrestle both sides playing running rugby, this led to some dropped ball.
After 10 minutes the waves executed a planned backline move smoothly seeing winger Baldwin score in the corner, unconverted.
Following the kick off the Waves fumbled the ball Riverview shifted quickly down the blind side and winger Van Beek scored, converted.
Both forward packs then proceeded to grind away attempting to assert ascendency, until Waves Murphy hit the line and offloaded to Molloy, who scored near the posts, converted.
Again shortly after the kick off Waves made a handling error, Riverview went quickly down the open side and centre Clark scored after several sets of hands, converted.
The following 10 minutes saw the Waves pack dominate and ultimately prop Aholelei crashed over in the corner, unconverted.
In what turned out to be a see sawing match all day, Riverview's half Albert grabbed a pass close to the Waves line and scored, unconverted.
A strong individual run just on half time by fullback Hutchinson-Walters saw him score, converted.
Half Time Waverley 24 Riverview 19.
The theme of the second half was defence, and it was solid by both sides, fatigue did settle in and replacements took place.
Riverview scored a converted try by solid prop Mafi, converted.
Waves then converted a penalty goal, And led 27-26.
Riverview spent the next 5 minutes in Waves half and scored a good backline try to Van Beek, converted.
This proved to be the match winner, as View held on to an onslaught by Waves for the next 8 minutes.
Final score : Riverview 33 Waverley 27.
Conclusion
Both sides used the trial wisely to explore new combinations, defensive patterns and set moves, a good hit out.
Riverview have a very large pack and will only benefit from the return of their 2 centres.
Waverley has a new combination in the back line which will take time to settle, the forwards were committed, and the return of Moretti next week will be telling.
Best on field. Riverview, no 6 Liam Menzies, no 4 Jordan Brown no 9 Lachlan Albert, 13 George Clark and 15 Mathew Dutallis
Waverley no 3 Aisea Aholelei, no 6 Tadgh Murphy, No 7 Connor Molloy, no 11 Phoenix Baldwin and no 15 Lathan Hutchinson-Walters.
Kings v Barker
Written by Rod Skellet
Barker made a small piece of history today winning a thrilling game of rugby, defeating a mighty Kings School 1st XV 36 – 32.
Since this writer has been following Barker rugby as far back as 1978, no Barker 1st XV has defeated Kings at Kings, so the importance of yesterday's win for all Barker followers, players, parents, coaches and old Barker Alumni alike should not be lost.
This game was one the eagle-eyed CAS/GPS Green and Gold writers were watching. King's with 5 of last year's 1st XV backs returning and a strong fast and disciplined forward pack, were going to be the first real litmus test for this Barker team, who were touted as preseason CAS favourites.
Kings received the ball from the opening kick and the ease in which they settled into their play was impressive. The forwards led by 4 Keegan Groenewald (KW) and 3 Archer Holz gave the Kings star studded backline a solid platform to stretch their legs. Phase after phase the backs hammered at Barkers defensive line to escape their own 22 but to no avail. An impressive defensive effort by Nercessian 12 and Graham 13 kept Kings camped just outside the Kings 22. A big hit by Barker's 2 Pollard stopped Connolly 10 in his tracks and with Dring 4 over the ball drew the first penalty which was slotted by Nercessian.
Barker led 3 nil after the initial exchanges.
Barker were quickly back in the Kings half with good ball retention a key a key aspect of their game. Some impressive defensive work by 1 Sam lock and 8 Charlie Cale, was ensuring each yard up the field up field was hard won, but when Barker's 5 Flaherty and 2 Pollard get rolling they are hard to stop. A half break by 10 Jack Dudley made space for 8 Reimer to barge over out wide for the first try.
Barker led 8 nil after 10 min.
A short kick off by Kings signalled that their big men were prepared to take on Barkers forwards. The rucks and malls were tight, but a strong effort by 6 Gery Lefebvre saw the Kings slick backline quickly shift the ball to Skylab year 9 winger Joseph Suaalii, who palmed off one defender and with sheer pace burnt another to score Kings first try. With the extras added by 12 Matt Minogue Kings were on the board.
Kings were getting some momentum and some uncharacteristic loose play in the forwards by Barker, had the ball pop out the side of a ruck into the waiting arms of King's other winger Lachlan Apps who ran 50m untouched to score. The conversion was wide.
Kings led 12 – 8
Kings were finding some rhythm and after gaining field position from a penalty following an offside ruling, the rolling maul from the lineout set piece had Kings big man Archer Holz crash over out wide. Again the sideline conversion went wide.
Kings led 17 – 8
This games combatants deserve plenty of praise as the offensive and defensive efforts of both sides never wavered. Both were convinced they could win and it showed with the passion and commitment that went into phase after phase.
Barker hit back after a nice break from 10 Jack Dudley found Nercessian then finally 13 Graham who evaded one tackler and went over out wide. With Nercessian adding the extras it was Kings leading 17/15.
Right on halftime, Kings scored again with their key strike weapon Skylab Suaali finding space and with Connolly in support went over wide out. A noted point here was the fine effort Barkers capt 9 David Tejcek put in to stop Connolly getting better positioning for the try making the kick another difficult one for Minogue.
Halftime Kings led 22 – 15
The second half was just as brutal as both sides putting their bodies on the line and the willingness showed. There was no doubt Kings backline had the edge on Barker in both size and speed with 9 Charlie Hannell finding 13 Hamish Mac Smith with room who with gazelle like motion found the line.
Kings in front 29 – 15.
Kings were dominating possession with the forwards valuing the pill. 12 to 15 phases were common but Barkers mighty front row of Collison and Wilson did not flinch. The defensive effort was outstanding and Kings started to tire.
With 15 min to go and down by 2 converted tries, Barker started to rumble. The Reds scrum became dominant and with ball in hand the 4 Dring 5 Flaherty 8 Reimer and 6 Cameron applied the pressure. A great bust by best on ground Pollard found Nercessian in support who went over next to the post. With his conversion it was 29- 22.
From the restart, King's were unlucky when a long pass intended for Skylab Suaali, found Barkers speedster 14 Galloway who ran 80 to score under the posts. With time ticking the quick conversion had the game sown up at 29 all with 6 to go.
From the restart, King's were awarded one of the few penalties in the game and from 35m out Matt Minogue put Kings in front 32 – 29 with 4min on the clock.
Tejcek rallied his men and a penalty following another dominant Barker scrum had the Reds gain field position deep in Kings half. King's were not giving up and hard defensive hits by Kings and monster ball carries by Barker kept the crowd on the edge of their seats. Who would wilt? With Barker in their 10th phase hammering the King's line, it was 8 Luke Reimer who finally crashed over with to put Barker in front to end an epic and historic game.
Nercessian added the extras to see the final score 36 – 32.
These two teams had put on a fantastic game of rugby. From this writers perspective, nearly all players from both sides will feature later in the season in their respective representative sides.
On the day my best on ground went to Barkers hooker Billy Pollard who was brutal in defence and was dominant with ball in hand. Billy only just shaded King's Joseph Suaali, who as a year 9 lad is a prodigious talent. It is a pity he is lost to league already.
As for the others, Kingsmen who stood out were 8 Charlie Cale, 3 Archer Holz and 13 Hamish Mac Smith.
For Barker, the front row of Collison, Pollard and Wilson, stood up when it counted while the engine room of Dring and Flaherty never ran out of gas.
As for Luke Reimer well his 2 try effort speaks for itself.
In the backs, the swapping of Dudley and Nercessian from 12 and 10 worked while Graham is a natural at 13.
From this writer's perspective both of these teams will be will be very worthy opponents when their respective schools comps start in earnest, and with hindsight, this game may well have been the championship schools game between CAS and GPS.
Only time will tell.