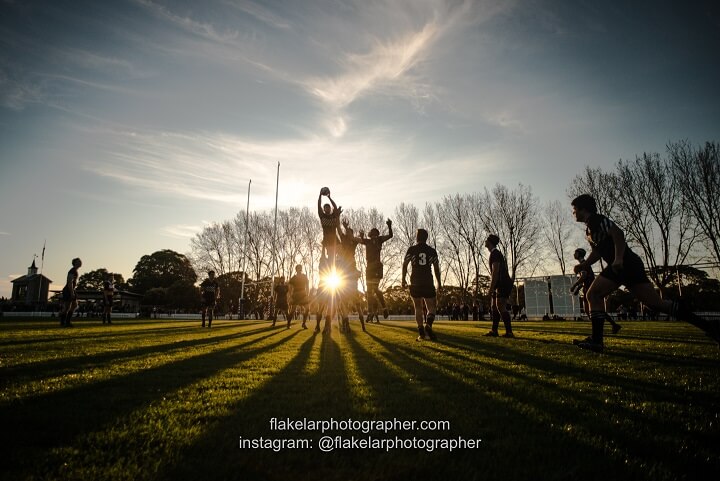 Aloys vs Waverley
Written by Scotsman 18
Preview:
Waverley were the clear favourites coming into the game on the weekend, deservedly so after a big win over Knox last week, but Aloys too had had ground out a tough win against Trinity and looking for another scalp.
First Half:
Both teams were quiet starting off with a lot of drop ball and soft carries defining the opening minutes. Molloy (7) for Waverley was industrious around the field competing in every breakdown and making tackles but was matched by opposing number 7 Luke Ryan for Aloys who was carrying hard and making some enormous tackles. It was Waveley who opened the scoring after 10 minutes of fairly physical play, Moretti (8) spun out of a tackle and dived over after a long period of picking and driving building up pressure on the Aloys line. Aloys were not ready to lay down though and responded quickly with some expert play off the line out on halfway by Westbury (15) and Hampton (13) linking to unleash S Spalding (12) out on the wing who stepped the fullback to score his first of the game.
With the score now 7-5 to Waves, both teams ramped up the intensity and was taking its toll as players from both sides headed off with injuries. With Waverley controlling possession and territory for the remainder of the half it seemed certain they would be next to score and Milford (13) came close after a break inside the Aloys 22 got him within inches of the line but was deemed to have been knocked on in the tackle. A kick return after saw some utterly amazing interplay between Moretti (8), Molloy (7) and Mcguigan (1) sliced open the defence and was able to find Baldwin (11) in space who scored what could quite possibly be the try of the season for the team, under the posts to send Waverley into oranges up 14-5
Second Half:
Waverley scored in the opening minutes of the second half as big prop Aholelei (3) made a surprisingly fast break downfield and linked up with hooker Donohue to extend the lead to 19-5. Aloys again responded quickly picking up a knock on off Waverley and spreading it wide to Fogarty (11) who made a strong run getting within a metre of the try line only to be brought down, but he popped the ball back up to S Spalding (12) who crashed through the defense to score his second, the try was converted and the score 12-19. A reckless penalty by Aloys off the kickoff saw Volkman (12) for Waverley take a shot at goal, successfully converting to make the score 22-12.
Aloys responded brutally of the kickoff putting enormous pressure on the breakdown until eventually they won a penalty and a superb kick from Pollack (10) saw Aloys within 5 metres of the line. Ienco (1) almost barrelled through but some tough defence kept him out, until a few phases later the ball shifted wide for F Spalding (2) to roll though to two defenders to score. With the score now 22-17, both teams started to get jittery as a win in this game could potentially make or break the season and initially it was Waverley who pushed down into the Aloys 22 through relentless pick and drives led by Moretti (8) and Murphy (6). But the Aloys defence held strong holding up a try twice until they were finally given the ball back from a Waverley knock on. They were penalised off the scrum for obstruction though and this allowed Waverley to settle for the 3 points on offer and make the score 25-17.
With 5 minutes to go Aloys again just responded perfectly from the kick off with Ryan (7) stealing the ball in the air with a penalty given after a few phases it allowed Aloys to have a line out 10 metres out, which after a strong run from Fogarty (11) was swung back out to the wing where Rahme (6) had a barnstorming run through three tackles to score which Westbury converted making the score 25-24 to Waves. Aloys had one last chance in the last play as they won a penalty to let them have a lineout inside the Waverley half but the jumper missed and Waverley regathered at the back of the lineout and kicked it out to end a thriller of a game
Waverley: 25
(Tries: Moretti, Baldwin, Donohue; Conversions: Volkman 2 Penalties: Volkman 2)
Aloys: 24
(Tries: S Spalding 2, F Spalding, Rahme; Conversions: Westbury 2)
Wrap Up
Both teams absolutely gave it their all today and while there were numerous areas both teams can work on, there was a lot of positives to be taken by both teams. Waverley can recognise that they can't rely on Moretti to spark everything and once they can get the entire team to switch on magical things can happen. Aloys I can't say I remember the last time a Waverley 1st XV team had more tries scored against them than they scored and still win, they need to take the physicality and intensity they showed in the second half into the Barker game, which I think both of these teams have the ability to cause an upset in their respective games.
Best Players:
Waverley:
Moretti (8)
Molloy (7)
Volkman (12)
Aloys:
Ryan (7)
Pollack (10)
S Spalding (12)
Shore vs Joeys
Written by Up the Guts
The first game of the GPS competition had finally swung around and Shore hosted Joeys at Northbridge on a perfect day for rugby. After a heavy defeat in the preseason against Joeys Shore were hoping to get more out of the day than an increase in canteen takings and a tightly fought fixture up until a yellow card in the 2nd XV seemed to signal that Shore would not roll over so easily on their home turf.
1ST Half
Joeys started the game in ominous fashion, a break down the right edge was finished well by halfback Nicholas Murray. Hooker Thomas Shanks Anderson then busted through the middle and ran a good 35m before Joeys were awarded a penalty. In typical fashion, Joeys took a quick tap and put it through the hands where loose head prop Nicholas Jones went over all too easily. It was starting to look like a repeat of the two teams' earlier meeting and Shore would need to work out their midfield defence and try and control possession if they were to stay competitive.
But just as Joeys were looking like they were going to walk all over Shore, a period of ill-discipline allowed Shore to piggy-back their way up the field. A well-controlled driving maul left Shore only a few metres out allowing prop Will Cant to crash over after a series of pick and drives out wide. 12-5 and the Shore crowd had something to cheer about.
Joeys looked dangerous when they had the ball in hand with Creagh especially testing Shore's defence out wide but some good scrambling defence managed to keep them out. Again, a string of penalties and good control of possession allowed Shore to march their way into the Joey's 22, alas, just when they looked like going in, Joeys managed to turn the ball over. Undisheartened, the Shore pack dug deep managing to secure a scrum penalty that eventually yielded a try to Captain James Harding after a good build up. Dight slotted the conversion and it was 12-12.
The remainder of the half played out in much the same fashion, Shore came close to scoring off a lineout and Joeys looked good whenever they had ball in hand but the score remained at 12-12. An air of excitement enveloped Northbridge A, was this to be one of the great upsets?
2nd Half
But it was not to be a great upset, whatever the coaches said to the Joeys boys at half time did the trick, shortly into the second half halfback Nicholas Murray scythed through a hole that opened up off a lineout to score his second. Joeys then recovered their mojo and a Creagh finished off a burst by Heaven to put the score at 26-12 and the game looked all but over.
Joeys then reverted to their typical free flowing game and piled on further points first via a classic loop play that saw Ryan score out wide before they crashed in off a lineout to make the score 36-12. It was starting to look ugly.
Just as in the first half, however, a penalty to Shore allowed them to control possession and slowly make their way toward the tryline. After good phase play Ben Brownie (8) crashed over out wide. 36-17 and the scoreline was looking moderately respectable again.
Joeys' backs again showed their class with a beautifully worked move that saw Scolari go in untouched followed up by another try grafted in the forwards. No further scores would be added and the game ended at 48-17.
Wrap-up
Joeys showed their class in the second half, any team that allows their backs clean ball will likely pay and with such a mobile and athletic pack they can't be allowed to get offloads away. Shore will take a lot of heart from their first half effort and showed the style of rugby they will need to play if they want to be competitive.
The Players
Joeys
Joeys' backs really turned it on in the second half, Creagh was outstanding and Murray and Gibbs formed a good combination in the halves. Joeys' forwards are marked by their athleticism and their front row all had some excellent runs throughout the game.
Shore
Shore's pack grafted their way up field well in the first half. James Harding (2) has good body height into contact that allows him to steal extra metres and Brownie (8) and Williams (6) carry aggressively. Halfback Hamish Cowan provided crisp service and directed his forwards around the park well.
Scots v Newington
Written by Crackerjack
In halcyon conditions at Bellevue Hill, Scots opened their 2018 Premiership defense in compelling style, pulling on their famous Gold jerseys for the first time this year to easily defeat Newington 66–26.
First Half
Like in their earlier Trial match at Stanmore, an even phase-play start, gave way to a blitzkrieg of breakouts and break-throughs by Scots, from which Newington did not recover.
Fullback, Jack Mossman(15) fairly flew in from a gift inside ball from Ben Zucchiatti(14), to open Scots' ledger. And a short time after, Scots' rake Nathan Zylstra(2), scored from an attacking-lineout, rolling-maul, combination that everyone at the ground saw coming, but New's pack was simply unable to prevent.
Scots' pack put the Black & White under plenty of scrum and ruck pressure, and short-passing, transitioning first to the outside, then back inside to ready followers, was getting Scots' backs into space, severely troubling New's three-quarter and outside defense.
First-half tries to Tom Aveyard(13), a "triple" to Jack Mossman(15), a stroll-in to Charlie Savala(10), and a well-deserved reward to Fred Tricks(11), had Scots with 7 maximum-pointers on the board by half-time.
To add to New's scoreboard woes, Scots' number one sharpshooter, Charlie Savala(10), was having a picnic in the benign conditions, kicking 8 of his 10 conversions attempts on the day, from all angles and distances.
Half time: Scots 49 led Newington 0
Second Half
Newington's Coach Gill may have given the ol': "Ignore the scoreboard, lads. Let's go and win the second half!" speech, but Scots' Nathan Zylstra(2) had other ideas, going in off the front of an early attacking-lineout to quash any fleeting Newington notions of a 'comeback'.
Both coaches started bringing subs on early, and 12" in to the second half, New's replacement No.8, Marcus Della Marta, crashed over from a rolling maul.
New's Flyhalf, David Vei(10), added the extras, and took some confidence back with him as he started taking on Scots' defensive line. After one particularly scything run, Vei linked with fleet-of-foot Tom Latu(14) to score for New out wide.
With the score at 66-14 following tries to Scots' Charlie Savala(10) and Ben Zucchiatti(14), Scots' intensity looked to drop off a bit, but to their credit, New played it out all the way to the full-time whistle; solo tries going to both David Vei(10) and to the very nimble, weaving, Kaeo Weekes(12).
Full time: Scots 66 def. Newington 26
Best Players
Scots:
Hugo Patterson(1) – stand-out in the set pieces; busy as a flanker, with added ball-skills!
Will Harris(8) – his towering form continues; well deserved selection into GPS 1's
Jack Mossman(15) – dominated at the back; fast and elusive; first-rate kicking game
Newington:
David Vei(10) – solid work today and gave his outside backs momentum in H2
Cooper Dreves(4) – played enormous in a beaten pack; never stopped
Angus Bell(1) – a quiet day for him is most others' 'outstanding'
The Wrap
A dominant opening by the home side meant that by oranges, the final result was never really in doubt, but the Black & White of Newington showed their mettle and a host of silky backline skills to "win" the second stanza. That should provide plenty of encouragement for when they face Joeys away in Round 2 in a month's time.
For Scots, with all 1st XV players gaining selection in one of the GPS Rep sides, and with some, no doubt, set for higher Rep honours, many will have played a lot of high-level Rugby by the time Scots travel away to meet Riverview at the end of July. Fingers-crossed for a injury-free next month (and beyond)!
Scoring
Scots 66 (Mossman 3, Zylstra 2, Savala 2, Aveyard, Tricks, Zucchiatti tries; Savala 8 conv) def. Newington 26 (Della Marta, Latu, Vei, Weekes tries; Vei 3 conv)
Trinity v Barker
Written by Rod Skellet
Final Score Barker 35 defeated Trinity 22
This CAS season is very interesting with Aloys, Waverly and Trinity all seeking to take the favourites crown away from Barker. Trinity had every right to feel quietly confident with a strong showing at the Scots 7s tournament and a historic preseason win over Joeys. This was offset by a loss to Aloys in the first game of the season, who themselves had been beaten by Cranbrook in the last trial of the year, who then lost 49 nil to Barker.
The forward clash was expected to be fierce with Trinity's forwards earning a well-deserved reputation for being strong at the set piece, taking on a Reds pack that has not been beaten all year, while in the backs, Trinity has speed and skill with Edmed and Ilias set to test Barkers defensive line.
A late change had Ilias withdraw due to a slight knee injury while Barker persisted with blooding year 11 lad Adrian Brown in the front row and shifting Dane Wilson to 7 and relegating Luc Weymouth to the 2nds.
With former wallaby captain Tony Shaw on hand to watch this encounter along with several ex wallabies from the late 70's and early 80's, along with a host of Trinity old boys, there was much expectation on this game.
The opening exchanges were clinical and almost error free by both sides. Trinity had the majority of possession, and Edmed was indeed showing his class by making sything runs and setting up his outside backs. Barkers defence was up to the task and after 10 minutes it was still nil all.
When Barker finally got the ball, some excellent lead up by Flaherty (5) Galloway (13) and Wilson (7) gave quick ball to Tejcek(9) who found Dudley and finally put Galloway in space who scooted clear for the first try of the game. Nercessian added the extras.
Barker lead 7 nil in a clinical display.
This woke Trinity up, and from the restart, Lambert (3) and Miller Tauiliili-Pelessa (8) and Ginis (1) went on the offensive and gained parity with the Barker forwards. This enabled Edmed to do his thing and gain strong field position that eventually saw Lambert crash over. With a fine sideline conversion from Edmed it was 7 all.
Barker then developed a case of the dropsies, losing the ball 5m out from the try line and giving away silly penalties. With the pressure relived, and play on the halfway line, Trinity's 15 De Demeneghi stripped the ball from Barker, regathered and ran 55m to score out wide. With another fine conversion Trinity led 14/7.
The game was not going Barkers way, with Trinity's Edmed dictating field position and with his speed and vision while the forwards were matching Barker's dominance with equal ferocity. An unfortunate penalty just short of halftime put Trinity further in front to go into Oranges leading 17/7.
I am not sure what was in the Barker oranges, but one change in personal made a significant difference. Young Adrain Brown, was subbed, with Wilson going back to tight head and Luc Weymouth coming on at 7. This change was tangible. The Barker forwards got rolling and established good field position. After a 10 man rolling maul that started 20m out from Trinity's line, Pollard emerged with the next 5 pointer. With the extras it was 17/14 to Trinity.
A fine lineout steal by Reimer had the Reds on the front foot again, and once again it was Pollard who busted open the defence to put Graham who scorched the earth to score. Another fine sideline conversion from Nercessian had Barker leading 21/17.
The following play put the end to any thoughts of a Trinity victory in the most emphatic way.
A Trinity scrum feed went horribly wrong for the home side with the Barker tight 5 demolishing the Trinity scrum twice in the same set piece, popping the Trinity front row resulting in a huge swing in confidence. The resulting penalty did not result in points, but the swagger was gone from Trinity and it showed. A fine individual try to Barkers Ben Bryden (11) who cut through two tackles and ran around another to run 50m to score next to the post, had Barker out to a 28/17 lead.
Barker were not done, with the team dominating possession and their confidence high, a traditional bullocking try to Luke Reimer (8) had Barker leading 35/17 with 5min to go. A consolation try to Edmed, Trinity's best on ground reduced the margin to 35/22.
A late bust by Nercessian had Barker under the posts for a try on full time, but a desperate late but very effective tackle in the in-goal area by Layton (13) denied him the chance to add further points.
Barker came away comfortable winners in the end, but Trinity has put all other CAS sides on notice that they are a force to be reckoned as they have the forwards to match it with the best and  quality strike weapons in the backs.
Best for Trinity. Edmed, Tauiliili-Pelesasa, Vuki
Best for Barker. The tight 5, Tejcek, Graham