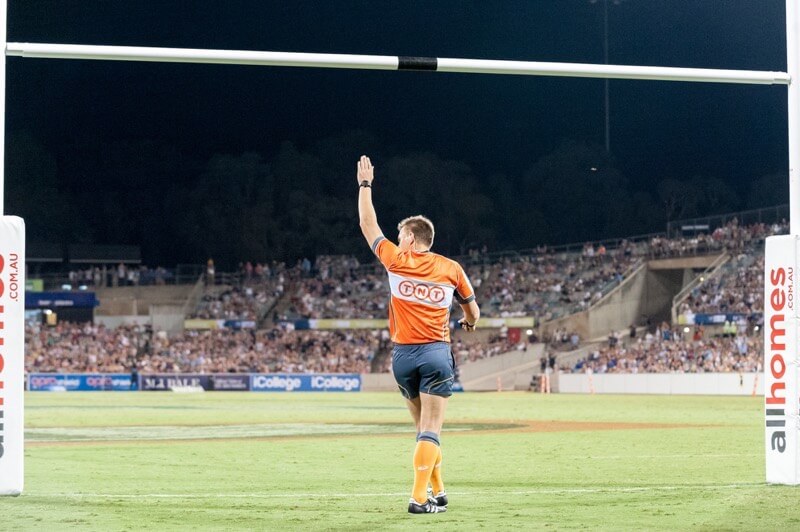 Monday's Rugby News sees the June Test Series come to an end, problems with officiating, World Series Rugby gets a big tick of approval and Chance Peni is well, Chance Peni.
JUNE FINALES
Well the June Test Series have been finished off, with some varying results across the nations.

For Australia, unfortunately we lost the series decider to Ireland 20-16 in Sydney.

Once again the Wallabies showed promise in patches, but lacked the tactical nous in both recognizing when we can't make reach the gain line and in being able to manage our discipline (despite the fact some decisions were poor from the officials).

Australia made 178 passes to the Irish's 122 for less metres gained in contact, highlighting our ability to stretch the field without any real gain in territory, as well as making 24 kicks in play (all rather ineffectual) compared to Ireland's 15 (the majority of which were effective).

Dave Pocock assumed the captaincy after Michael Hooper went off early with a hamstring injury and led from the front as usual.

Without focussing too much on specific individuals, Lukhan Tui and Tolu Latu were very impressive with some great carries and work in defence while Bernard Foley showed why he is the ultimate enigma of Australian Rugby.

Across the dutch, New Zealand beat the French 49-14 in a free-flowing affair.

The talented French team showed why many pundits believe they might get their act together just in time for the World Cup, keeping in touch with the kiwi's in the first half with two impressive tries.

Yet the New Zealanders, who had made multiple changes to their line-up, made France pay for their errors, with Reiko Ioane wreaking havoc once again, scoring 3 tries.

At Newlands, England finally got one up over South Africa in a relieving win for Eddie Jones.

Much has been said about Eddie's side and his coaching style specifically after suffering a number of defeats.

Captain for the tour Owen Farrell stood up, scoring 20 points as England won 25-10.

South Africa struggled to hold onto the ball despite their set piece dominance, conceding 8 more penalties compared to England as well as conceding 19 turnovers, allowing Farrell to nail 6/7 penalty shots.

Eddie Jones pointed to the World Cup, believing the rut the side found themselves in could be beneficial in hindsight.

Jones was quoted by the BBC saying "We want to be the best team in the world and you have to go through these periods to find out things about yourself, we have done that. Now we want to kick on.".

Optimism is key.

Elsewhere Scotland thumped the living daylights out of Argentina 44-15 in what looks like worrying signs for the South American's as they head towards the Rugby Championship later on this year.

2019 RWC hosts Japan thrashed Georgia 28-0 in a nice win after splitting their two test series with Italy.

The Flying Fijians went down in another close Pacific Islands match 27-19 while the USA got up over close rivals Canada 42-17.
WE NEED TO TALK ABOUT OFFICIALS.
Much has been made of the officiating of Australia's test against Ireland on Saturday with several decisions being not understood by basically every person everywhere.

In fact, in both New Zealand and Australia, the whole June series has been overshadowed by decisions from officials on the field and by the TMO which have removed the focus away from the game and to the referees.

Rugby needs to find a solution for this because it's unfair on the referees, it's unfair on the players, it's unfair on the coaches but most importantly it's unfair on the spectators.

People already turn away from our great game because it can lack in speed and we don't need to give them more reasons to watch something else.

Personally, I found the ridiculous amount of stoppages the most frustrating thing, with the game constantly being played at a snail's pace for no apparent reason.

The referee should control the pace of the game so there is more play then stoppages, and this was particularly annoying for Australia on Saturday, who wanted to build fatigue in the Irish by stretching them with our passing game.

Kiwi coach Steve Hansen weighed in on the issue of rugby changing at a speed that is making parts of the law book less relevant.

"It's an area of the game that World Rugby needs to take some ownership of and lead," Hansen said in the New Zealand Herald.

"You've got Cheiks not happy with how his game is reffed too. It's got faster, it's got really fluid but we haven't really changed the way we ref."

"It has got to a point where we have got to do something because it is starting to affect the game."

Jim Tucker from The Daily Telegraph also writes a story about how the video review system is killing our game.

As a fan of the sport, something needs to be done to address the search for a level of perfection that doesn't exist in our game.
FORCE GETS A LIFT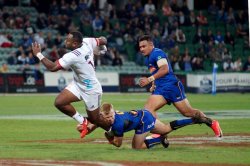 Break dancing legend and part time Crusaders coach Scott Robertson has given Andrew Forrest a wrap only Andrew Forrest could give himself, labelling the mining magnate as a great man for saving the Western Force.

After facing extinction from rugby altogether after being culled from Super Rugby, Forrest has done incredibly well to launch a modified version of World Series Rugby in such a short space of time to keep the Western Force in professional rugby.

The Super Rugby champions the Crusaders got their first taste of the WSR action on Friday night when they put the Force to the sword in a resounding 44-8 win in front of 14,259 fans at NIB Stadium.

Robertson, who was their by coincidence due to a dance competition, was blown away by the support the Force are receiving locally, with crowd size and entertainment spectacle as good as any in the game.

According to Sydney Morning Herald, Robertson said "Great men always step up when needed, and he has,"

"Rugby is really strong here still. I think this concept is great.

"You saw the amount of people who turned up and how passionate they were when the turmoil happened and the decision was being made [to axe the Force]."

"So for them to stay alive, you've got to give it to Andrew Forrest."

Tell him how you really feel Scott.

Robertson was hesistant to give his ideas on what he believes is in store for the future of Super Rugby.

He does think that the competition misses the Force though.

"It is such a strong grassroots community of rugby here," Robertson said.

"I didn't really realise it until I was driving around all the beaches and seeing all the rugby clubs on the way to a surf."

The Force next face a Samoa representative side on July 14.
NOT WORTH A PENI
Chance Peni has again landed himself in hot water again after another tackle of his went horribly wrong while playing club rugby in Canberra, Rugby.com.au reports.

The supremely talented Brumbies winger Peni played just 17 minutes in his rugby return following his 5 week lay off from his previous tackling suspension.

That Super Rugby suspension was his 3rd in the space of 12 months and what makes this story just that little bit funnier is that he told Fairfax Media's Canberra Times only two days ago that he had remedied his tackling technique.

Maybe he accidentally made it worse somehow?

Luckily, the powers that be have placed him on a two year deal so he can join the 80000 players being paid to do nothing in Australia.

Peni may not even turn out for the Brumbies for the rest of the year, with his suspension to be handed down later this week.