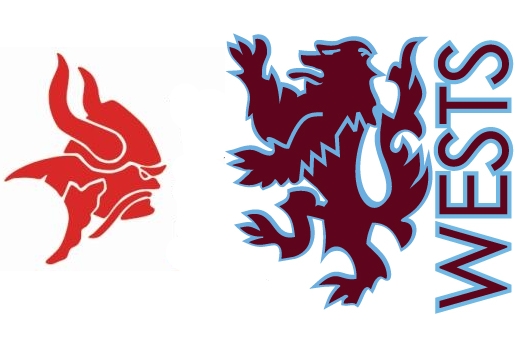 The 2012 season of Canberra Club Rugby reaches it's conclusion this Saturday with Tuggeranong Vikings and Western Districts to face off in the Grand Final at Viking Park.
In what is a replay of the 2011 Grand Final, Wests will be out for revenge after Tuggeranong ran away with the 2011 title decider with a record winning margin. To help their cause, Wallabies centre Pat McCabe will make his debut appearance for the Lions from the bench as he returns to action after recovering from stress fractures in his leg. As part of his rehabilitation, McCabe will be allowed a 30 minute stint but will have to bide his time as he starts from the bench and coach Craig Robberds would be hoping he can make an impact from the bench.
Also adding to the excitement for Lions fans is the inclusion of Brumbies players Peter Kimlin and Jesse Mogg who will be looking to cap solid years with a win over the more fancied opposition.
In 2012 the Dan McKellar coached Vikings have been the dominant force scoring a whopping 785 points in the 16 game home and away season and in the process won 15 whilst only losing once. Each win saw them secure the four try bonus point and the competitions leading try scorer Darragh Fanning will be looking to add to his tally of 16 for the regular season.
Both sides met in the major semi-final with Vikings coming away with a 32-21 win two weeks ago to secure the week off. That match saw the Vikings get out to 32-9 half time lead before Wests got use of the wind in the second half but there was not enough wind in their sail as they came up short, although they can be proud of their efforts in keeping the Vikings to nil in the second half.
It could again come down to the conditions and who uses them best to their advantage. As I look outside today and see the rain coming down sideways with a howling gale, it could be a game dominated by the forwards.
The match kicks off at 3:15pm at Viking Park in Erindale and will be refereed by Brett Bowden. For those who can't get to the game, ABC Local radio will be broadcasting the game.
---
TEAMS
Tuggeranong Vikings: 15. Brendon Taueki, 14. Darragh Fanning, 13. Lix Lealiifano, 12. Rodney Iona, 11. Jerome Niumata, 10. Zack Holmes, 9. Beau Mokotupu (c), 8. Paula Kaho, 7. James Turner, 6. Tim Cree, 5. Tom Murday, 4. Gareth Clouston, 3. Mike Noble, 2. Pat Leafa, 1. Scott Sio. Res: 16. Michael Henry, 17. Sione Taula, 18. Damien Gubler, 19. Josh Hitchins, 20. Ryne Bowden, 21. Andrew Robinson, 22. Robbie Kydd
Wests: 15. Jesse Mogg, 14. Drew Southwell, 13. Junior Luteru, 12. Andrew Parsons, 11. Tom Ruediger, 10. Gus McKerchar, 9. Devilliers Hugo, 8. Peter Kimlin, 7. Chad Joseph, 6. Aaron McInnes (c), 5. Jaxson Taylor, 4. Ben Coutts, 3. Nick Dobson, 2. Matt Pankhurst, 1. Sioeli Latu. Res: 16. Carl Elliott/Ray Dobson, 17. Alex Giucci, 18. Alex Harrod, 19. Gareth Bautz, 20. Mal Barnes, 21. Pat McCabe, 22. James McAuliffe
---
Other Grand Finals:
2nd grade: Queanbeyan v. Wests
3rd grade: Queanbeyan v. Royals
4th grade: Wests v. Tuggeranong
Colts: Tuggeranong v. Royals
Women: Queanbeyan v. Royals