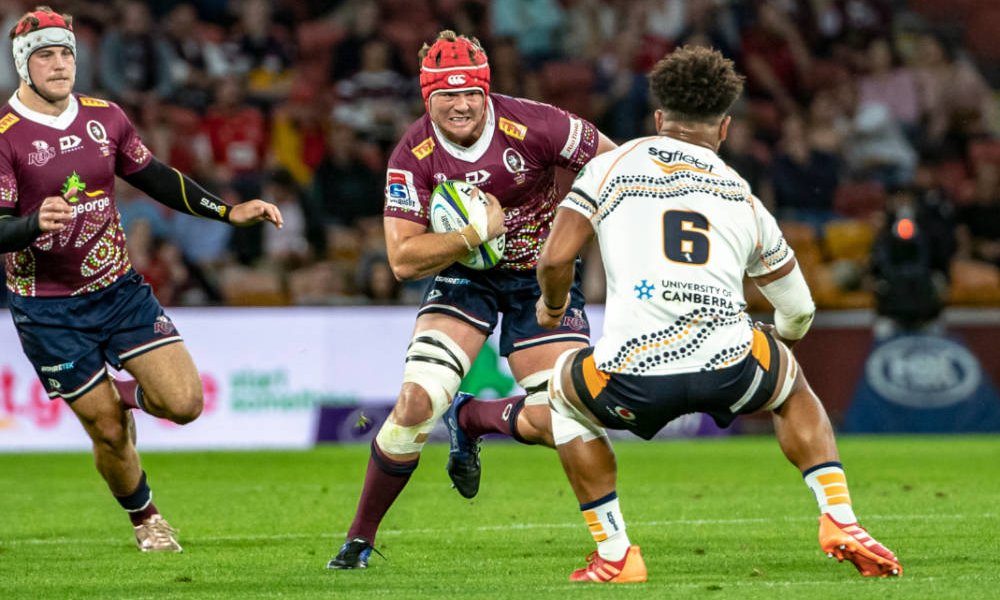 Wednesday's Rugby News looks at a possible Liam Gill return, Western Australia's Asian ambitions, Rebels' quarantine uncertainty and discussion of a World Cup Final venue in Australia.
Liam Gill says return to Wallabies "always on my mind"
Reds champion, 15 tests Wallaby, 2017-2019 Lyon player and 2020 Japanese Top League signing Liam Gill has shed light on his last brush with returning to Australia in 2019.

Wallabies coach Dave Rennie approached Gill in 2019 about returning home after four seasons in France.

Defence coach Matt Taylor and attack coach Scott Wisemantel thought highly of the 28-year-old and he was referred to Rugby Australia director of rugby Scott Johnson.

"I spoke with Dave and Tatsy (Taylor) and Wisey and had a great conversation. Laid my scenario out on the table and spoke openly, honestly about returning home and they forwarded me onto Scott Johnson and we had a bit of a chat. And then, I never heard from him again," Gill told Fox Sports.

Gill's price seems to have been a sticking point with Johnson.

"It's always a tough conversation because I don't demand a whole lot of money back in Australia unfortunately. That's just the way it is."

Gill's return is probably not helped by Michael Hooper's estimated $1 million per season salary.

"If I make you feel second best Gill, I'm so sorry I was blind" Australian selectors didn't sing.
Aussie 2nd tier could be big in Asia
Embed from Getty Images7 News reports that Western Force chief executive Tony Lewis has urged Rugby Australia to create another second tier competition involving Asian teams.

With the NRC scrapped, Lewis feels there is a big gap between club rugby and Super ranks in Australia and recommends a new competition taking in teams from Australia and Asia.

When the Western Force quietly left Super Rugby in 2017, miner Andrew "Twiggy" Forrest launched Global Rapid Rugby that was set to include Asia Pacific teams. Lewis feels there's still scope for that but he wants teams from Australia's major cities to be involved as well, rather than just the Force.

"We need to align with Japan," Lewis said.

"NZ has got their competition. We don't need to follow them. We need to be innovative and get out there and see what's there. There's other parts of Asia."

"I know South Korea's national side is strong. They've had a rugby program going for quite some time."

"If we worked in partnership with Japan and the other Asian countries we could build something that's going to have public appeal."

   
Pandemic puts Rebels smashing Highlanders in doubt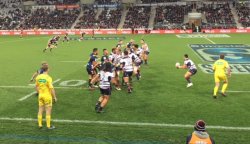 The new Melbourne coronavirus outbreak has put Sunday's Rebels-Highlanders clash in jeopardy.

The Rebels were set to fly out of Melbourne on Friday morning ahead of their round-three game but the New Zealand government announced the bubble would be paused for 72 hours from Tuesday 6pm AEST after a COVID-19 outbreak in Melbourne.

Initially told of a later NZ deadline, the club started scrambling to get out of the state on Tuesday night, looking to relocate to Sydney before going on to Queenstown later in the week.

But the Rebels and SANZAAR officials were caught out by the early cut-off and couldn't find enough seats for all players and staff on a flight departing by 6pm.

Rugby.com.au reports that the Rebels were in Wellington for last weekend's Hurricanes game but opted to return to Melbourne due to it not being Wellington.

They intended staying in Queenstown after the Highlanders match ahead of the round-four clash with the Chiefs in Hamilton and wanted to limit the time players were away from home after four months on the road last year due to the pandemic.

Highlanders v Rebels, Sunday 30 May, Queenstown, 12:35pm AEST, maybe.
Puzzler to select second-best Australian World Cup Final stadium after Suncorp ruled-out
Will reckons it's important to be noble in victory, so he spoke to the other coach

If Australia's bid to host the 2027 Rugby World Cup is successful, selecting the venue for final has been thrown a wonky lineout.

A Rugby World Cup final must be held at a stadium with 60,000 or more seats, which rules out the 52,000-capacity Suncorp Stadium, according to bullshit World Rugby rules. The Sydney Morning Herald reports that Australia's bid team are looking at Optus Stadium in Perth, Stadium Australia in Sydney and the MCG – the only three arenas in the country that fit World Rugby's criteria.

Officials are considering Perth as an option. The Wallabies beat the All Blacks 47-26 at a sold-out Optus Stadium in 2019.

Stadium Australia (83,500) and the MCG (100,000) are bigger, RA apparently believes Perth provides a better time zone for important UK and France television audiences, albeit noting that Sydney is the centre of the Australian rugby universe.