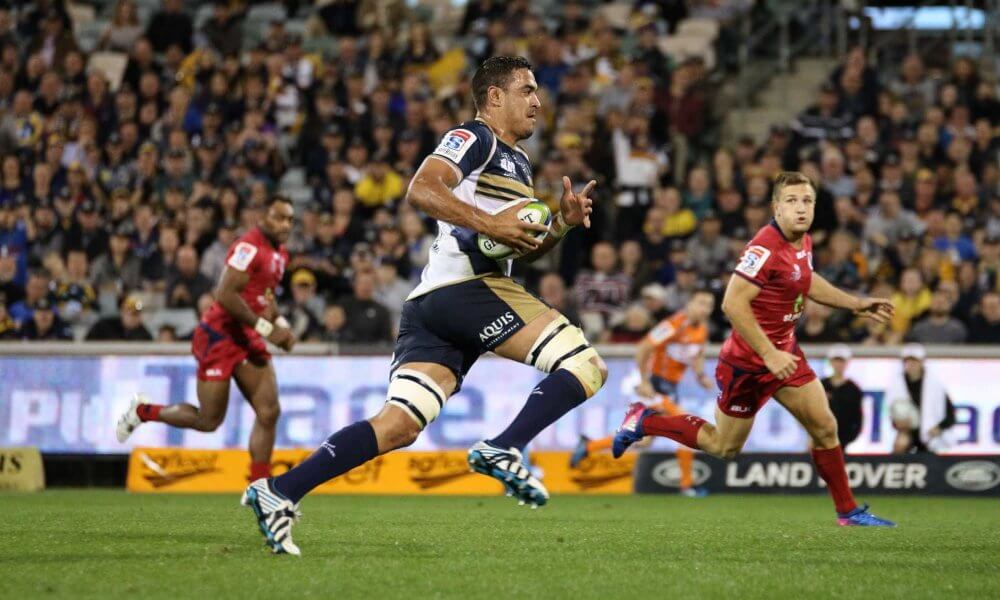 Wednesday's Rugby News looks at the Brumbies preparations in Argentina, the push to move rugby to free to air, Joe Powell's upcoming battle with his past and the quest to maintain young talent.
---
Brumbies taken back to 2004
Brumbies and Wallabies lock Rory Arnold is confident that the side can extend their winning streak to nine games and end their 15-year Super Rugby drought with strong performances over the next fortnight.
The Brumbies are currently on a club record seven straight winning streak and are looking to earn their spot in their first final since 2013 when they take on the Jaguares in Buenos Aires on Saturday morning.
However, the Jaguares are in a richer vein of form, winning 10 from their last 11 games, including a win over the Brumbies, which has Arnold wary of the challenge ahead.
"They're a world-class team, full of international players, they've got a good record and been playing some really good footy, so it's going to be a hard task with the travel and everything but we've won there before," Arnold said.
Despite their class, Arnold was confident that the Brumbies could handle the Jaguares up front, backing his fellow forwards to muscle up and get the job done.
"We've got some quality players in our pack with big Al (Allan Alaalatoa) and Sammy (Carter). From one to eight we've got good players than some more on the bench. I'm quite confident our pack will match theirs.
"We've had some pretty good sides in the past but I think as a squad we're gelling really well and that's showing on the field at the moment. I back our squad and ability to go over there and get the job done."
The Brumbies are hanging on to slim hopes of hosting the grand final, which will become reality with victory over Jaguares and if Hurricanes can upset the Crusaders, however, Arnold was refusing to look ahead and lose focus ahead of the moumental clash.
"It would be unreal to host the final when they were farewelling us (on Saturday night) I was like you never know we might be back here in a couple of weeks."
"That would be unreal but we can't get too far ahead of ourselves, we've got a big game this week and we need to get the result."
Set it free
Rugby Australia is open to creating more free to air opportunities for rugby union to be televised in their next broadcast deal in 2021.
The deal would look to make the NRC, Junior Wallabies and even certain Super Rugby games available to all broadcasters.
The current deal has ensured that domestic rugby has been hidden behind the paywall of Foxtel since the inception of Super Rugby in 1996, with only Wallaby test matches, Global Rapid Rugby and one delayed Super Rugby match is shown on free to air.
CEO Raelene Castle revealed that Rugby Australia is looking to create more opportunities to open up access to their content in their next broadcast deal as viewership and attendance continues to fall.
"It's part of the process that we'll bring to the negotiation table as a strategic focus area for us, recognising that for Fox and for Channel Ten what's important is that more people engage with rugby," she said.
"So how do we do that is we've got to make sure rugby is accessible to more people and that's about free-to-access, not necessarily just free-to-air, although that's certainly an option with the Wallabies which is fantastic."
"But how do we get access for either Super Rugby or NRC type products, the 20s playing in international competitions. How can we make some of that available so that all rugby fans in Australia can have access to that?"
Castle pointed to the Rugby Xplorer app as a form of expansion for rugby union based content, which has previously been used to simulcast competitions such as the Super W and the AON Uni 7s.
"The days of that just being on TV is not the reality of the modern world we work in so for example on Rugby Xplorer, our own app, how can we deliver content there so people can engage with us?"
"The technology's moved so much now with the Netflixes of the world, people are used to dealing and working that onto their big screen TV."
Powell's ghosts of Rugby's past
Joe Powell will face some familiar foes in his quest to clinch a grand final berth, along with securing his dream World Cup position.
Powell will go head to head with former Brumby and the current Argentina halfback Tomas Cubelli in their semi-final clash on Saturday morning.
The Brumbies push to the finals has led many to push Powell as a potential Wallaby bolter, however, his position has been clouded by the impending return of Nic White who is set to join an undisclosed Super Rugby club in 2020.
This has created a unique opportunity for Powell to show his development since gaining the starting role after starting off as White's understudy in 2015 before spending two years behind the pint-sized Argentian.
Despite the pressure of ending the Brumbies Super Rugby drought and a potential gold jersey on the line, Powell was looking forward to facing up against his old mentor, stating that the team was eager to rip into their old team-mate.
'I'm looking forward to it, I love playing against Tomas. He was great for the Brumbies when he was [in Canberra] and all the boys like him, but I'm sure we're ready to whack him as well,'' Powell grinned.
He was full of praise for the work that Cubelli has done to improve his game, singling out his confidence and running ability as his main areas of strength.
"The way he runs the ball and backs himself on the field, he's got that flair about him and he'll try anything, he definitely helped me out with those sorts of things."
Powell refused to be drawn into talks of White's return and the potential Wallaby positions that are up for grabs for himself and his teammates, stating that there was a good feeling around the group that they could get the job done.
"To be honest we haven't really been thinking too far ahead," Powell said. "Those things [winning Super Rugby] are in the back of everyone's mind and we obviously want to do it, so we'll see what happens from here."
"There's a really good feeling around the place at the moment. I can't put my finger on it, we went through some tough times at the start of the season but we're reaping the rewards of hard work."
Keeping Joeys in the Castle
Rugby Australia CEO Raelene Castle is hoping that the recent success of the Junior Wallabies at the U20 World Championships will convince prodigious young talent to stay in rugby union.
Castle has urged Junior Wallabies and fellow promising young talent to reject the exuberant offers that will come from rival codes to stay in rugby long term after the Under 20's side returned from their one-point loss to France in the final of the World Championships on Tuesday.
She was full of praise for the efforts put in by coach Jason Gilmore and the squad, which saw them qualify for the final for the first time since 2010, bringing much needed positive ready headlines.
"It was a hugely successful campaign and I think the work that has been done over the last four or five years to build that system … it bought them together and they are a special group of young guys," Castle said.
Castle recognised that the sport faces a significant threat from other codes who have already poached promising talents such as Izaia Perese, Joseph Suaalii and Luca Moretti.
However, she was hoping to maintain the core of this squad with the allure of the Wallaby good jersey, stating that the opportunity to represent their country still rang true for these players.
"The fighting fund was important to make sure we keep these talented young guys because the best five or six out of this group have all had scouts from other codes chasing them," Castle said.
"We face a really challenging market. There are people with much bigger chequebooks than us but the thing they can't deliver is a Wallaby green and gold jersey and that is really important. The opportunity to represent your country still holds true and that is what we continue to talk to this group about."
"When you spend the time and money investing in that young talent you want to make sure you maximise the opportunity to have that engaged in our Wallaby system…and we've got the opportunity with some of these boys in this group to do that."