Wednesday's Rugby News has a shakeup at the Waratahs, a bit of discipline at the Reds, ex-Lions unhappy with the ABs, and bit of an oopsie.
---
Waratahs Shakeup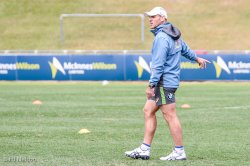 Nathan Grey is set to announce this morning that he's going to move to his Wallabies defence coaching role full-time. That'll mean that there's going to a reshuffle at the Waratahs.
Fox Sports has all the goss. Assistant (and scrum) coach Cam Blades is moving on, and his place will come Norths and u20s coach Simon Cron.
Cron has previously knocked back offers from the Brumbies and, presumably, Real Madrid, such is the hype around this up-and-coming coaching talent.
Who's gonna replace Grey? Why Daryl Gibson of course. Gibson will continue as head coach, but will merely combine his new role with his current role (as well as his role as chief novelty rope officer).
These changes are in part to an internal review, which according to the report "found that the club needed to improve in numerous areas including coaching, physical conditioning, leadership and player responsibility". NSWRU chief Andrew Hore rattled on about said review.
"We need to improve in all those areas and Daryl Gibson is the right man to lead the organisation in making those changes," Hore said.
"We're initiating changes to ensure we have great talent coming through the ranks and we'll continue to put systems in place to provide the best environment for our team to be successful."
Stiles Unhappy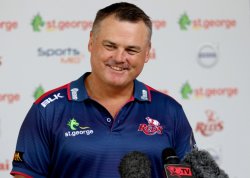 Nick Stiles has sent Andrew Ready and Michael Gunn away from the Reds for a bit in the hope they begin to really fight for their place at the Reds.
"It's not like they've been expelled but I am asking two good footballers to decide how absolutely hungry they are to do the work to be really good," Stiles told the Courier Mail.
"No one is holding their hands … it's up to them to get to their own gyms, do their sessions and do little extras as it was done in the amateur rugby days."
Stiles has sent the pair away to train solo, and the duo haven't rocked up to Reds training in two weeks. The Reds coach sat down with all the players during the June break, and has only decided to take this action with Ready and Gunn.
The article says that Ready has been seeking feedback from Reds coaching staff during his time on the naughty step (or naughty fitness stepper, as it were). It is the second time Ready's been told off, after he was dropped for getting too l00se one weekend in April.
Meanwhile, Nick Frisby has also been given a two-week break to rediscover his inner self or something. He'll be passing balls to chests for GPS this weekend.
Salt or Truthbombs?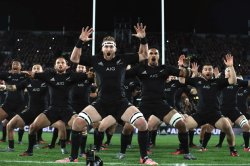 British and Irish rugby internationals are getting feisty in the press, with a couple of them commenting on the "dark arts" employed by the All Blacks.
Former Ireland flanker Alan Quinlan, who almost got into the 2009 Lions squad, wrote in the Irish Independent:
"Some of what [the All Blacks] did [against Ireland in Dublin last November after losing in Chicago] was on the borderline of legality and in Auckland on Saturday, it was the same.
"I didn't think Jaco Peyper and his assistants picked up some of the angles that the Kiwis were entering rucks. They go off their feet and enter rucks from the side so often.
"They are hell-bent on nullifying the opposition's threat at all costs. Technique often goes out the window and bodies fly in everywhere. Any mere sight of a red jersey was just cleaned out and it wasn't always done so legally."
Quinlan also reckons he noticed a few neck rolls, and the deliberate targeting of Conor Murray.
Former England and (uncapped) Lions prop Matt Stevens was also unhappy.
"Gatland has got some pretty good reason to point the blame at [Jerome] Kaino there," he told Sky Sports (via stuff.co.nz). Kaino apparently targeted Murray in one incident, where he took out Murray's legs (here's footage).
"Conor Murray is being touted as the best halfback in the world and is definitely one of the best kicking halfback in the world so he is one of the better players in this Lions team.
"Are New Zealand being cynical? From the evidence, it looks like they are.
"When you look at that – Jerome Kaino has made a decision. He has put his head down, put his hands out to attack the ball but he can't attack the ball from that side.
"So, in my opinion, I think it is cynical play and it is something he has thought about before he has done it."
Oops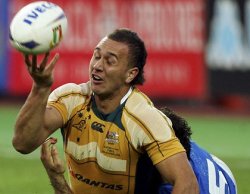 Spiro Zavos has issued an apology on The Roar, after yesterday writing an article based on source material that, ah, turned out to not be true.
The original piece has been pulled, but from the apology it's easy to put the pieces together. As Zavos says, he wrote an article "based around an email that purported to establish that Bill Pulver, the chief executive of the ARU, had a hit list of "enemies" of the ARU.
"The article further suggested, based on the email, that before leaving the ARU Rob Clarke had drawn up this hit list."
Zavos, who received this purported email from a 'source', was then sent the actual email concerned by someone in the ARU. Presumably, Bill Pulver.
"Bill Pulver did not write the email that was published in the [original] article. Rob Clarke did not draw up a hit list of "enemies" of the ARU as the email suggested," Zavos continues.
"The article and the email the article was based around were published on The Roar in good faith. The person claiming to have received the email from Bill Pulver gave me permission to publish it.
"For the record. I apologise to Bill Pulver and Rob Clarke for publishing the email in question and I retract any implications arising from that publication."
If you want to see what a bingle looks like, The Roar have left comments open on the apology piece.
"We're leaving the comments open on this post because that's what The Roar is all about: expressing your opinion. In this case, we got it wrong and Spiro's apology is heartfelt and genuine. But at times like this, we understand that our audience want to have their say, which is why we're keeping the comments open," wrote editor 'Zoltan' below the line.
*try to keep comments clean please