Tuggeranong Vikings v Canberra Royals at Viking Park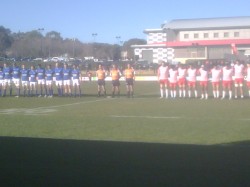 The Canberra Royals have caused the upset of the season, silencing the Tuggeranong Vikings' 40th anniversary celebrations and announcing their premiership threat with an emotional 38-36 win at Viking Park.
It was an inspired attacking effort from the Royals, who scored two tries right around half time to grab the lead in what may have been their best five minute period all season.
The energy was arguably their best all season, and halves Mark Swanepoel and Craig McMahon directed play beautifully, with centre Pedro Rolando collecting one of the most crucial doubles all year.
The top of the table clash was always going to provide fitting entertainment for the home side's 40th anniversary, with a larger crowd than normal turning out for the clash.
While this gave an advantage to the Vikings, the Royals, being known as one of the hardest fighting side's in the competition, were always going try their best to eliminate the crowd.
And what better way than derail the almighty Vikings who were looking at 13 straight wins to claim the inaugural Wal Scollen in honour of a recently passed away Royal.
"We only had one bloke left on our reserve bench, so it was a great effort for the club," said an ecstatic Royals coach Russell Ingram.
"It is about momentum. You need to get the ball going forward, and there were guys there that turned the game as well with individual brilliance."
There was none other than Tom Cusack, who in the 68th minute pumped himself 40 metres through six defenders to score the try that got the Royals back in front.
The Royals came very close last time the sides met, going down by just four points in the season's first real top of the table clash.
Having won just three of their last six matches, they had to ensure consistency, and Ingram got what he wanted.
We've just got to keep playing, keep trying to win, and get some momentum going into the finals, but we'll certainly take that one [win over Vikings]," said Ingram.
Despite a Tim Cree try within the first one and a half minutes of play, the Vikings found themselves down at half time for the first time all season.
With a scoreline of 28-19, the home side also found themselves conceding the most points they had all year.
It was try for try in the second half, and the scores were locked at 33-all with 19 minutes to go- ensuring a grandstand finish.
The Royals were able to silence the home crowd, and the cheers from their side of the grandstand became more apparent.
Cusack's try sealed the win.
Vikings coach Brad Harris said that tight results this season had finally evened themselves out.
"When you play the top teams in this competition you've got to be on your game for 80 minutes, and we weren't," he said.
In other games, Wests Lions beat Eastern Suburbs 52-18, while Gungahlin Eagles beat Uni-Norths Owls 45-5.
 Canberra Royals 38 (Rolando 2, Tamihere, Swanepoel, Cusack tries; McMahon 2 cons; 3 pens) bt Tuggeranong Vikings 36 (Proctor 2, Cree, Perry, Mokotupu tries; Holmes 4 cons; pen) at Viking Park.
Wests Lions v Eastern Suburbs at Griffith Oval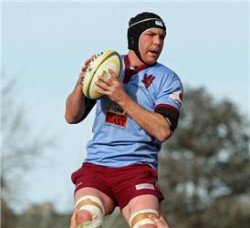 The Wests Lions have returned to the winners list and retained their spot in the top four after crushing Eastern Suburbs 52-18 at Griffith Oval on Saturday.
Despite facing a lower quality opposition, it was a much improved performance from the visitors who created far more opportunities with ball in hand compared with their lack-lustre 35-7 defeat to the Queanbeyan Whites in round 15.
Coach Craig Robberds was pleased with the effort his forwards put in, but said his men still need to work on their use of the ball out wide entering the business end of the season
"We just want to execute given we've struggled in the last couple of weeks," said Robberds.
While this clash against Easts may have been seen as an opportunity to put extra points on the board, Robberds said this definitely was not the focus of his men despite percentage being crucial in the latter stages of a season.
"Our plan was to just execute today. We were about 80 per cent right," he said.
Robberds was particularly impressed with the performance of centre Mal Barnes, who stood above his fellow outside backs on the day.
Wests have a handy bye next week before heading into a clash with the Gungahlin Eagles which should be the battle for fourth spot.
Easts have done well to win four games this season which is the most they have won in two years, but they have struggled to get basic plays right.
Easts will have a great chance to register another win when they meet the Uni-Norths Owls in the final round, but they face the monumental task of tackling the Tuggeranong Vikings next week.
Wests Lions 52 bt Eastern Suburbs 18 at Griffith Oval
Gungahlin Eagles v Uni-Norths Owls at Nicholls Oval
The Gungahlin Eagles have continued their charge towards a finals spot after trouncing the hapless Uni-Norths Owls 45-5 at Nicholls Oval on Saturday.
The win continues a golden run of form for the competition's northern most club, who have amassed 115 points in the last two rounds after their season-best 70-0 slaughtering of Eastern Suburbs in round 15.
A three game losing streak recently almost kissed their finals hopes goodbye, including a 43 point humiliation to the Tuggeranong Vikings, but they are now just three points out of the top four.
They have a tough run into the finals though, facing the Canberra Royals and the Wests Lions in the next fortnight.
The Royals will be coming off their remarkable win on the road against the Tuggeranong Vikings.
For Uni-Norths, the game summed up their whole season, and they will likely go without any wins.
Their best chance is a final round fixture with Eastern Suburbs.
Injuries and other player unavailability appear always an issue for the club, which will be embarking on a three year repair plan working from next season.
On Saturday this was again shown, with players being called up to first grade from all three lower grades, even colts at fourth grade, as two front rowers and a half were lost for the rest of the season.
"We had some injuries early in the game which depleted our front row," said Uni-Norths coach Joe Hedger.
Hedger said that the final three rounds will still focus on getting on the winners list.
"The boys are still focused on getting a win, and they know that there's been some signs this year that are giving every indication that that can be done," he said.
"It really just comes down to executing a full 80 minutes and doing all the things that we know we can do right."
Gungahlin Eagles 45 bt Uni-Norths Owls 5 at Nicholls Oval.
BYE: Queanbeyan Whites
.
.
.
.
.
.
.
.
.
.
.
.
.
.
.
.
Australian Under 20s squad named for Oceania Championship
Featured image
2016-U20-AUS-v-NZL-Game2-18
The BMW Australia Under 20s have named a 29-man squad chock-full of talent for the 2017 Oceania Rugby Under 20 Championship starting on Friday, 28th April, at Bond University on the Gold Coast.
The Championship
This will be the last series of lead-up games for the young hopefuls before they embark on their mission for 2017 World Rugby Under 20 honours, which will be decided in Georgia, from 31st May to 18th June.
The Oceania Championship will be a three-round tournament and the Aussies will play Samoa, Fiji and an ever-formidable team from New Zealand.
Samoa did not qualify for the World Under 20s at Manchester in 2016 but were reinstated for Georgia after winning the second-tier World Under 20 Trophy in Zimbabwe last year. The exuberant Fijians were third in the 2016 Trophy event but only the winner was promoted.
By their standards, the Kiwis had a poor 2016 Under 20s campaign, finishing fifth in Manchester after being defeated by Australia in one of the Oceania games before the Worlds.
Australia was sixth: their results have been disappointing since being second in 2010 and third in 2011.
The players
The players were selected on their form in the Super 20 competition and although nobody will care once they put on a gold jersey, Queensland, who won every match in the Super 20s including the final, deserves to have the best representation of players.
The Oceania squad includes only eight from the 2016 Manchester campaign but there may be a few more for the the World Under 20s when other players become available.
Super Rugby players needed for their matchday 23 were not considered in the 29-man squad, including Rebels' players touring South Africa now – hooker Jordan Uelese, 17-year-old lock Esei Ha'angana, and capped centre Sione Tuipulotu.
However there is a chance that they could become late starters for Bond.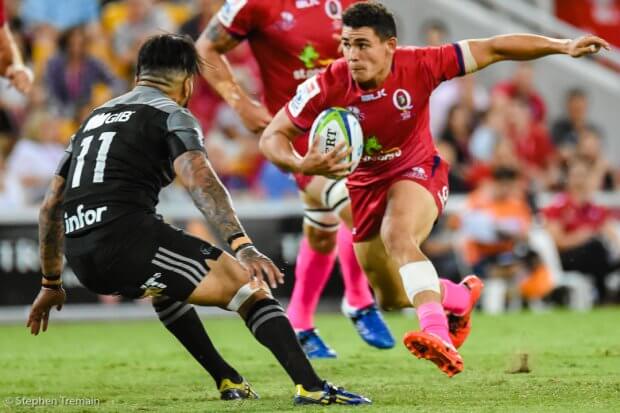 Twice-capped 19 year-old Force tight head prop, Shambeckler Vui, has also been reserved for Super Rugby, as has regular Reds' winger, Izaia Perese.
Sevens players, Lachlan Anderson, Liam McNamara, Henry Hutchison and Simon Kennewell will be considered for Georgia, but not for Bond.
Injured props Cody Walker (NSW) and Gavin Luka (QLD) will miss the Oceania tournament but may have time to be considered for the Worlds, as may 18 year-old no. 8 Rob Valetini (ACT).  However prop Harry Hoopert (QLD) and no. 8  Rob Leota (VIC) have been ruled out for the season.
The Australian Under 20 squad members for the Oceania Under 20s may not be Super Rugby players nor play international Sevens, but they have a golden chance to shine in front of the national selectors—and be sure that some of them will play out of their skins and change a few opinions
After the Oceania tournament a 28-man squad  will be named for the World Under 20s and they will go to the Australian Institute of Sport in Canberra for their final camp, which will include a match against a local team.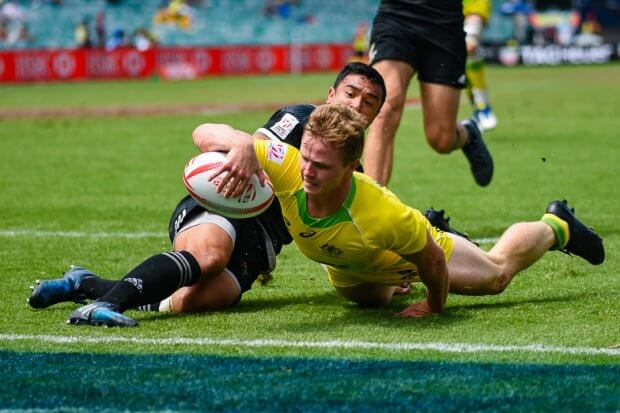 Oceania Under 20 Championship squad list
[one_half last="no"]
Forwards
Dan Matthew, NSW
Harry Johnson-Holmes, NSW
Harry Chapman, NSW
Va'auli Fa'amausili, VIC
Tom Horton, NSW
Efi Ma'afu, QLD
Sama Malolo, WA
Harry Hockings, QLD *
Angus Blyth, QLD
Ryan McCauley, NSW *
Darcy Swain, ACT
Lachlan Swinton, NSW
Angus Allen, ACT
Liam Wright, QLD *
Angus Scott-Young, QLD*
Reece Hewat, QLD *
[/one_half]
[one_half last="yes"]
Backs
Harry Nucifora, QLD *
Ryan Lonergan, ACT
Theo Strang, NSW
Hamish Stewart, QLD **
Nick Jooste, ACT *
Tony Hunt, QLD
Jack McGregor, VIC
Dylan Riley, QLD
Len Ikitau, ACT
James Ramm, NSW
Semisi Tupou, VIC
Jayden Ngamanu, QLD
Jack Maddocks, VIC *
[/one_half]
* 2016 Aussie Under 20 player
** Super Rugby capped player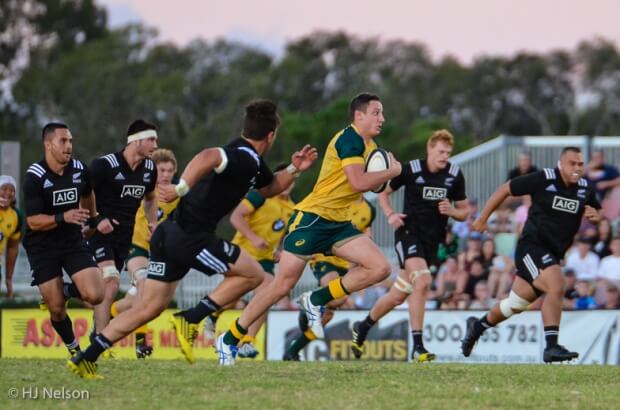 The forwards will have strength in the front row and back row.  The second row won't have the bruising play of the unit which played in the Oceania tournament last year, but they will be athletic and skillful.
They will have good scrum halves but their flyhalf unit may have a problem especially if the best one, Hamish Stewart, is recalled by the Queensland Reds to play. At least Jack McGregor, who was not named in the initial training squad of 48, will be available now.
The remaining backs will be the ones most threatened for inclusion in the World Under 20s by the "blow-ins" from the Aussie Sevens' team, but they are also the ones who have the biggest opportunity to shine at Bond University because the globe-trotters won't be playing.
---
2017 Oceania Rugby Under 20 Championship
Bond University, Gold Coast
Round 1 – Fri, 28 April 2017
New Zealand v Fiji – 17:00
Australia v Samoa – 19:00
Round 2 – Tue, 2 May 2017
New Zealand v Samoa – 17:00
Australia v Fiji – 19:00
Round 3 – Sat, 6 May 2017
Samoa v Fiji – 17:00
Australia v New Zealand – 19:00
.