Tuesday's Rugby News has Cheika talking 6-0, no analysis, playmaker selection, Ricky Stuart and Gareth Southgate, players upset at stupid journo questions and Canadians living up to stereotype.
---
[one_half last="no"]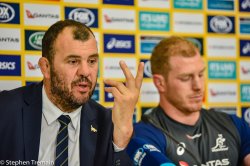 Cheika vs England, Part 1
Michael 'Morpheus' Cheika is a 'believer' in his Wallabies team, telling the press in Japan that he finds the chatter about England's 6-0 record against the Wallabies as 'irrelevant' going into the game.
"I think it's irrelevant, really," said Cheika, according to the SMH. "There is reasons, I'm not trying to avoid it, but why go back and talk about all those games?
"I talked about those games in those press conferences after those games and then they're done with and we're onto the next thing. Looking backwards is only going to give you a sore neck. We've got opportunities this week and we've got to take them.
"We'll be ready, there is no doubt about that. I'm just a believer. Call me a sucker. I believe in my lads. I know there's other people who won't give us much of a chance but I believe that when you believe in yourself you are much closer to being able to create history."
Cheika, who went on to tell the press that he spends the time flying around in sewers in a hovercraft he calls the 'Nebuchadnezzar', admitted he don't have time to actually watch the tape of England playing some he should be doing.
"Don't really have [an analysis of England's style], mate," Cheika said.
"Lots of respect but I'm not a big analyser of the opposition. I'm always telling my coaches not to watch the opposition so much. They watch too much footage of the opposition. I'm interested in our blokes, our team and our analysis so that it can help us be better."
[/one_half][one_half last="yes"]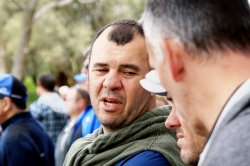 Milk Chief In White Camp
Going on from the analysis chat, Cheika also responded to a question as to why he and the selectors kept changing flyhalves.
"Building from quite a serious illness it takes time for him to get up to the levels that he needs to," said Cheika of Christian Lealiifano (via the SMH). "I think he's done an absolutely incredible job. I'm not going to throw him out there in every minute of every game and say, 'go slug it out'. Throughout the whole season [Toomua and Lilo] have shared time in that spot." Cheika thought Toomua's outing against Georgia was 'solid'.
Cheika also fueled the comments of today's news by admitting that he's not thinking about what he or his assistants are going to do if they lose in the quarters.
"I'm only thinking about today," Cheika said. "Actually you'd get on pretty well with my Mrs, she's always asking what's going on tomorrow or next week or the week after and I never tell her because I want to enjoy today [Ain't that the truth!!! – Ed]. I'll back myself to do whatever and I don't really care about later on."
And finally – Canberra Raiders coach Ricky Stuart, fresh off losing to the Roosters like the Wallabies lost to the All Blacks, has flown over to Japan to observe how Eddie Jones runs England. Yeah this is happening.
Cheika, who the SMH says is good mates with Stuart, thinks the whole idea is a bit weird. Cheika, who is friends with England national soccer team coach Gareth South gate, reckons it'd also be weird if he had Southgate in his setup.
"I'm friends with Gareth Southgate and I don't know if I'd be wanting him in here the week that we're playing England," Cheika said.
"It must be weird for the players having an Aussie, because Ricky is a legend. He's a dual international and a tough man. Had a great season with the Raiders this year. They played such good footy. It was a very tough grand final they played in. I'd say it might be a bit weird for them."
[/one_half][one_half last="no"]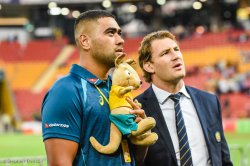 Journo Jokes
Wallabies players have shown their frustration at being asked 'stupid' questions being asked by Australian rugby journalists, with Lukhan Sunk-Loto and Tolu Latu scoffing at two questions asked.
According to rugby.com.au, Sunk-Loto didn't tale kindly to a – let's be honest – pretty boring question from journos. Asked why he believed England would beat Australia, Sunk-Loto responded:
"Because we can, why not?," he said.
"We all believe it, we're not just going to sit here and go, 'Oh, don't think we believe it,' of course we can. We all believe that we can do whatever we want to do, if we put our minds to it."
Turning to the journos, Sunk-Loto said:
"Do you believe we can beat England?"
"Not sure," said the journos.
"Really?," Sunk-Loto replied, "That's your problem then. We believe we can beat them."
And then, an English journo asked Latu if Cheika was a "bully".
"Stupid question," he said.
"To ask it, I don't know, it's different for yous guys and different for us.  For us, it comes across as a stupid question so that's why we're all laughing.
"Obviously, you're asking us a question that we think is a complete joke so if you're going to ask us questions like that, we'll take it as a joke and throw it back at you."
"To us, he's our head coach, of course he cares, he cares about each and every one of us. Simple as that."
Supporting Latu's point, Sunk-Loto answered:
"It takes it off us, he is putting himself out there to be shot, he's protecting us as every good coach would do," he said.
"Not going to let your players hang out to dry, we'd all do the same for each other."
Stay tuned to GAGR's Daily Rugby News, where we criticise hardworking rugby journalists while we facetiously rename players after similar sounding early 00s failed nu-metal bands
[/one_half][one_half last="yes"]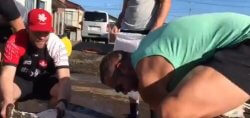 Cleaning Canadians
Fresh from having their final group game against Namibia called off due to the typhoon, ESPN reports that the Canadians instead used their time to help clean up after the disaster.
The Canadians were set to play Namibia at Kamaishi Recovery Stadium, a stadium built in one of the areas worst affected by the 2011 tsunami.
Eliminated from the tournament, a few of the players decided to stay on to help clean up.
"Four of us are staying on tomorrow to do a community barbecue," said captain and Chiefs player Tyler Ardron.
"There's a bunch of Canadian guys that have rented a house here, made it a 'Canada House', so we'll do whatever we can to help.
"We were hoping that we would just go out and mingle, interact and just get to know some people but it looks like we might have other things to pitch in.
"What we want to do today, if we can, is get out in the community and help. We've been hosted so well. We want to give back all we can."
Following the cancellation of their match in Kamaishi, @RugbyCanada players headed out to help with recovery efforts, showing the true values of the game.

Amazing scenes and brilliant to see from the team. #RWC2019 pic.twitter.com/jdXQlyD2ZM

— Rugby World Cup (@rugbyworldcup) October 13, 2019
[/one_half]