Tuesday's Rugby News has Foley finding his feet, Mick Byrne talking like he wants to box sports scientists, Sean O'Brien unhappy with Warren Gatland, and Jonah Lomu's sons.
---
Finding Foley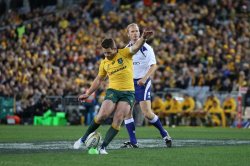 Bernard Foley has kicked 15 out of 15 placed kicks since his Barry against the All Blacks in the second Bledisloe. Which is a pretty good stat to be fair.
Mick Byrne, the Wallabies skills coach, has opined that this uptick in form is merely due to a sweet spot of form.
"I think it's faith, especially when you have a hiccup," Byrne said, according to rugby.com.au.
"It's like in any sport – golfers are a classic one. We look at (Marc) Leishman, he's just won the (BMW) tournament but you go back to a tournament he had before, he wasn't hitting the ball really well there.
"You just have those moments at the top end of games. You can't get concerned about what happened or why it was this or why it was that, because you get caught up in stuff that's not really there.
"You trust your rhythm, go back and work on what you need to work on."
Kicking your goals is usually a smart idea, but its a smarter idea given that this upcoming game is in South Africa. One of those goal kickers will be Reece Hodge who – gasp! – has only kicked 2 of his 8 kicks in his Wallaby career.
"If you look at Hodgey's eight kicks and multiply by the distance of his kick, he'd probably be twice as far as any other kicker," Byrne continued.
"When you look at the field, without getting too technical, there's certain parts of the field where kickers kick it at 100 per cent, and then as you move out – it's usually at that 25m mark, a semi-circle around the goal – most kickers are at 100 per cent.
"When you push out to 30m they drop out to about 85. When you get out to 40m, some of them are dropping down to 60, 65.
"When you drop out to 50 they're about 50, 40, 30 sort of thing."
Byrne Vs Sports Science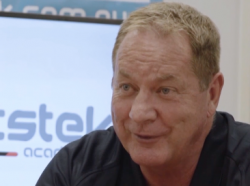 The Highveld is high, and that means there's slightly less oxygen and stuff. That's because the air is less dense, which means kicks go further and its harder to breathe.
"Obviously, you can't hide away from the fact that altitude's a different atmosphere," Byrne said, also according to rugby.com.au.
"But I think the players, you get used to it pretty quickly and adapt to it pretty quickly. The big one is, it's not at the front of your mind.
"You set your protocols before you come here, you know what you're doing and then when you get here, you just get on with it.
"It's not something you talk about, it's not something you bring top of mind but it's certainly something you plan before you come here and you just get on with your life."
The Wallabies have really been on the fitness train this year, and they're usually rooted playing at sea level so it'll be interesting to see what its like on the heightened plateau of significant importance to South Africa's physical as well as human geography.
"[The focus on fitness] going to be a help every week, but I guess if you're looking for more oxygen and you're not fit, you're in trouble," Byrne continued.
"If you're fit you'll be OK. Getting a good base of work, which we did in that August window, has set us up for the year really well.
"We're still not there, we've still got work to do but what we did in that window and how hard the players worked, we've seen some good results."
Byrne, who possible went to the School of Hard Knocks as well as the University of Life, then laid into sports science.
"[To get fit all you have to do is] back yourself," Byrne partly said.
"I know S&C coaches will have a crack at me but it isn't rocket science.
"They talk about it being science but I didn't have a lot of sports science around me when I played and we were able to get fit – tt's about hard work.
"The good thing about it is making sure you're looking after the loading of the players in-season."
Lions Could Be Better

Last week, Irish flanker Sean O'Brien said that he reckons the Lions could have won the All Blacks tour if Warren Gatland and Rob Howley hadn't f*cked it up.
"To be honest, I'd be pretty critical of it because I think we should have won the tour and we probably should have won it comfortably," O'Brien said according to ESPN.
"The first week, we definitely over-trained on the Thursday and maybe the coaches were panicking a little bit about getting the information into us.
"We did nearly a similar thing in the last week. So maybe it's more [from] a coaching point of view, in terms of taking lessons. Less is more sometimes on a tour like that, rather than trying to pick things up at the end of the week.
"And probably from a players' perspective, probably to be stronger and say 'look, we don't need that, we're ready to rock. We just need to be short and sharp'."
O'Brien attacked attack coach Howley, saying that the players figured out their own attack plan.
"If I was being critical of any coach it would be the fact that I think Rob struggled with the group in terms of his attributes of trying to get stuff across whereas Johnny and Owen drove everything the second week, for instance, in our attack and had a better plan in place," said O'Brien, who played all 3 tests.
"So I don't know if it was people not buying into what he was about or whatever else. That's the hard thing about a Lions tour as well; getting everyone to listen to a coach that was probably set in his ways."
Despite pretty much crapping on the Lions coaching staff, O'Brien insisted he wasn't negative:
"There's definitely proud moments in there," he thumbsed up. "We can be proud of what we did out there at times.
"Not to be negative about it or anything, it was a great tour and everything. But at the end of the day I think, with the squad we had, we should have beaten them."
Lomu Jrs 4 France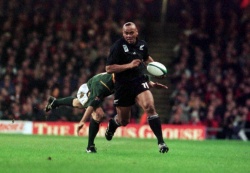 The race for the 2023 Rugby World Cup is heating up, and France have looked to get the upper hand over Ireland and South Africa by….wheeling out Jonah Lomu's kids?
Sebastian Chabal, the caveman looking fellow, was at a press conference with Lomu's two kids – Brayley and Dhyreille – to help sell the French bid.
"Dhyreille was born in France, born in Marseille, when their daddy came over and played for Marseille," Chabal said (via the Irish Independent).
"And as he told us earlier, quite simply, he's known as the Frenchie at home. And Jonah Lomu loves France, that's where they saw their daddy playing rugby. Today I speak in their name.
"They said they would love to come back in 2023 to experience the World Cup in the country where their father was so happy.
"I'll leave it up to them to decide which jersey they will wear, blue or black, but they are very proud of this dual nationality, this dual identity and that's why they're with us today."
FFR chief Bernard Laporte added, "It is very moving to have them with us, very good of them to have come all the way from New Zealand."
Yeah. Lomu's kids have been without their dad since he died in 2015 from nephrotic syndrome (a kidney disease).
Meanwhile, France's own president couldn't arsed to rock up to the presser or even record a video and, according to the Irish Independent, has 'distanced' himself from the bid.
"There was no video, I'm here to represent the government," said sports minister Laura Flessel, who actually was there.
Heady times.