Another Tuesday, another Top 5! This week we do the usual thing with the good, bad and ugly, check out where we sit in the NRC, consider player welfare, get a bit mental and do a bit of globetrotting.
The Good, The Bad and The Ugly
Good – How good is the NRC right now?? No results seem entirely predictable, the ladder is as tight as (see further down) and there really is some great rugby being played.
Bad – For the first time in a long time I'm actually struggling to think of a bad. I'm sure there is something bad floating around, but I'm still on a public holiday state of calm from yesterday, so I'll let it be this week. The Wallabies are back this weekend so there might be something for the bad next week (though I choose to be optimistic and believe the game will go swimmingly, we will get the win, Hanigan will finally prove all his doubters wrong, the back row will monster the breakdown and the kicking will be sublime)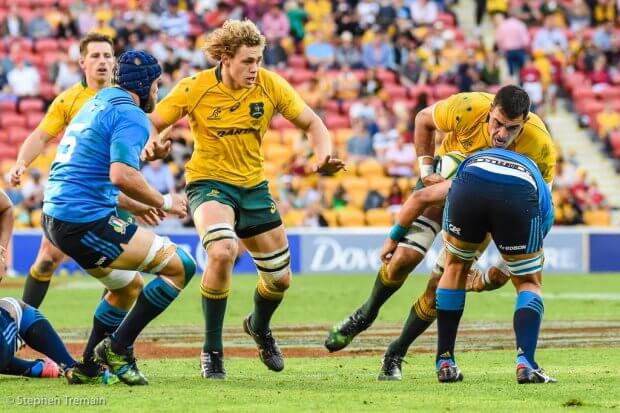 Ugly – Some of the information coming out of the Senate Inquiry. We all knew about the unequal funding, but as more and more comes out it's not a great look for the ARU. Other offers to buy the Rebels allegedly ignored, Clarkes connections to the Rebels pre and post decision … bring on October 11!
NRC Wrap
Taking a bit of a break from the stats this week, I thought I'd take a look at the table after 4 rounds. We are creeping up on the half way mark of the season, well storming up really … it's gone by pretty quick … and the points are unbelievably tight.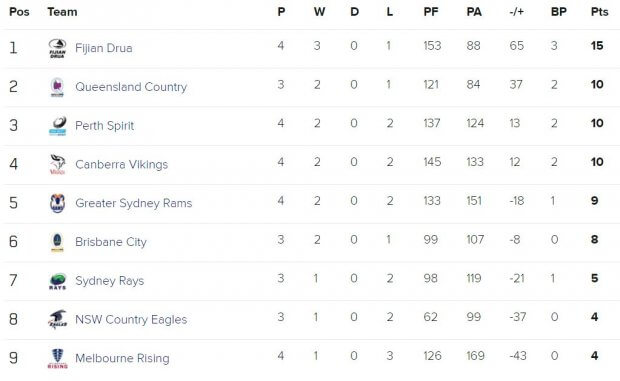 We have a clear leader, the Fijian Drua on 15 points, 5 points clear of the second placed Queensland Country, who are level on points with the third placed Perth Spirit and the fourth placed Canberra Vikings. One point back, on 9 points, we have Greater Sydney Rams, then another point back is Brisbane City. See … close!
There are no undefeated teams and no teams without a win. It is definitely a lot tighter than last years competition at the same point.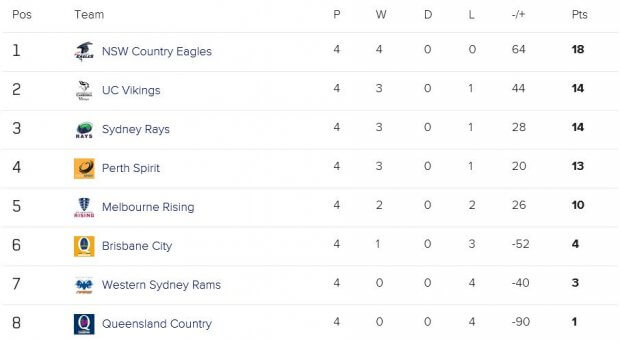 I have to admit, when I heard that Fiji were being brought into the NRC I wasn't too pleased about an international team in our national competition, if we were going to expand the comp then surely we'd be best served by growing the game nationally first. But I have to admit, I love watching the Drua play. Their speed, big hits and some of the best running rugby around.
I do have to wonder though, have the ARU made themselves look a bit silly? The way the Drua are playing, there is a very good chance they will top the competition. Could the NRC final be held in Fiji, depriving local Aussie rugby fans the chance to watch the match at the ground, live? Could an International team win the National Rugby Championship in their first year? Not to mention the fact that they are making some of the Aussie sides look pretty ordinary. Especially when you consider that the Australian teams have Super Rugby and Wallaby players to choose from. Yes, there are some Fijian internationals playing for the Drua, but there are also players who had never been on a plane before their first match.
Really, I think this sums things up quite nicely.
"All players named in the extended squad except those involved in the last Farebrother Challenge are required to meet at the HPU Gym in Suva on Monday, 7 August at 10.30am with the necessary camp and training gear.
Players who were part of the large extended squad are requested to continue your own training since there is a possibility of injuries and you being called upon to join the squad."
From http://www.fijirugby.com/latest-news/nrc-extended-squad-to-march-into-camp/ 
Just sort it out!
I will start this by stating that I think it's a positive that the NRC provides the opportunity for referee development. We all know that as part of that we accept that sometimes the decisions they make may not be the best, but that's just part of the game and something we need to accept to develop referees like we do with players. But before a referee gets out on any field there is an absolute necessity that the referee understands that player welfare is paramount and should never be compromised. Unlike any other refereeing decision, there should be no "interpretation" when it comes to payer welfare. The moment there are signs that a player may have sustained a significant injury the play should be stopped.
On the weekend during the NSW Country V Canberra Vikings game there was an incident that has caused some controversy including the Canberra Vikings coach coming out with concerns about the refereeing around the incident. There are two parts to this incident. The first part is about player welfare, the second part is about the fallout from the incident and if it may have had a bearing on other decisions.
The key to this I want to highlight is the trigger for this incident. Not being medically trained, I tend to find that when someone cries loudly in pain and then remains motionless, they are two very good indicators that the person may have suffered a significant injury requiring medical attention.
(Warning – potentially disturbing content) In the below video you will hear Ben Hyne cry out in pain at 7 seconds, which is a key indicator of a player welfare issue. The fact that viewers at home could hear his cries of pain certainty indicates that those on field were aware he was in trouble.
Some cynics may claim the it was a play by the Canberra Viking to have the game stopped to get the win. There are rules about simulation of an injury so if it was found to be the case it could have been penalised and potentially a card issued then play would have continued nullifying any advantage from stopping.
From my point of view, I find the handling of the incident appalling and believe the ARU should investigate the incident and have the referee withdrawn until he has undergone further training including some communication and management training to avoid a repeat and the potential compromise of player safety. The ugly reality to this is that there are potential legal implications with situations like this. Reading this paper from the ARU's own reference materials give you more of an understanding about the legal obligations around player safety.
After play resumes you will see that at 4.09 a maul is called and then brought to ground by the Vikings. The Eagles were given ample opportunity to get the ball back, in contrast to a similar situation in the Rising v Rams match where the whistle was blown almost immediately after the maul was brought down.
In addition to the player welfare concerns, it is fair to consider if there is an issue around potential bias contributing to the referee's decision making after the incident. There are many reasons why these events occurred including the referee feeling stressed after making a poor decision(s) and it snowballing increasing the pressure of the situation. Whatever it is it needs addressing and it cannot be left unchecked or accepted.
It's hard to say if the decisions at the end of this game will have a bearing on the Canberra Vikings season, but that pales in to insignificance to Ben Hyne who appears to have suffered a season ending knee injury – he is having scans today to determine the seriousness of the injury.
Analysis paralysis
Wow, this is getting really hard. We are a week out from the playing South Africa and we, the MST's are starting to feel the pressure. The nerves are increasing and we are running through our options and ideas. We know we can do it; we have done it before. We all know you can relate to it too, but its two-fold for us.
It's just hard fronting up on the couch to watch the game as a supporter. Will we get it right on the night, will we get the win? It's hard. I don't want to get ahead of myself and build up the optimism and be let down. But then there is the Top 5 on the following Tuesday. If they lose how do we approach it. Try the positive sell, or just have at it? If they win do we trot out the two games in a row mantra or be super optimistic and take a chance they will beat the Pumas again.
This is so hard. Since 2014 this has been a real challenge for us the MST's. But its Ok because we are feeling confident. We have worked on our skills and execution …….. I know; we are just overthinking it all right?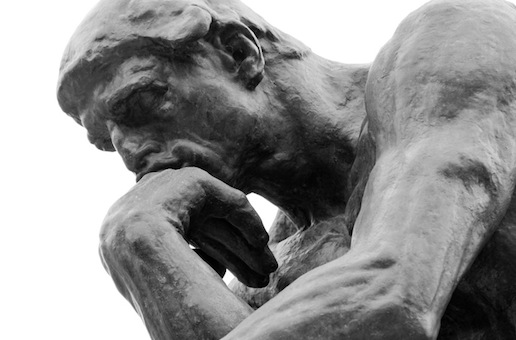 But I am glad we are not the only ones who are doing it tough by playing the game in our head.
Compliments of Wikipedia:
Analysis paralysis or paralysis by analysis is the state of over-analyzing (or over-thinking) a situation so that a decision or action is never taken, in effect paralyzing the outcome. A decision can be treated as over-complicated, with too many detailed options, so that a choice is never made, rather than try something and change if a major problem arises. A person might be seeking the optimal or "perfect" solution upfront, and fear making any decision which could lead to erroneous results, while on the way to a better solution.[1] On the opposite end of the time spectrum is the phrase extinct by instinct, which is making a fatal decision based on hasty judgment or a gut reaction.
The phrase "analysis paralysis" describes a situation in which the opportunity cost of decision analysis exceeds the benefits that could be gained by enacting some decision, or an informal or non-deterministic situation where the sheer quantity of analysis overwhelms the decision-making process itself, thus preventing a decision. The phrase applies to any situation where analysis may be applied to help make a decision and may be a dysfunctional element of organizational behavior. This is often phrased as paralysis by analysis.
So to answer your question about what the hell you are babbling on about MST's; well again right on schedule out came the Wallabies "mental" issues again. I am so glad that the Wallabies have no issue with skills, game plan, execution or selections, it's all in their heads apparently. Let's see if we can find any evidence or patterns to see if this is a real issue or not. I mean the last thing we would want it to be was something like this: The phrase applies to any situation where analysis may be applied to help make a decision and may be a dysfunctional element of organizational behavior.
November 17 2014 – http://www.the42.ie/michael-cheika-changes-quade-cooper-1784939-Nov2014/
Quade Cooper quote – "Mental edge is something he talks about a lot: your mental preparation, each individual making sure we cover off everything throughout the week. We're not leaving anything to chance.
30 October 2015 – http://www.msn.com/en-gb/lifestyle/beauty/australia-mentally-ready-for-new-zealand-clash-says-cheika/vi-BBmCN9S?refvid=BBmyLqZ
Australia have resilience and mental strength to defeat the All Blacks in the Rugby World Cup final, says Wallabies head coach Michael Cheika.
4 April 2016 – https://wwos.nine.com.au/2016/04/04/14/57/cheika-wants-more-mental-toughness
Wallabies coach Michael Cheika has revealed he is working on improving players' mental toughness ahead of the 2016 international rugby season
19 May 2016 – http://www.rugby.com.au/news/2016/05/18/20/25/michael-cheika-why-i-stayed
"We're learning to understand it's (mentality) a powerful weapon. You never go totally, 'this is how it's gotta be', it's different for every single person.
24 July 2016  – https://www.alloutrugby.com/cheika-wants-players-to-toughen-up/
Cheika tried to explain the reason for the poor performances by the Australian teams and said overcoming mental hurdles is more important than making up a perceived gap in skill levels for his country's players.
August 20, 2016 – http://www.goldcoastbulletin.com.au/sport/rugby/bledisloe-cup-wallabies-coach-michael-cheika-says-he-got-mental-preparation-wrong/news-story/291cf2cd8a66618dcbeb6d801fe4c735
Wallabies coach Michael Cheika has admitted bungling the team's mental preparation after his side suffered their worst defeat to New Zealand on home soil in more than a century.
27 July 2017 – https://www.theguardian.com/sport/2017/jul/27/wallabies-go-commando-with-mental-fortitude-just-as-important-as-fitness
Wallabies go commando with mental fortitude just as important as fitness
23 September 2017 – http://www.smh.com.au/rugby-union/union-news/wallabies-need-to-overcome-mental-hurdle-in-south-africa-says-michael-cheika-20170922-gynbir.html
Wallabies need to overcome mental hurdle in South Africa, says Michael Cheika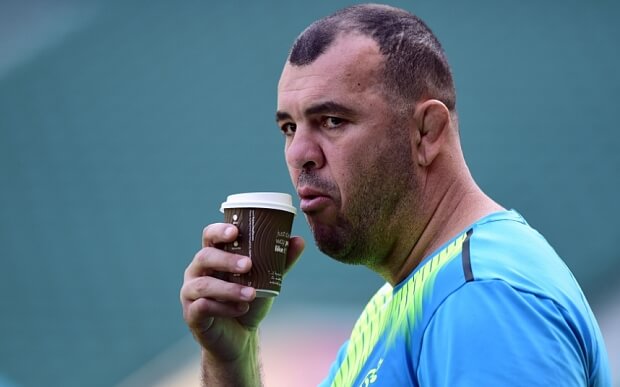 Well, luckily it appears that's it only exclusive to this game, er, every game against the Springbok's, er, every team.
Now the MST's have been inspired by the statements out of the Wallabies camp this week and we are sold on the revelation that if you keep winning it's a positive.
Rugby Around the Globe
I thought we'd take another look at the European competitions this week, after seeing some interesting updates on Twitter regarding certain players.
We'll start by checking in with the Kings and Cheetahs again in the Pro 14. The Kings dropped their fourth game, going down to Zebre (who were defeated by the Cheetahs last week) 17-43. The Kings are the only team yet to post a win and currently sit bottom of the ladder. Unfortunately, it looks like it will take a bigger effort than they can muster to do well in this competition.
The Cheetahs on the other hand, surprised many with a 38-19 win over Conference B leaders Leinster, handing the Irish team their first loss. The Cheetahs currently sit 3rd in Conference A with 2 more home games to come before they head back over to Europe again.
Speaking of South African teams playing in Europe, there have been news reports that SARU plan on creating 2 new franchises with the aim of competing in the Anglo-Welsh Cup. We'll keep an eye on this story with interest! Check out the story here.
Ok, so let's take a quick gander at the Aviva Premiership. A few weeks ago I mentioned some players to look out for, locals who headed overseas to play. Well some of them made big news over the weekend.
From the Aviva website – "Rob Horne stole the limelight with a pair of dazzling tries to put London Irish to the sword and continue Northampton Saints' resurgence". In the same match we also had Brendan McKibbon at scrum half for London Irish, and Jake Shatz putting in a solid performance off the bench, also for London Irish.
Dave Dennis scored a try and played well in Exeter's win over Wasps, while Nic White was again praised for a good performance (who, according to Fox Sports, has been described by many English rugby pundits as the off-season recruit of the year).
From the Harlequins/Leicester match – Matt Toomua played a big part in creating the opportunity for Jonny May to score and had a good all-round game.
That's just some of the current Aussie players in the Aviva who made an impact in round 4. There were also some who starred in France and Japan, Berrick Barnes and Matt Giteau amongst the older heads doing well and Jordan Smiler scoring for Suntory.