Tuesday's Rugby News has the results from the London Sevens, Shannon Parry's thoughts on development pathways, Israel Folau confident and George Smith reluctant.
---
Sevens Heaven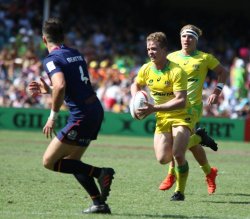 Scotland won the London Sevens overnight, beating old foes England 12-7 in the final. This is Scotland's second successive London Sevens' title.
"[Och aye] I'm absolutely elated," said Scotland captain Scott Riddell (via Fox Sports). "This [wee] sport is something that just grips you. It's so special and I'm so proud of the boys. I'm lost for words.
"We were under the pump and we just keep fighting and we took our chances. You could [nae] write a script like that."
Canada pipped the US to 3rd place, beating them 22-19.
Meanwhile, Andy Friend's Brave and Handsome Aussies came 6th, after being turfed out by the Americans 31-14 in the quarters. They then SMASHED New Zealand 40-7 in the 5th-place semis, before losing again, this time to South Africa, 28-17.
"I thought the boys did really well to bounce back and put 40 points on New Zealand, who have been a really tough team for us to beat," he said.
"And then we had the chance to beat the current World Champions (South Africa) at the end and for all bar the last 30 seconds, I thought we were going to win that. A disappointing day with positive signs but we finished sixth at the tournament and sixth for the season so it's probably a fitting result.
"Looking back on the year, when we were good, we were very good and when we were bad, we were rotten. The highs and lows of that are too far apart so we need to flatten that out. That's part of having a young squad, we've been guilty of inconsistencies so we need to look at that.
"I have been really impressed by the young squad, they have a lot of fighting spirit and in time we'll be able to turn them into a championship winning side. There's been a lot of talk about the young players but you need the older heads too, like James Stannard who led us so well over the past two weeks.
"We have six tournaments that we're looking at in between now at the next World Series. The most important thing for me is to get more players playing whether it's club competitions or through the nationals or what have you.
"When I get back, I'll continue to have discussions on how we can support that, not just at a senior level but at a junior level too to really open up opportunities for everyone to be playing the game of Sevens."
South Africa won the 2016-17 series, while Australia came 6th (behind England, Fiji, New Zealand and the USA).
Parry Says Both
The Wallaroos and Pearls Brave and Handsome Shannon Parry believes that the development of women's 7s and 15s doesn't have to be mutually exclusive.
"There's no reason why we can't develop both pathways, Sevens and XVs for women across Australia," Parry told rugby.com.au.
"It happens for the men, so why not for the women as well? Sevens is a showcase for the women in rugby, whereas XVs is probably a little bit on the backseat, so I'd like to see XVs starting to progress as well.
"Obviously at the moment the VIVa 7s, Game On games that we've got, they're great pathways to get young girls into Sevens and then I think in the development of the player, you can play XVs, you can get your extra contact that you need to get that you don't necessarily get in Sevens.
"It's a great development pathway if we can develop both of them and looking at the ARU strategic plan, that's definitely what they're trying to do moving forward."
Parry sees the upcoming Women's World Cup in Ireland as a chance for women's 15-a-side rugby to get a chance in the spotlight.
"Off the back of the Olympics, Sevens has definitely blossomed and the pathway has been a lot better," she said.
"As for XVs, it's probably dwindled a little bit. I think this World Cup will definitely showcase what we're about and people start to realise there is a Sevens game and a XVs game."
Dr. Folau, Rocket Scientist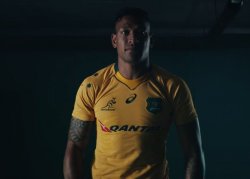 Folau is hopeful/delusional, telling the Daily Telegraph that he reckons the Waratahs can not only beat a Kiwi side, but do it in New Zealand.
"Definitely, you've got to be confident going over there, and that's all we're thinking about," Folau said.
"It's no [sic] rocket science, every team is going over there to get the win, but that's not the motivation. The guys have got to get the result out of their heads and just play rugby." So, catching and passing the ball isn't rocket science? You're not motivated to win?
"We've talked all year about expressing yourself and not going into your shell, I think that's exactly what we've got to do," Folau said, wearing a tutu and holding a star wand at outside Moore Park.
"We've got to do the opposite [of changing the way we play] and not take a step back, but continue on the way we've been going so far. The guys have that in their armoury, we've got those skills to play that game.
"The challenge is, because we're playing New Zealand teams, is to not go into your shell. I think it's been a bit of a perception in the way people have looked at the way New Zealand teams play.
"I definitely back not only our guys, but all the Australian Super Rugby teams have got the skills to play it. It obviously hasn't gone our way but it's not going to hold us back from the way we want to play and I know we've got the skills to do it."
Folau also confided that he's enjoying his rugby again.
"From the start of the week I really wanted to simplify things and look for that enjoyment and the reason why I play the game," he said. "Coming out [against Melbourne], there wasn't too much thought around the game and that's how I usually operate as a player.
"I really enjoyed it there, I'm trying to get that smile back out there and that's what it's really all about for me, enjoying footy with a bunch of my mates."
George Bradbury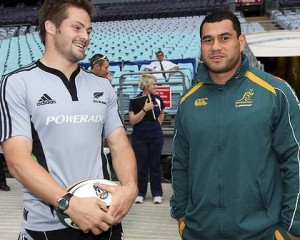 George Smith has told the Daily Telegraph that he wouldn't say no to another Wallabies jersey, but would only be comfortable taking one if it came to him in a Steven Bradbury situation. Thinking about it now, if George Smith were to get his job this way, he wouldn't be alone in Australian rugby.
"Look, the thing with that is I'll never turn my back on Australia," Smith said, who has 111 caps. "I'd never refuse one (a jersey) if it was under the right circumstances.
"If (coach) Michael Cheika and the selectors have players who can fill that void I'd rather he pick those sort of players.
"For me, it's more like…I wouldn't turn my back on it but, at the same time, I feel if he's to develop players in my position I'd prefer he pick those players because they deserve the opportunity."
"If everyone fell down and it was a Steven Bradbury (situation), I'd be happy to pull on the jersey."
When asked about the whole Sean McMahon sitch, Smith, 51, is returning to his Japanese club over the summer, and said this:
"I'd just implore him to see what's best for him," said Smith.  "I always encourage players to broaden their horizons and go and play in different countries because it does make you a better player.
"It encompasses so much more than just rugby.
"It's always a shame to lose any national player and the decision just comes down to him..does he want to improve himself as a player in Australia or does he feel he can improve in another country."
---
P.S. What a bloke!