Happy Thursday, everyone. I hope whichever deity you adhere to gives you joy over the long weekend. I'll be enjoining my annual pilgrimage to a quintessential country riverside camping experience to recharge the batteries and do some bushwalking, and, in the most 2023 thing, will watch my beloved Reds on iPad in the bush. 
Let's get into it.
What Does Harry Wilson Have To Do?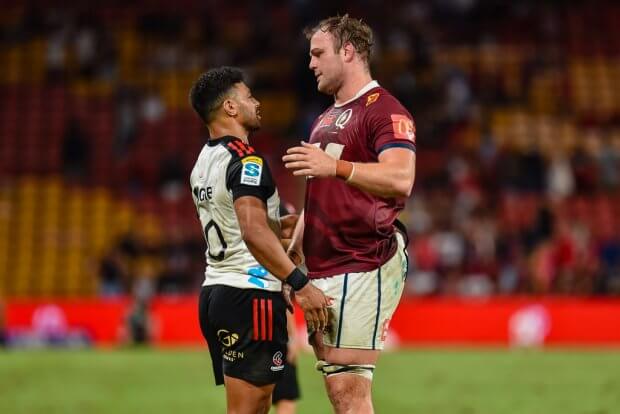 I understand from paying attention to English rugby over the past few years that Eddie likes to make up his own mind. The English game is littered with players he got, in had a look at, and discarded as not being test match animals. I also listen to the Eggchasers podcast and subscribe to "Cockers Law": that is if you think a certain player should make the squad then you have to make a case for who should miss out. Otherwise the Australian squad had 90 players.
So, why does Harry Wilson miss out? Here are his stats source here:
Carries Ranked 1 with 93
Clean Breaks =6 with 7
Metres Carried 3rd with 622
Tackles 10th with 70
These are meaningful stats. He played excellently against the Crusaders who rate him and would have singled him out to be shut down. I wouldn't've picked Ned Hanigan or Langi Gleeson over Harry Wilson.
Sula-Siaosi earns first start, Creighton returns for Good Friday clash against Brumbies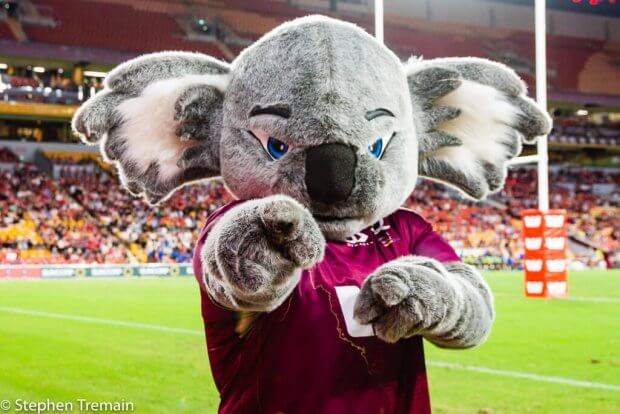 Reds take on the Brumbies in Brisbane on Friday evening and while all form points to a Brumbies win I an drinking the Koolaid and tipping the Reds to get up. The big new is dropping Suli V to the bench is well deserved but I would have picked Mac Grealy to play instead of Filippo D.
From the Red Rugby Site
Phransis Sula-Siaosi will earn his first Super Rugby start in one of four changes to the starting XV, with Angus Blyth returning to the run-on team after making his comeback from an ankle injury via the bench last week. Flyhalf Lawson Creighton will feature in the number-10 jersey for the first time this season, while Filipo Daugunu is back on the wing after last week's loss to the Crusaders.
Thorn said: "We face the Brumbies for the second time this season and they've proven to be one of the form teams in the competition. We get another chance to play in front of our home crowd. We're looking forward to seeing them there on Friday night for what should be a good contest. Phransis has made good contributions coming from the bench and he's earned an opportunity to have his first start. He's another guy who has made his way to the Reds through club Rugby which is great to see and he's impressed us with his work around the park."
Peni Ravai – Easts – Ratu Kadavulevu School, Fiji
Matt Faessler – Brothers – Toowoomba Grammar School – USQ Saints
Phransis Sula-Siaosi* – Souths – St Joseph's Nudgee College
Angus Blyth – Bond University – The Southport School – Casuarina Beach Rugby Club
Seru Uru – Wests – Ratu Kadavulevu School, Fiji – Namoli Rugby Club, Fiji
Liam Wright (cc) – Easts – Anglican Church Grammar School – Easts
Fraser McReight – Brothers – Brisbane Grammar School – Albany Creek Brumbies
Harry Wilson– Brothers – St Joseph's College Gregory Terrace – Gunnedah Red Devils
Tate McDermott – University of Queensland – Sunshine Coast Grammar School – Flinders Rugby Club
Lawson Creighton – Brothers – Padua College
Filipo Daugunu – Wests – Dogotuki District School, Fjii
Isaac Henry – Wests – Brisbane Boys' College – Kenmore Bears
Josh Flook – Brothers – St Joseph's Nudgee College – Brothers
Jordan Petaia – Wests – Brisbane State High School
Jock Campbell – University of Queensland – The Southport School – Inverell Highlanders
Richie Asiata – Easts – Anglican Church Grammar School
Dane Zander – University of Queensland – St Joseph's Nudgee College – Albany Creek Brumbies
Zane Nonggorr – Bond University – The Southport School – Gold Coast Eagles
Ryan Smith – Brothers – St Patrick's College Shorncliffe – Caboolture Snakes
Jake Upfield – Bond University – The Southport School
Kalani Thomas – University of Queensland – Ipswich Grammar School – Souths
James O'Connor – Brothers – St Joseph's Nudgee College – Brothers
Taj Annan – Souths – Brisbane Boys' College – Merewether Carlton 
*denotes Queensland and Super Rugby Pacific starting debut.
Australia Has some decent 10s coming through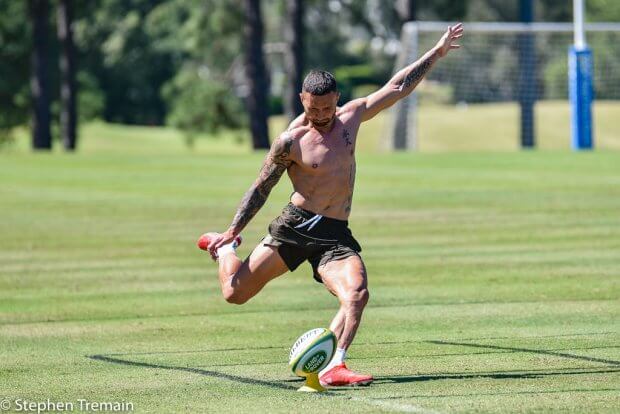 Probably not since the class of 2007 has Australia had so many good 10s coming through (isn't that an indictment?). The 07 class included Quade Cooper who celebrated his 35th birthday yesterday and Spanners Foley.
The Reds have signed a promising group in Tom Lyagh and Harry McLaughlin-Phillips. Hopefully the Reds can retain O'Connor to mentor these two going forward.
From Pravda
McLaughlin-Phillips' signing during the off season until the end of 2025 was without the Lynagh fanfare but just as important if you listen to shrewd judges. He was playing Queensland under 18s last year in his final year at school and will likely be sharing the Australian under 20s flyhalf role this year with Joey Fowler. McLaughlin-Phillips has already stepped up in first grade. He was a significant cog in unfashionable Souths knocking off University of Queensland 18-14 last Saturday. 
In Lynagh and McLaughlin-Phillips, the Reds have two excellent yet very different No.10s. Lynagh's kicking is the best of any young No.10 in the country and he has polished mechanics to his passing. He tackled Hurricanes beast Ardie Savea in the open field on debut for the Reds but his tackling and physical aptitude are still work-ons. McLaughlin-Phillips is far more of a dasher in attack. He mixes it in the frontline and his role in a fine try for the Reds in their pre-season trial against the Western Force was a show of his style. 
By also having Lynagh on the books until the end of 2025, Queensland rugby may have shrewdly sidestepped that problem of having so much young talent in a specialist position that contenders inevitably disappear to other states. New Wallaby squad flyhalf Carter Gordon needed to go to the Melbourne Rebels when blocked for a run in his home state of Queensland. 
Congrats to Richie Mo'unga who raises the bat this weekend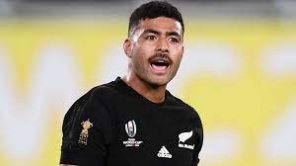 Link Here from State Media NZ
As much as everyone not from the South Island hates the Saders congrats to another Richie from down there. Make no bones about it – Richie Mo'unga wouldn't be Japan-bound next year if he hadn't ticked off a goal he set shortly after stepping inside Rugby Park for the first time. Becoming a Crusader was one thing, but joining a long-list of centurions at the Christchurch-based franchise, something he'll achieve against Moana Pasifika on Friday night, was another thing entirely.
"This milestone was the top of the list in deciding when to head overseas. This was something I definitely wanted to tick off before I headed off. I guess that itself explains how much it means to me and my family," Mo'unga said. The 28 year old will become the 24th player in Crusaders history to reach the mark, and recalls cracking the team in 2016 and noting how celebrated the franchise's centurions were.
Hoss away tomorrow doing the family thing. I know Chucky has someone putting his hand up for Friday. Just remember we are a fan site so if you have something to add get involved be it one article of a weekly addition everyone is welcome. We even tolerate token Kiwis.