Greetings, G&GRs, and welcome to Hoss-free Friday. With the Waratahs finding it hard to get a win against the bye (or any other team for that matter), Hoss has chosen to re-enact parts of Jesus' life: water into wine, hanging out with hookers, enjoying the creature comforts of a prison cell and likely dying as some pariah martyr for his many, many sins. So, in lieu of the usual Friday "tragic Tah Tale", guest contributor Rhys from Kingsland has stepped into the breach with an article that may delight Australia's version of the American South. Happy chocolate weekend! And 'Go Ponies!'.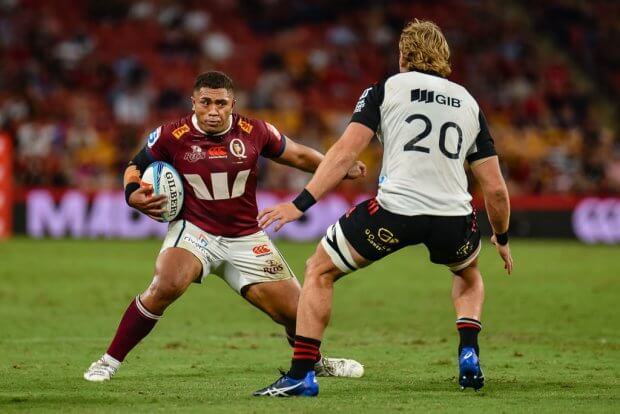 The Reds rejuvenation needs to start with more dynamism from the tight five
by Rhys Bosley
After the Reds' loss to the Crusaders on Friday night a big deal has been made that the Saders were playing a depleted side, but the fact is the Reds were as well. Queensland's tight five in particular are missing the explosive running forwards that it has enjoyed in previous years: Taniela Tupou, Harry Hoopert, Brandon Paunga-Amosa and Lukhan Salikaia-Loto. Compounding this Seru Uru who normally plays an outstanding wide running game at six has had to play lock, limiting his contribution in attack.

Therefore, the bulk of the ball running fell to number 8 Harry Wilson, who did a sterling job of making up for the rest of the pack with 18 runs at 102 metres against the Crusaders, including three clean breaks and three defenders beaten. Nevertheless, relying on one big ball runner is undesirable, it makes the Reds attack predictable as it flows off one player.

This may at least partly explain the difficulty the team had in manufacturing tries against the Crusaders, with James O'Connor not getting a great deal of space to work with and resorted to short kicks in behind to try and score, only one of which yielded a try to Jordan Petaia. Conversely, though the Reds didn't kick enough for field position, their kick to run ratio being about four phases per kick, with the Crusaders being about three per kick. This is significant as Wallabies Coach Eddie Jones has recently made it clear that "ball retention rugby is dead", with the game shifting towards a power game where most tries are scored within three phases. The implication is that if you can't score within three, kick and try again.
So what does that mean for teams like the Reds, which are currently short of their power players? Aside from their attack relying on Wilson being a dead end, it's only a matter of time before teams mark him heavily and shut him down. Getting Angus Blyth back at lock will free up Uru, so he may be used for his wide running game at 6 or off the bench, but irrespective of where he's used a better contribution is needed from the tight five.
Even without the power forwards, better contribution is possible from the Reds, using the tight five they have. Last year Dave Rennie's Wallabies forwards were generating similar statistics, with Rob Valetini being the man doing all the running. However, a shift was made to getting the tight forwards into places where they could get a run up on a good line, then break the opposing line when they received the ball. This had a great effect as a 120kg man is hard to stop once at speed whoever he is; Wallabies captain James Slipper best demonstrated this with his try at 2:10 of this clip (Chuck edit – and twice v the Tahs last weekend 🥳🥳).

This approach seems to be exactly the sort of incremental gain that the Reds need to generate, to open up defences and set free that wonderful unstructured attack Jim McKay has brought to the Reds. It will require a big emphasis in off ball effort by the tight five, to get them into position to make their runs (which is what new assistant coach Mick Heenan is tasked with bringing to the team), so getting the results out of them will be a good early test for him.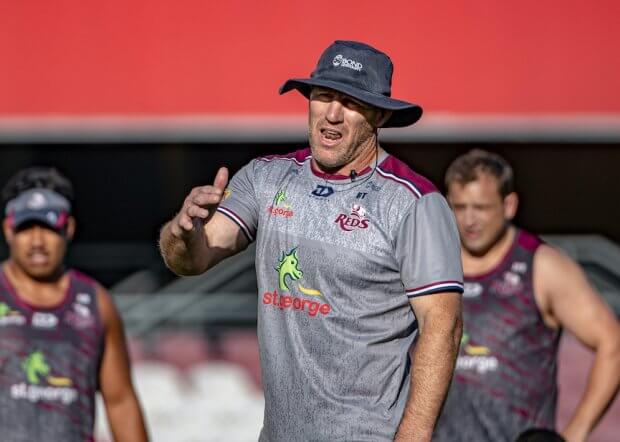 Finally, there has been a lot of press that Brad Thorn is pondering his future in rugby and who can blame him if he decides to take a break from professional sport after 30 years. I'm an unabashed fan of Thorn's, having been inspired by the outstanding professional standards and example that he's brought to the Reds, to lift them out of the doldrums that they were in for many years, and I think he's set a lot of young men on the path to success, not just in rugby and throughout their lives because of it.

Thorn has said the coaching decision between him and the club should be in the best interests of the Reds, which is typical of him as a humble individual who puts the team first. That said now that it's out there, I'm not sure that any more needs to be said about it until the decision is made; this season is still there to be won and what is best for the Reds right now is for Thorn to keep doing what he has always done: driving his men to strive to be the best they can be.

Whether this season is a last hurrah for Brad Thorn or a rejuvenation along with his team, I'm sure that like me the Reds fans are looking forward to see how it goes, as much as we did each and every one of the previous five.
OTHER NEWS
In unsurprising news, the Joseph Sua'ali'i news keeps getting the NRL types in knotted knickers worse than when Karl reads something about the ABs cheating… see more here
I particularly enjoyed the following quotes:
"If the NRL fell over tomorrow rugby league would be dead in 15 years, worldwide, it just would not last.
Now this isn't going to happen every time and this isn't going to happen to every player but it's a conversation rugby league doesn't need and it's a conversation that only benefits rugby union.
As much as I'm not a fan of signing mungoes, this does make things slightly sweeter.
The Sporty Coq have unveiled the French Bill jerseys. Not gonna lie… they look schmick – see here for more information.
Happy Easter weekend, folks!