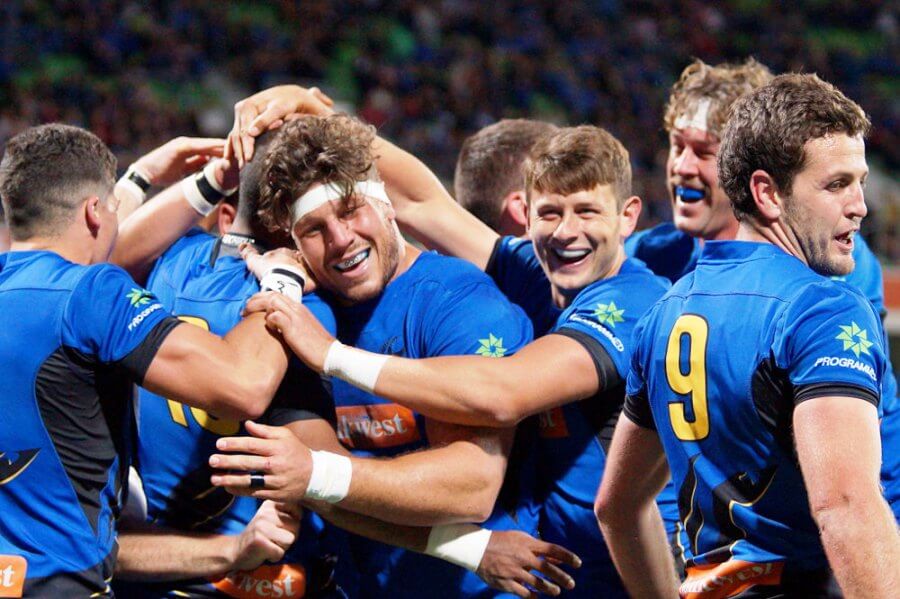 Thursday's Rugby news sees the Force awaken, Rebel's lock Matt Philip still with a point to prove, Red's coach Brad Thorn wanting to keep talent on home shores and a Trans-Tasman comp continuing to gather momentum.
---
Unstoppable Force
This week will be the first time the Western Force are back in Super Rugby since their exile in 2017. The Force will fly out to New South Wales on Friday, and Head Coach Tim Sampson has reported that the group is "full of excitement" ahead of their first Super Rugby AU game for the year. The Force had to patiently wait last week as the new competition kicked-off.
The team will begin their campaign against the NSW Waratahs, who they played in their last Super Rugby clash on an emotionally charged night in Perth three years ago. Since then, the West Coast-East Coast rivalry has been bubbling along, and should produce a fiery match-up.
"The team can't wait," Sampson said.
"The excitement has been building for a long time to play against the Australian clubs again. It's been brewing since the new Super Rugby structure was first mooted and we're here now in the midst of game week, prepared and determined for the challenge."
Following the Force's game against the Waratahs on Saturday night, the team will relocate to the Hunter Valley, an arrangement Sampson is very thankful for.
"We're delighted to be back in the Hunter Valley region after a great experience here during pre-season when we had a practice match in front of a big crowd," he said.
"It's a strong rugby area and there's a lot of passion there, so we really appreciate St Philip's Christian College hosting us and allowing us to use their facilities."
Wallabies jerseys are on the line for the Force players, with new national coach Dave Rennie making it clear that he will picking a squad based on form in the Super Rugby AU. Coach Sampson believes the lads will have plenty to play for.
"I'm stoked for the players. For them to have the opportunity to go and play in a competition like this in front of Wallabies selectors is brilliant," Sampson said.
"We have the utmost belief that we can perform in this competition, as there are individuals in our team that can certainly attract the attention of the right people for national selection. I'm just rapt the players get this opportunity and the loyal Sea of Blue get to witness them play at this level again."
Rebel with a cause
Matt Philip isn't ruling out a return to Australian rugby despite signing a one-year deal with Top 14 club Pau. The Melbourne Rebels second-rower wants to add to his three Test caps before his departure.
Philip claims the move to France is attempt to improve his chances of becoming a regular Wallaby. He hasn't been able to break back into the Australian side since making his debut in 2017 and said he hoped getting some experience in European rugby would give him an edge.
"I'm going for a short stint overseas but I am available for all of the Super Rugby competition and all Test matches this year," Philip said, shedding some light on his new deal.
"I'm hoping to come back at the end of next year's Super Rugby season and will be available for next year's Test matches.
"I'm hoping I will put in a good enough performance that they will want to keep me for the long term but in the short term I'm going to get a bit of experience overseas.
"Hopefully it gives me a point of difference around my forward play as it's a pretty tough old competition over there so I think it's going to benefit me."
The 26-year-old said he'd been in regular contact with new Wallabies coach Dave Rennie, who had been giving him feedback on his game.
The Rebels are on the move again this weekend after being beaten by the ACT Brumbies in Canberra last Saturday night.
The team has relocated to Sydney, as they give up a home game to meet the Queensland Reds on Friday night at Brookvale Oval.
At least Manly Marlins product Philip will feel right at home on the Northern Beaches.
Home loyalty
Reds coach Brad Thorn is a big supporter of the 'Giteau Law' telling rugby.com.au that it is 'strength' for Australian rugby, encouraging talent to stay in the country.
The 'Giteau Law' was introduced to allow overseas-based players to be picked for the Wallabies if they have played more than 60 Tests.
The law is currently being reviewed. Some positions in the Australian playing stocks have been hit hard, and some pundits want the law to be relaxed in order to select a few overseas-based players to play for the Wallabies.
The second row depth in particular has been depleted, with Will Skelton, Rory Arnold and Izack Rodda plying their trade somewhere else.
Thorn has said that he felt restrictions on Test selection had encouraged more players to stay in Australia.
"I think the strength of New Zealand and Australia is they've had that rule, if you're not there, you don't play," he told rugby.com.au. "I think Ireland maybe do it over there as well. I think that's helped keep players in the country, that's what I'll say."
Thorn was full of praise for the locks running around in Super Rugby AU, backing a few for Wallabies jerseys.
"I think there's a couple of lads in my side who have the chance to put their hand up, down at the Brumbies there the young lock there Darcy Swain, he's doing his thing, down at the Rebels you've got Matt Philip and at the Waratahs, Simmo (Rob Simmons) and (Ned) Hanigan there," he said. "And I haven't talked about the Force as well but there's still some talent in the country. This is the time where you're seeing a lot of new talent coming through.
"I think it's a positive for Australian rugby and this competition is a positive.
"I think by the end of the comp, you'll have a good feel, some guys will have put their hand up and put their name forward. Probably the thing for me as a coach, I used to think this playing Super Rugby in New Zealand as well, often we talk about the All Blacks, but let's respect the competition we're in and we want to win, like the other teams, the competition.
"Let's do well for Queensland and for the other teams and they do well for those teams, those players, that Wallabies stuff takes care of itself for the players."
Across the Tasman
New Zealand Rugby's 'Aratipu' review is proposing that Super Rugby scrapped in favour of a trans-Tasman competition, revealed in a controversial report.
New Zealand Rugby announced in April that it would expand an existing review into Super Rugby. Named Aratipu, and chaired by Don Mackinnon from the Blues, it appeared to signal that some radical changes may be on the horizon.
Recommendations on a new competition structure has proposed an Australian and New Zealand format that would also include "a team from the Pacific."
In this proposed structure, SANZAAR would be left to run the Rugby Championship, which involves the national teams from Australia, New Zealand, South Africa and Argentina.
It is being suggested that Super Rugby competition could fold as early as next year. the Aratipu report also believes that any new competition would be designed to feed into a bigger international tournament, a format discussed on Green & Gold Rugby's The Dropped Kick-Off . That would involve the winners going into playoffs against the champions from other countries in SANZAAR.
However, SANZAAR boss Andy Marinos told stuff.co.nz that a full Super Rugby competition will continue as normal next year.
"We remain very positive about that," said Marinos. "Obviously the biggest elephant … in the room is what sort of restrictions that could come in.
"But we are certainly very positive as a group to deliver a Rugby Championship this year in whichever market we can, where we can get all the teams in and get the competition underway.
"At this stage, we are looking at the back-end of October, into November and probably early December."
Discussions around a Trans-Tasman 'bubble' are still ongoing.