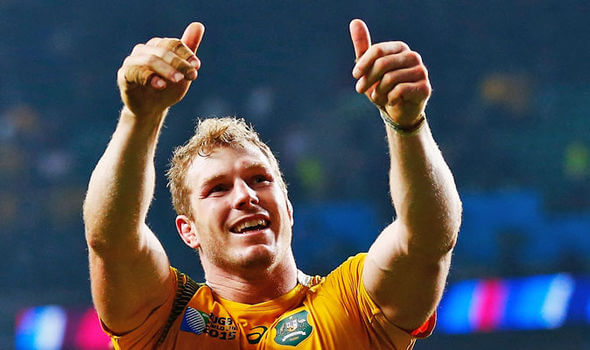 Thursdays Rugby News sees a very public spat between Cheika and Castle, A new career for Pocock, Cheika might have a new job and Phil Waugh defends RA Board.
---
CHEIKA VS CASTLE: THE PREQUEL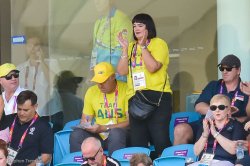 It has come to light that a childish spat turned ugly between former Wallabies coach Michael Cheika and Rugby Australia CEO Raelene Castle at the Australian Embassy in Tokyo could be the start of the sour relationship Cheika mentioned on his way out the door.

The altercation took place four days before the Wallabies match against Wales, in front of a group of 60 people, that was ultimately broken up by former player and coach Morgan Turinui.

Cheika was allegedly aggrieved that Castle went Director of Rugby Scott Johnson behind his back to request players attended the already planned event.

The event had been flagged months in advance with the expectation that Cheika and the players would attend, but Cheika declined given the importance of the Wales match.

A request was then made to have no selected players make the 90 minute trip to Tokyo, which went through Johnson.

Cheika inevitable made the trip to the embassy with a group of players and when Castle approached him to thank them for taking the time, he snapped at her.

For over two minutes the pair exchanged stinging personal attacks, before Turinui stepped in to break the pair up.

The high stakes nature of the Wales match combined with the Wallabies just learning the fate of Reece Hodge's suspicion are being used as excuses for the altercation blowing up the way it did.

It is believed that up until that evening that the pair had in fact had a good working relationship before the altercation.

After falling on his sword and resigning as Wallabies coach, Cheika went out claiming that he had no relationship with RA or the Board: "It's no secret I've pretty much got no relationship with the CEO and not much with the chairman (Cameron Clyne)."

He went on to vent his frustrations about having to work with Johnson and the selection panel, after he was reigned in for a poor 2018.

"Scott's a lovely bloke and I get on fine with him but I'm not really into that type of thing, I like to take that responsibility," Cheika said.
HON. DAVID POCOCK MP
As his international career comes to an end, Climate Crusader and above decent human being David Pocock is beginning to think outside of Rugby, but despite having a three contract with Wild Knights in Japan, he is adamant he won't be adding to his 83 international test caps, declaring his body has had enough.
"It certainly takes its toll. You pick up injuries along the way and some of them linger longer than others," Pocock said. "I feel like I've put a huge amount into rugby in Australia and I've got a lot back in return, and really feel like it's time to move on to other things and contribute in other ways."
The flanker did admit he would miss parts of professional Rugby.
"There's something really special about being part of a group that's so focused on something bigger than themselves, but I'll be looking to find that elsewhere," he said.
Pocock, who recently completed his Bachelor of Ecological Agricultural Systems degree, isn't ruling out taking a role in politics, given him his passion for conservation and human rights, after he finally hangs up his boot.
"I'm interested in a bunch of things outside rugby. The political landscape at the moment is fairly uninspiring when it comes to climate change and those sorts of things, so we'll wait and see," he said. "I'll have a bit of time to think about it now, then I've got the six months in Japan. After that we'll see. For me, issues around climate change, ecological crisis … there's plenty to do. I'll find something and get stuck in."
But where would he run?
Would he run in a place that he might get recognised for his name as a Wallabies captain where they might not agree with his politics, or does he move to an area where his title doesn't hold weight but his view would help. 
IF YOU CAN'T BEAT THEM JOIN THEM
Michael Cheika, the man who was upset when he had to report to a Director of Rugby is now set to take up a role as Director of Rugby role with Montpellier.
French rugby newspaper Midi Olympique are reporting that the French Top 14 club has begun work with Cheika's management to bring in the Former Wallabies coach to replace current Director Vern Cotter in June. 
At Montpellier, Cheika would be apart of the same organisational structure that he alleges caused the fall out between himself and Raelene Castle and Cameron Clyne, when they installed Director of Rugby Scott Johnson.
"Scott's a lovely bloke and I get on fine with him but I'm not really into that type of thing, I like to take that responsibility," Cheika said to the media after his resignation.
"I found also that it changed my normal routine around things.
"Not that my way's definitely the right way, I'm definitely not saying that but that's just the way I like to operate.
"I've always prided myself on not compromising my own values and what I want to do so I found that a little bit difficult at times.
"It's tough because you're sort of betwixt and between, you so want to be a part of it and then sometimes it can't always be how you wanted but that's the way the role's set up and I know my place within that structure.
"So you either follow it, which I've tried to do over this last 12 months or you make the choice not to be in it."
Cheika would oversee head coach Frenchman Xavier Garbajosa as Scott Johnson did over him at the Wallabies.
Midi Olympique claim that the hiring of Cheika was a move to help with recruitment to the club and that despite his recent lack of success with the Wallabies, his resume was still impressive.
"The Herault business leader would then make a big move in the transfer market, as the aura of the Australo-Lebanese is important on the international scene", Midi Olympique said.
BOARD BACKED CHEIKA: WAUGH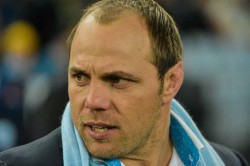 In a recent episode of the Back Page, Former Wallaby and current RA board member Phil Waugh opened up about the comments made by Michael Cheika, and responded to calls for the sacking of the board.
"There is a lot of criticism that at the end of last year we reappointed Michael Cheika, but the reality is we just didn't terminate his contract,"
"We backed him and we backed the team and since then they beat New Zealand in Perth, they beat Argentina, Samoa and Fiji.
"There are such fine lines and you can argue in 2015 in the World Cup quarterfinal against Scotland had Craig Joubert not blown that penalty we could have been in this situation four years ago.
"The reality is how do you actually support Michael Cheika because he was doing so much more than just coaching the team.
"We put a Director of Rugby in there in Scott Johnson and that takes the pressure off and allows him to focus on the team.
"They were the changes and unfortunately it didn't work the way we would have liked."
Waugh believed that the Wallabies showed enough promise to win the World Cup during Cheika's tenure, but the inconsistency lead to the Australian fans losing patience with him and the team.
"I think it is the inconsistency that everyone has been frustrated with," Waugh said.
"In August we beat the All Blacks by a record margin in Perth. Everyone carried so much hope into the Eden Park game and we haven't won their since 1986 and we got beaten 36-0.
"In the Wales game we played brilliantly for 35-40 minutes and the Welsh just got over us and when you have hope everyone is optimistic about the result, but we just didn't quite get there."
Waugh also believes the lack of combination on the pitch, especially at the 9 and 10 positions really hurt the Wallabies, with the top tier teams having been settled 18-24 months out from the World Cup.
"The history of who has won World Cups is countries that have very settled teams for 18-24 months going into the World Cup," Waugh said.
"Our tight five I would argue is one of the best tight fives in the tournament.
"But if you go through history the teams that have won have had a settled No.9 and No.10.
"In rugby the No.9 and the No.10 are important and we struggled to land on a combination."
Waugh also commented on Cheika's exit comments about no relationship with the CEO Raelene Castle as less than ideal.
"Clearly not having a relationship with the CEO doesn't work," Waugh said.
"That is the most disappointing aspect of those comments. The reality is between every employer and employee there is an element of tension and you challenge each other.
"Whether that is healthy tension or not is questionable, so it was disappointing, but he wears his heart on his sleeve and it was 24 hours after going out of the World Cup."