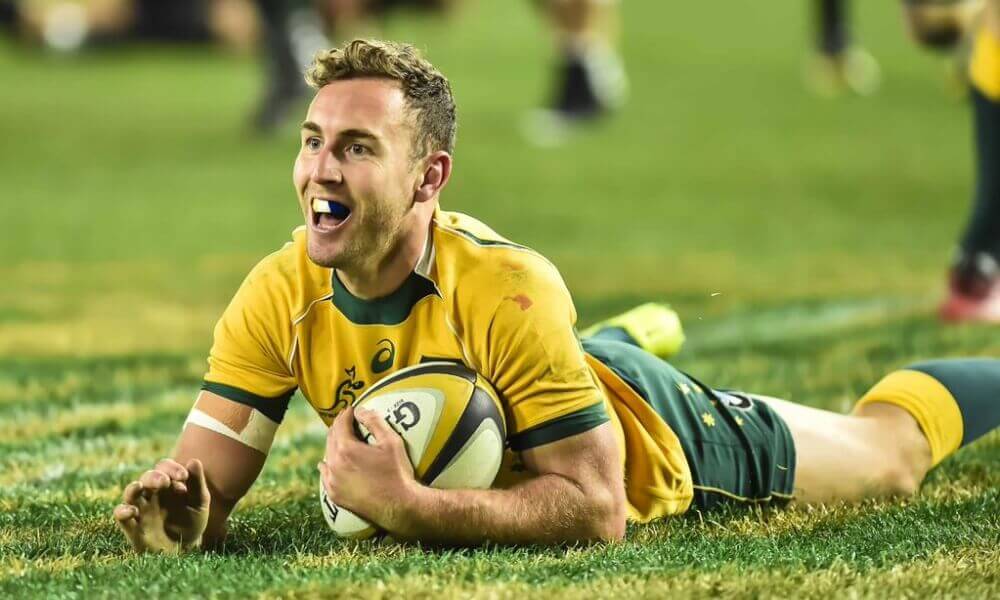 Thursdays Rugby News sees Nic White signs with ACT, Tall men getting low, Wales to top Pool D and VC wants more Technology. 
---
WHITES HOMECOMING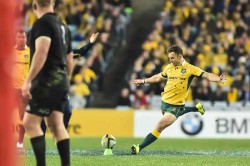 After signing a contract with Rugby Australia to make him eligible to play for the Wallabies in the World Cup, Nic White has finally found himself a Super Rugby team 2021 season, The Brumbies.

The deal signed with Rugby Australia allowed him to play for the Wallabies but must play out the remainder of his contract in 2020 with his English club Exeter. 

After his contract concludes with Exeter though, he will be unable to make the Brumbies 2020 Super Rugby season.

White played 67 times for the Brumbies before he departed for the Northern Hemisphere in 2015. A product of the Brumbies academy, White will return home to the Brumbies halfback roster of Joe Powell and Ryan Lonergan.

"It's awesome to know that I'll be returning to Canberra with the Brumbies," White said in a Brumbies release.

"The Brumbies is home for me, and Canberra is home for my family, so to know that my future is set and that I'll be back at the Brumbies, it's so exciting.

"Right now, I'm completely focused on the Rugby World Cup and the Wallabies, and I look forward to getting back to the Chiefs and ripping in with them, but again, knowing I'll be returning to a place and a club I love is really special."

Coach Dan McKellar said he and the Brumbies were excited at the prospect of White returning to the club.

"He's a world-class player, a player who demands very high standards of himself and expects the same of others. His work ethic, competitive nature and leadership will be so important to our squad when he returns," McKellar said.

"He is the type of player who makes others around him better. We have some very good young halfbacks at the Brumbies, and I see Whitey's return as a real positive where he will no doubt play an important role in their ongoing development."
TALL MEN GETTING LOW
Standing at 208cm tall, Rory Arnold is the tallest Wallaby ever.
Being the tallest man of the field would have been seen as a major asset before this World Cup, where being tall is now a major liability.
Any contact made with an opposition players shoulders or head, unintentional or not, will see you penalised, sin-binned or even sent off and banned.
The interpretation of this law during the World Cup has made it a challenge for big men like Arnold, whose shoulder sit at the head height of most opposition players.
Two of the Wallabies big men were yellow carded during their match with Uruguay for high shots, with Rory Arnold conceding that the fear of giving away a penalty or being sent off is in the back of his mind.
"I have been working on it. It is a point in my game that I have to think about a bit. Over the last few weeks, there have been a lot of cards thrown out there and it puts a lot of pressure on your side," Arnold said.
"In big games, or any games, I am just thinking about getting that body height down and being really disciplined in that area. Because it puts a whole lot of pressure on the team, like we did last week, it wasn't really perfect there. Playing with 14 blokes for a while there.
"For me, it is just about working on those things at training and bringing it into the game."
Unfortunately there is no room for lazy tackles when it comes to the big men, meaning the big fellas have to work even harder to get low, but tackling around the knees all day is also a recipe for disaster.
For Arnold it is a fine line between being aggressively dominant on the field and being mindful of high contacts.
"It's a hard question because you can overthink it as well, and stop playing your natural game," he said.
"At the end of the day I want to play aggressive and that's the way I play. But at the end of the day I will be thinking about that as well: get low, don't give any silly penalties away. And that will take care of itself.
"I guess it is mainly those taller boys who are getting pinged for the high shots. As locks and taller men, we have to focus on getting our shots down. Because at the end of the day, the rule is no contact with the head, and it's about player safety. So at the end of the day, players safety is the most important thing. It is up to us to get our tackles down and keep working on that."
WALES THROUGH TO FINALS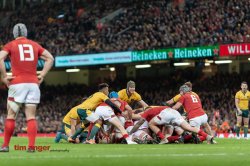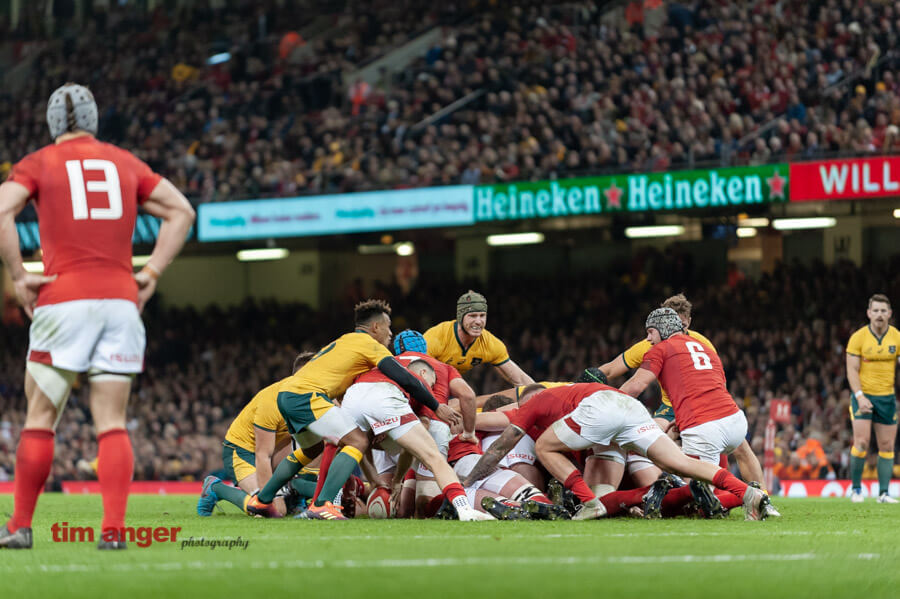 In what has been referred too as one of the best matches of the tournament, Wales have fended of a hard fought attack from Fiji to win 29-17 and finish top of Pool D.
The win to Wales all but guarantees them the top of Pool D, meaning Australia will finish second and face off against either England or France (Typhoon dependant) in the finals.
Semi Radradra was named Man  of the Match for a second time this World Cup, with the Fox Sports panel deeming him the Player of the Tournament so far.
Josh Adams scored a hat trick for Wales on the wing before Liam Williams picked up the fourth and sealed the fate of Fiji.
The shock loss to Uruguay now has Fiji out of finals contention, but the Flying Fijians definitely won the hearts of the crowd of Wednesday night.
Fijian coach John McKee said he was proud of the effort of his team for taking the game to a team considered World Cup contenders.
"I'm so proud of the effort our boys put in this evening," Fiji coach John McKee said.
"They're playing a Six Nations champion team that's been No 1 in the world this year and they really took the game to them.
"Although we didn't get here in the end, it was an absolute gallant effort all round.
"The players are so committed.
"A lot of them are playing round the world.
"They still come back and play for Fiji.
"They're so proud to wear the white jersey and represent their people.
"When you see the passion with which they play in games like this…"
Welsh Captain Alun Wyn Jones praised his teams never back down approach that has been a staple of Wales in recent times, in a performance that has put them in a position to go deep into the finals
"We knew if Fiji got their tails up we were in for a hard day at the office and we found that — but full respect to Fiji," Wyn Jones said.
"We saw the best of them at times today and I've got full respect for them.
"We did the job, but we still have plenty to work on.
"We had to show character in both halves there, to pull back the deficit, and we showed that, but there are things we can tighten up."
WORLD RUGBY EXPLORES OFFSIDE CHANGES
World Rugby vice-chairman Agustin Pichot says that the body will use Hawkeye to police the offside line. No not Jeremy Renner from the Avengers but the same technology used by the NFL. Because we need to give Ben Skeen more technology to interfere.
In a recent interview, Pichot has said this is an area of the game that referees are struggling to control.
His solution, more cameras and moving the last feet rule back by two metres to open up more attacking space, due to his belief that this World Cup has been too defensive.
"We have the technology so let's use it as they do in NFL," he said.
"The referee has too much to do working out what is going on at the ruck while the touch judges have a string of 12 players right across the pitch to judge on.
"Let's use the technology and that will soon sort it. Within five games, players will know that Hawkeye is watching them and they will stay back. That is my view.
"Or perhaps we should introduce a law that says players should be two metres behind the rear foot.
"We have seen at this World Cup that the space is at a premium. It is too defensive for my own personal liking. We have got to find a way to free it up."
If Rugby wasn't already turning into American Football with its constant starts, resets and taking 15 minutes to play out five, policing the off side line like this would slow it down even more. Especially with Ben "My Technology" Skeen as TMO.