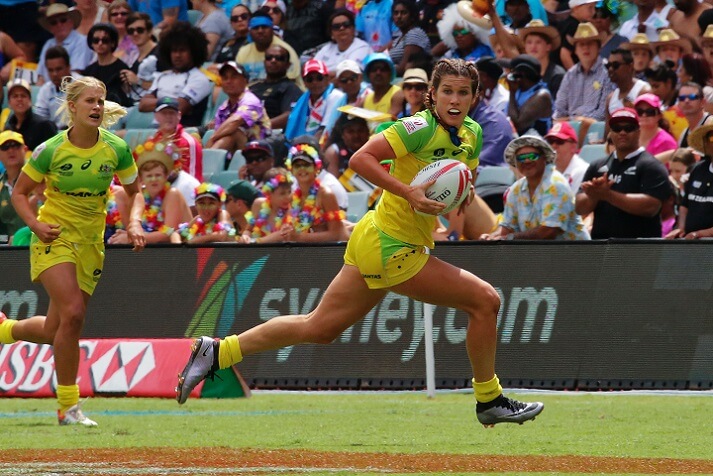 It seems hard to argue against the growing tide that is developing in support of the Rugby 7s. Looking at Australia in isolation, Sevens is firming its foothold within the sporting landscape.  The re-introduction of rugby  into the Olympic Games, via the shortened version of the game, this August in Rio has certainly assisted in building momentum.
The success of our women's program (currently World Series leaders and Olympic gold medal favorites heading into this weekend's tournament in Atlanta) and even the men (with former coach Michael O'Connor tipping them as potential gold medal winners in Brazil) has resulted in the usual sporting public bandwagon support.  But it is also indicative of the resources the ARU and a number of the state bodies have invested into the game from a development perspective, with Queensland in particular leading the way.
From a global point of view, the game still seems to be strong and will be showcased this weekend for the Men's in Hong Kong, one of the must do events on any sporting fan's calendar. Whilst the World Series struggled to pull a crowd in Wellington, the Sydney event was another massive success and will only grow in significance in Australia.
The sponsor of the world series, HSBC, has just released a report on the future of the game and it makes for interesting reading. Yes, I know, let's try to put aside the perhaps biased perspective of one the game's key partners reporting on the strength of the product they are actually involved with, the report has value and comes up with seven predictions for the game by 2026. They are:
New Countries
1. More Nations Break Through
HSBC suggests:
"Countries such as China or Brazil, which use the Olympic opportunity to drive funding into the game, will be competitive in both men's and women's sevens. Expect to see the Sevens Series follow the game to these new growth hotspots, with venues in cities such as Shanghai and Rio".
GAGR suggests:
Sevens seems the ideal way to break into some new markets from a development perspective. Few could have imagined the significance that Kenya would play in rugby on the world stage at the turn of the century, and now they match it with the big guns on a regular basis. Taking the event to new countries, and relying on its 'party event' reputation to drive crowd numbers, seems a worthy strategy as long as core markets aren't forgotten in the process.
2. Sevens creates its own Big Bash
HSBC suggests:
"In Australia, the ARU has already been looking at what it can learn from the success of cricket's Twenty20 Big Bash".
GAGR suggests:
Another competition the ARU needs to find funding for? With Super Rugby clubs broke, the NRC still establishing itself, the clubs crying poor –  is it at all viable for the ARU to establish a domestic 7s series? I bloody well hope so. The Big Bash has almost single handedly reinvigorated cricket in Australia and actually put money in the coffers of the struggling state bodies. If there's a model that can be made from 7s that someone in media-land is prepared to buy into, then it may play a similar role in Australia. With the success of our women's team, a female competition is vital, particularly as cricket, AFL and football all have (or are about to) established women's leagues.
New Players
3. Participation doubles
HSBC suggests:
"There are currently more than seven million rugby players worldwide, and this looks set to reach ten million by 2020….rugby should be able to count 15 million players around the world, with most coming into the game through sevens".
GAGR suggests:
A doubling of numbers, mostly through 7s, in a decade? Seems a big call. As the report states, the key is breaking into areas like USA, Brazil, Germany and China. If they hit one of those markets well then an extra seven million players will be a breeze. Incidentally I did some what could barely be described as research and discovered soccer proclaim to have more than 38 million registered players (and 224 million unregistered ones) whilst rugby league has about 800,000. Apparently.
4. Women lead the charge
HSBC suggests:
"By 2026 40% of rugby players worldwide will be female, representing six million players world wide"
GAGR suggests:
The 40% is a pretty impressive target and seems achievable given that close to half a million new women play the game every year across the globe. It showcases one of the real opportunities for the game, in bridging the gender inequity in rugby (and sport in general). There's no doubting a few old fogies will scoff at the idea that women will be such a central part of the rugby landscape, but one only has to see the skill they showcase on the world stage to see that rugby offers a rare opportunity for female involvement in our sport.
New audiences
5. Broadcast pyrotechnics transform coverage
HSBC suggests:
"Be prepared to see on-player cameras and a combination of golf's Protracer and tennis Hawk-Eye showing off player pace and agility that will help to connect the sport to the new audiences".
GAGR suggests:
Sevens is one of those sports, like AFL, that the television broadcast does not do justice to.  Obviously all sports, and their broadcasters, will be looking to revolutionise their sporting product as technology continues to advance and platforms are developed. What it comes down to is a media partner prepared to make the, quite significant, investment into the product whilst still maintaining the integrity of the sport.
6. Media value moves to social platforms
HSBC suggests:
"By 2026, sports media will be live or be on digital social platforms, or both. Websites will be largely redundant, except as reference sources. Sports content will mostly be hosted on and consumed through social platforms, whose owners will represent important opportunities for partnerships, revenues and brand development. For younger audiences, live content will also increasingly be watched via devices rather than on television. Expect to see the development of a sevens-based e-gaming community, which will also be a space through which sevens stars emerge. A sevens-based video game will also be published—to better reviews than recent fifteens-based video games".
GAGR suggests:
I have literally just quoted the entire blurb in the report here because…wow.  Really? I can't get my head around this and wouldn't believe it if it had not been for Twitter securing the rights to Thursday night NFL matches. So who knows who who will be broadcasting what come 2026?
7. Summer sevens becomes self-funding
HSBC suggests:
"As sevens grows in visibility and reputation, it will start to drive revenues in its own right, from attendances and media and sponsorship sales".
GAGR suggests:
Well if the previous six points come to fruition, then this is a fairly safe assumption I guess. It should open up new opportunities not previously open to rugby, given 7's unique position in the game.  The interesting aspect will be how the game grows alongside the 15s version and whether the two become almost two separate codes, with completely separate players and administrators. Almost like Twenty20.
---
If you are interested to read the report in full (and, to be fair, it's only 28 pages, you can download it
Have a read and be sure to let us know where you think the future of the 7s game will be in ten years time.