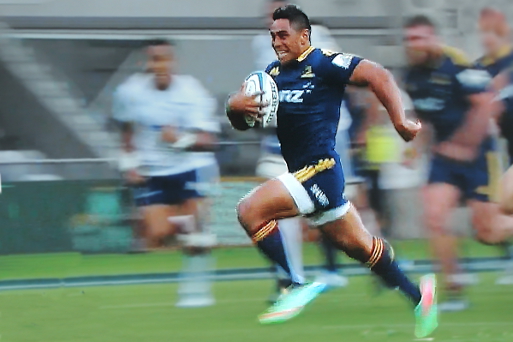 There were some exciting players who appeared in Super Rugby for the first time this year.
Some of them were youngsters but others were mature players—one got his first test cap in 2010 and another made his international Sevens debut in 2011.
I was going to name just five, but folks may think that some of the mature players are not "real rookies". Therefore I named ten players and people can make up their own minds as to whether they are "real rookies", or not, and consider just those they think are.
Although six made their test debuts in June this year, and the other two mentioned above have done what they did, the players are rated solely on their contribution to their Super Rugby teams in 2014.
10. Sean McMahon   (Melbourne Rebels)    Flanker
McMahon made his mark immediately after leaving school when he became the youngest Australian Sevens' player at age 17.
He made his Super Rugby debut against the Cheetahs as a 19-year-old in the Rebels' first game this year.
He ended up playing only seven games (starting in six) because his Super Rugby programme was interrupted when he captained the Australian Under 20 team in the Junior World Championship [JWC]—his third year in the team—and later, preparing with the Australian Sevens team for the Commonwealth Games.
McMahon is a no-frills flanker, built more like an opensider, but playing on the blindside. He overcomes this apparent lack of suitability by playing a hard game above his weight, his uncompromising tackling, and his general joy of contact.
His Sevens' engine and rugby smarts are handy also.
Sean McMahon has a joy of contact and rugby smarts

9. Tevita Li    (Blues)    Winger
Li was a schoolboy star at Massey High School last year but I don't know how much homework he did because he was invited by the Blues to play in a midweek game against France and later in the school year he played in the ITM Cup for North Harbour.
The 19-year-old played in eight games for the Blues this season, starting in six as a winger, though he is also a handy fullback.
Like McMahon, his Super Rugby season was interrupted by participation in the IRB JWC (as it will be next year) and he was one of the nominees for the IRB Junior Player of the Year. He was also called into the NZ Sevens' squad.
He has good all-round skills and is just as adept at beating defenders with his swerve and pace as he is running over them near the corner flag.
He got a good chance to show what he could do in his first starting game, against the Crusaders.
Tevita Li try – Round 3 – Blues v. Crusaders

8. Alofa Alofa    (Waratahs)    Winger
Alofa was born in NZ and his family came to Australia when he was four.
The 23-year-old started his career in rugby league with the Roosters but by his own admission didn't make the grade in that code. He switched to rugby union for the West Harbour club in 2013 and had opponents looking at each other as he sailed by them scoring 13 tries.
Michael Cheika included him in the Waratahs two-game tour of Argentina last year and offered him a contract for 2014.
More suited to the union code (and being the best dancer at the Waratahs) he soon found himself impressing with his footwork in the starting team. He has also been notable for his backing up, his toughness and his ability to get off the floor and work.
Missing a few matches because of injury he has nevertheless played in 13 games this year and started in ten of them.
Unfortunately Alofa will be playing in the Top 14 for the next two years with newly-promoted club La Rochelle.
Alofa Alofa – Great footwork and good work ethic

7. Patrick Tuipulotu    (Blues)    Lock
Starting from the bench in his Super Rugby debut the 21-year-old soon got elevated into the starting team and stayed there but for injury time.
His bruising physicality in tight rugby, his work rate and general athleticism were notable features of his play in his 13 games this season (two from the bench) but he also liked to handle the ball. He was a good ball runner and could off-load well in contact.
Still not fully developed this time last year Tuipulotu said he was fitter and stronger in 2014 than he was playing for Auckland in the 2013 ITM Cup—and that helped him with his confidence.
When Luke Romano broke his ankle playing for the Crusaders against the Reds, Tuipulotu was called into the All Black squad and played two tests against England from the bench.
(Watch the Tevita Li try video above again to see his deft contribution to that try.)
 Patrick Tuipulotu – physicality, work rate and athleticism

6. Stephan Lewies   (Sharks)   Lock
Lewies is the latest of many youngsters produced by the South African second-row factory in recent years.
The 22-year-old played from the Sharks' bench for the first three matches but he started in every other pool game after that when rising star Pieter-Steph du Toit damaged his ACL and was finished for the season.
He's a rugged defender and is now an elite lineout man, leading the Super Rugby competition in both lineout takes (77) and steals (10)—you could say that the youngster has grabbed his opportunity with both hands. Occasionally he calls the lineouts for the Sharks too.
He was included in the Springboks training group and played ten minutes from the bench against Scotland.
 Stephan Lewies – latest from the South African second-row factory