Round 12 saw a few pretty competitive games take place across the Cooper Premier Grade league. Brighton were put to the test by Woodville, Old Colls blew off the cobwebs against Port and Burnside sharpened their play against Souths as the top four attempt to consolidate their finals berths.
Round 12 – 19/07/2014
Matches:
Brighton 25 def Woodville 12
Brighton took on Woodville down at Gleneagles Reserve this week, in a highly competitive match-up. Last time the two teams met it was Brighton nabbing a much-needed win with a desperate last minute try at home, the only question was could this match be anywhere near as tense?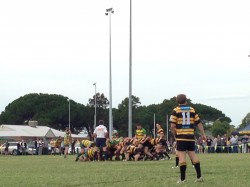 Honestly, it wasn't. With that said it was still a highly entertaining and competitive match, with fast, free flowing play from end to end matched only by the huge momentum swings.
The first half in particular was great to watch. Neither team wanted to take a backwards step, with the forwards flying into rucks and mauls with reckless abandon. Brighton kicking dominance held them in good stead early, as a number of high up-and-unders tested the inexperienced Woodville back three. No9 Dermot O'Rourke executed this tactic particularly well, placing great pressure on Woodville's backs.
But as much as Brighton fought for possession and territory, a solid Woodville defensive line valiantly held their own. Led by some huge tackles and impressive runs by flanker Tim Hudson, Woodville kept pace with Brighton for much of the first half.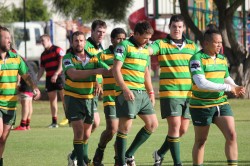 In the second Brighton were able to claw their way to the lead. The continued pressure inevitably created cracks in the defense as No10 Clayton Collier and flanker Joseph Fahy led the team through. Tries to Henry Bradford, Logan Brown and Nathan Satala (who had quite the game himself, especially in the first half) were the end result, as Brighton scraped out a hard fought, gutsy win against a defiant Woodville side.
For the Wasps it was John Finnie, wowing the crowd with some absolute magic who led the way, including a one-handed chip and chase while burning off three chasing Brighton defenders. Josh Frick and Tom Price were solid up front for Woodville also, as was Brando Pericic who made some devastating charges through the middle of the field.
Old Collegians 53 def Port Adelaide 10
With the weeks counting down towards finals rugby, Old Collegians showed again why they are top of the table with a dominant performance over Port Adelaide. After having trouble accounting for this team in the past, Old Colls were able to put together a solid performance against a competitive if disjointed Port Adelaide team.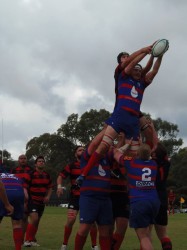 Port drew first blood in this one, as their tough, bruising style of play gave them territory and upset the Old Colls defense. A well-executed set play saw them cross I the corner as Old Colls looked to regroup.
And regroup they did. A high tackle saw Port down to 14 men and Old Colls were able to run in two tries in that period. From there, the superior organisation and structure of College proved them the dominant team, as led by Gary Mann they dismantled the Port defense and scored a number of well executed tries.
After the half Port came out swinging as they focused their attentions on closing the gap through strong forward play. Old Colls patience held them in good stead however, as they were able to capitalise when they had the ball through slow and steady forward orientated play.
Of course the backs benefited from the hard work, but as is so often the case it was the forwards providing the platform. Chris Bartlett, Will Sadler, Paddy Macklin and Jack Darby (2) scored in the backs while Gary Mann (2) and Jack Campion cashed in for the forwards. Will Sadler had another strong performance in front of goals, kicking 5 out of 8 conversions and a penalty.
The game was a chance to blow out the cobwebs for Old Colls as they prepare to take on second place Burnside next week. Port will use the bye to have a look at what went wrong and where to improve.
 Burnside 39 def Southern Suburbs 3
Onkaparinga 20 def Barossa 0 (forfeit)
Second Grade
Brighton 28 def Woodville 13
Old Collegians 74 def Port Adelaide 3
Burnside 20 def Adelaide University 5
Onkaparinga 20 def Elizabeth 5
Women's Premier Grade
Southern Suburbs 63 def Burnside 0
Woodville bye
Old Collegians bye
Onkaparinga bye
Third Grade
Brighton 48 def Adelaide University 14
Old Collegians 99 def North Torrens 0
Southern Suburbs 57 def Burnside 10
Barossa Rams 26 def Onkaparinga 12
Fourth Grade
Brighton 34 def Adelaide University 24
Port Adelaide/North Torrens 14 drew Old Collegians 14
Onkaparinga 26 def Elizabeth 7
Burnside bye
Coopers Premier Grade Ladder
  Team
P
W
D
L
F
A
Df
BP 4t
BP <7p
Pts
Old Collegians
12
11
0
1
549
132
417
11
1
56
Burnside
12
10
0
2
338
204
134
8
1
49
Onkaparinga
12
8
1
3
293
262
31
7
0
41
Brighton
12
7
0
5
297
244
53
7
2
37
Port Adelaide
12
4
0
8
208
325
-117
5
2
23
Woodville
12
3
1
8
215
291
-76
3
3
20
Southern Suburbs
12
4
0
8
136
338
-202
3
0
19
Barossa
12
0
0
12
0
240
-240
0
0
0
Next Round:  Round 13 – 26/07/2014
Home Team
v
Away Team
Location
Time
Brighton
v
Southern Suburbs
Brighton Oval /
3:20pm
Old Collegians
v
Burnside
Tregenza Oval /
3:20pm
Woodville
v
Onkaparinga
Gleneagles Reserve /
3:20pm
Port Adelaide
v
Barossa
TBC
Forfeit – Barossa withdrawn from Comp