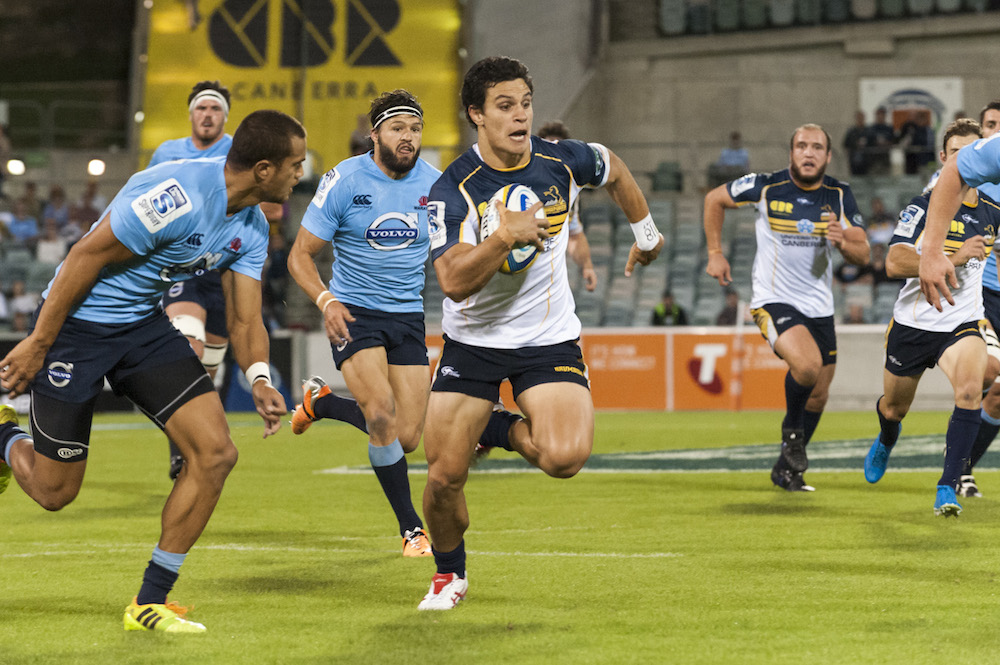 TWO TEAMS ENTER, ONE TEAM LEAVES
A long pre-season then twenty one weeks of playing and training. In just 80 minutes it will be all over for one team and a finals' chance for glory for the other. No next week redemption, its all on the line.
---
The Form
The Waratahs: They are the runaway comp leader, with impressive form, leaving everyone in their wake. Seven points in front after 19 rounds and playing a devastating power running game that looks different to every other team. They rule most of the stats, highest average points per game, lowest points conceded per game; only the set piece stats are poor.
The Brumbies: After a form slump in South Africa and a big loss to the Waratahs they have bounced back to their best in the last two weeks. They blew the Force away and then beat last year's champs in the qualifying final last week. They did so by scoring tries from distance, with their stars having stellar games.
The gameplans:
The Waratahs are playing a pure Randwick gameplan. Keep the ball in hand most times, run at the defence hard and in numbers, dominate possession rather than field position and look first to score tries. Its a gameplan that is used by virtually no other team and is high risk/high reward. The forward pods are set wider than normal and forward offloads change the point of attack continuously. The backs are set shallow and run multiple lines to confuse the opposition. When done at pace it is very difficult to defend, but mistakes can easily cruel the result. In defense they look to make dominant tackles and the next man into the tackle area often tries to drive over the ball rather than seek to achieve a pilfer.
The Brumbies are a team in transition. Last season's Jakeball is being replaced by a Brumbies style reminiscent of the Brumbies of the early 2000's. They will kick more frequently for field position when they are under pressure, but will run from anywhere outside their 22 if they can see space available. Their field kickers in Mogg, Toomua and White are clearly superior in that area. More than most teams, the Brumbies look to slow the breakdown, both legally and illegally. They are a team that operates more on the counter-punch, putting on pressure and waiting to seize on any opponent's mistake.
The set piece is where the Brumbies expect to have a clear, maybe match-winning advantage. Their lineout is clearly superior and their scrum might be too, though that is less obvious. But performance on the day can often negate such certainties; we'll know by 9:30 Saturday night how these two contests within the contest turn out.
---
The Teams
The Brumbies have lost Moore and Pocock from their best 15, the Waratahs have lost Dennis and Betham. Otherwise both teams are at close to full strength, missing only a few second-stringers. On paper the Brumbies have problems at hooker with Moore and Siliva out, but Mann-Rea has stepped up well. Hoiles has stepped in seamlessly for Dennis and he is back to his pre-injury Wallaby form. Advantage to the Waratahs, but both teams have good replacement depth.
The weather forecast for Saturday is clearing showers and a maximum of 20 degrees, so it should be dry by nightfall and conditions will be great for the game. Neither team really wants rain, though you would suspect it would have more impact on the Waratahs than the Brumbies. We can but hope that the referee, Jaco Peyper, stamps down early on cynical offending and allows the attacking team the chance to display their skills. Let the game flow for the enjoyment of all.
---
The Most Feared Players On Each Team
In any team preparation there will be discussion on key players and special plans to negate them. Every player will have his own tasks but the game outcome will hinge on just how well a handful of players on each team play their role. For the forwards, the key match-ups will be Hooper and Palu vs Carter and Fardy; for the backs they will be Toomua and Speight vs Beale and Folau. Although Foley will be crucial at 10, how Beale handles Toomua shooting out of the defensive line at him and then how Beale handles Speight when Beale is defending on the wing may just seal the outcome.
---
Prediction
In the first derby of the season the Brumbies strangled the Waratahs with their midfield defence. Can the Waratahs overcome that this time? Or will the Waratahs, with the competition's best defensive stats, force the Brumbies back to playing Jakeball?
This game will be a classic confrontation between an all-out attacking team and a hard defending counter-attacking team. Will the Brumbies disrupt the Waratah attack? Will the Waratahs destroy the Brumbies defensive wall? Given the nature of the two teams and their skill levels, I expect a total game score of 50+ points; this will not be a 3-0 slogfest.
Waratahs by 8
---
Team Lists
Waratahs: 1. Benn Robinson, 2. Tatafu Polota-Nau, 3. Sekope Kepu, 4. Jacques Potgieter, 5. Kane Douglas, 6. Stephen Hoiles, 7. Michael Hooper (c), 8. Wycliff Palu 9. Nick Phipps, 10. Bernard Foley, 11. Rob Horne, 12. Kurtley Beale, 13. Adam Ashley-Cooper, 14. Alofa Alofa, 15. Israel Folau.
Reserves: 16. Tolu Latu, 17. Jeremy Tilse, 18. Paddy Ryan, 19. Will Skelton, 20. Mitchell Chapman, 21. Pat McCutcheon, 22. Brendan McKibbin, 23. Taqele Naiyaravoro,
Brumbies: 1. Scott Sio, 2. Josh Mann-Rea, 3. Ben Alexander, 4. Leon Power, 5. Sam Carter, 6. Scott Fardy, 7. Jarrad Butler, 8. Ben Mowen (c), 9. Nick White, 10. Matt Toomua, 11. Robbie Coleman, 12. Christian Lealiifano, 13. Tevita Kuridrani, 14. Henry Speight, 15. Jessie Mogg.
Reserves: 16. Ruaidhri Murphy, 17. Ruan Smith, 18. Allan Alaalatoa, 19. Fotu Auelua, 20. Tom McVerry, 21. Michael Dowsett, 22. Joe Tomane, 23. Pat McCabe
---
Match Details
Date and time: 1940 AEST, Saturday July 26, 2014
Venue: Allianz Stadium, Moore Park
Referee: Jaco Peyper (South Africa)
Assistant referees: James Leckie (Australia) and Craig Joubert (South Africa)
Television Match Official: George Ayoub (Australia)