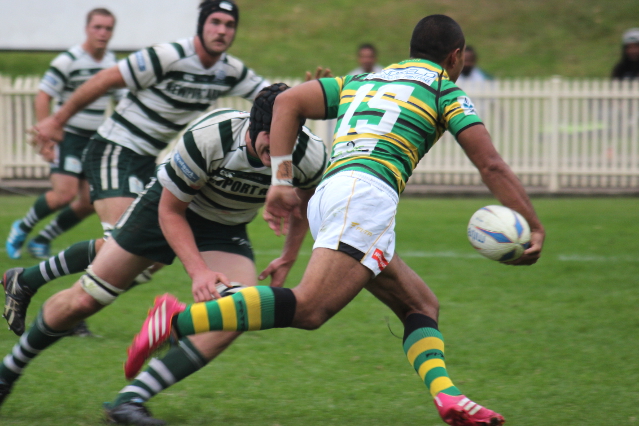 The West Harbour Pirates have held on to a thrilling one-point lead to claim a 25-24 victory over Northern Suburbs at Concord Oval in the Magners Shute Shield.
Words by Ben Harrison
The Pirates came out with their swords drawn, racing out to a 17-0 first-half lead before a Norths' fight back set up a nail-biting finish in yesterday's Round 9 encounter.
West Harbour's Usaia O'Sullivan admitted his side was glad to be on the right end of the scoreline come the final whistle.  "Credit to Norths, they came back and almost pipped us at the post, we were very lucky to hold on to it," he said.
The fleet-footed runner praised their coach Matt Briggs for giving his side the confidence to take the opposition by storm in the first half.  "Coach told us to really have confidence in the backline and play on the edges. He really wanted us to trust in ourselves and our team mates."
Disappointed Northern Suburbs prop Kevin McNamara admitted they'd left themselves too much to do. "We gave them too much of a head start, they have a big pack and their backs we just simply gave too much room to. That was the difference in the end."
Although ultimately unsuccessful, McNamara praised the team's second half effort. "It was really about self pride, it was about lifting ourselves and saying this is enough. There were a lot of positives to take out of the second half, so we can carry that into the next game," he finished.
It wasn't long before Wests' flyhalf Dave Harvey put his mark on the game with a penalty goal in the early stages before Rory Sidey showed why he is one of the hottest prospects in the competition. Sidey took a brilliant flick pass from O'Sullivan to scorch the covering defence and score in the corner, for Harvey to add the extras.
It got worse for Norths five minutes later when the pair again combined, with Harvey's cut out pass breaking the defence open for Sidey to cross for his second and taking the Pirates to a 17-0 lead at the break.
With their pride on the line, Northern Suburbs stood up and delivered.  It took them 12 minutes to get on to the board, with Tom Redden storming over from close range. But their comeback hit a hurdle when Matt Coles replied, taking West Harbour to 22-5.
Undeterred, Norths blitzed the last 15 minutes, stepping up a gear and scoring three tries through Michael O'Hea, Hugh Sinclair and Michael Wells. But with 10 minutes remaining, a Harvey penalty sealed the match for the home side. Despite outscoring their rivals by four tries to Norths' goal kicking let them down, with only two of five attempts finding their target.  "We didn't make our conversions but that cannot be used as an excuse.  It was up to us to get the opportunities and we didn't capitalise on them," admitted McNamara. "We can't wait to get out there next week and make amends for today."
Next weekend will see West Harbour travel to play neighbour Parramatta at Merrylands RSL Park, while Northern Suburbs will play host to Gordon at North Sydney Oval.
West Harbour 25 (Rory Sidey 2, Matt Coles tries; Davey Harvey 2 cons, 2 pens) d Northern Suburbs 24 (Hugh Sinclair, Michael Wells, Michael O'Hea, Tom Redden tries; Mitch Walton 2 cons) at Concord Oval.
---
Warringah vs Gordon
Words and photos by Lee Grant
The Warringah Rats continued their form of winning tight matches in a cracking game of rugby at Chatswood Oval, when they beat an impressive Gordon team 31-21.
Ahead 15-14 at half time they lost the lead in the second half, came back to tie the game at 21-all and finished the stronger over the Highlanders.
First half
Gordon opened the scoring when 11. Brandon Quinn regathered a kick through to score a try, which 9. Terry Preston converted for a 7-0 lead at nine minutes.
10. Hamish Angus slotted a penalty goal soon after for the Rats and 14. Harry Jones got more points for them after 12. Chris Arnold chased a ball and dished neatly to him. The Rats took the lead 8-7 when Angus converted.
The Highlanders hit back after a lineout when the ball was swung wide. 10. Will Shirvington sucked in defenders, and 14. Xavier McCoy swept into a gap to dot down handy. Preston made the score 14-8 for Gordon.
The game was played at a cracking pace and each team took advantage of errors from the other team, which had the spectators getting sore necks looking first left and then right, then left again.
Gordon 6. Malelili Vukinamualevu got a yellow card for a high shot on Rats fullback Dave Feltscheer, but that didn't stop the raids from the Highlanders.
They looked likely to increase their lead a man short, but on one incursion Arnold kicked through a loose ball for the Rats, recovered it and got the try. Angus made the half-time score: Rats 15—Highlanders 14.
What a half of rugby !!
Second half
The noisy Rats fans were enthused when the home team started getting pinged by the referee, partly through scrum dominance by the visitors. Angus goaled a penalty to increase their lead to 18-14.
But in this ping-pong game of attacking rugby a long kick downfield by Preston and a stuffed-up Rats lineout gave 12. Tom Matthews his chance, and he went over. Preston made the score 21-18 to Gordon on the hour mark.
Then with the whole field to choose from, a low Gordon clearance found the hands of a Rat minding his own business. They got into good real estate and since it was their turn to score Angus slotted another penalty to tie the game 21-21.
After yet another penalty against Gordon, near half-way, the Rats drove a ball from the resulting lineout and when the pill was released the Highlanders were too narrow and 11. Harry Jones scored the killer try wide out. Angus slotted a difficult conversion and the Rats led 28-21.
The ground announcer said there was six minutes remaining as Gordon attacked again. They would not go down.
With that countered, and three minutes left, Warringah received a penalty in a handy position from which to attempt a bonus-point try.
But Rats' skipper Feltscheer respected Gordon too much and ordered the shot at goal as insurance. Angus finished the scoring at Warringah Rats 31 – Gordon Highlanders 21.
Sure, there were too many errors from both sides for the purists, but these often created the scoring opportunities for the other team.
Warts and all, this would have been one of the most entertaining games of an already exciting season.
Warringah 31 (Harry Jones 2, Chris Arnold tries; Hamish Angus 4 pens, 2 cons) d Gordon 21 (Tom Matthews, Brandon Quinn, Xavier McCoy tries; Terry Preston 3 cons) at Chatswood Oval.
---
Randwick 26 (Josh Eden Whaitiri, Andrew Northam, Nathan Roye tries; Liam Windon con, 3 pen) d Eastern Suburbs 20 (Cooper Chapman, penalty try, Brendan McKibbin tries; Brendan McKibbin con, pen) at Coogee Oval
Randwick scraped home against a spirited Eastern Suburbs team, bolstered by the early return from Melbourne of NSW Waratah Brendan McKibbin, who bagged 10 Shute Shield points to add to his five-pointer scored for the Tahs against the Rebels on Friday night. The young Wicks came home strongly, finishing the game with a solid defensive performance to hold on for the competition points.
---
Eastwood became the only team to move up the ladder in Round 9, claiming a scalp by taking down defending premier Sydney University. The Students posted first points before Eastwood turned up the heat and put five tries on the board to secure the result.  The win sees them swap places with the Students, moving from fourth to third on the table.
Eastwood 36 (Todd Pearce, John Grant 2, Ben Batger, Nick Batger tries; Jai Ayoub 4 cons, pen)  d Sydney University 15 (David Dillon, James Dargaville tries; Jack Macklin con, pen) at TG Millner.
---
The Two Blues have claimed their fourth Shute Shield win, upsetting one of the competition heavyweights in Southern Districts.  Parramatta grabbed a one-point win and a valuable four-try bonus point, courtesy of a hat-trick from new signing Taqele Naiyaravoro. Souths though can take consolation in the form of two competition points, after scoring four tries of their own and losing by a single point.
Parramatta 30 (Taqele Naiyaravoro 3, Lani Tiatia tries; Lani Tiatia 2 cons, 2 pens) d Southern Districts 29 (Jed Holloway 2, Denny Godinet 2 tries; Rohan Saifoloi 3 cons, pen) at Forshaw Rugby Park.
---
In a high-scoring affair, it was Manly who came out in front, running in eight tries to five against Penrith at Manly Oval. The Marlins really showed why they are competition front runners, posting nearly 60 points against a spirited and dangerous Emus outfit, that claimed another losing bonus point, thanks to a double from Jerome McKenzie and additional tries from Peni Nairube, Notise Taufua and Pufi Sihaki.
Manly 59 (Alex Northam 2, Mark Swanepoel 2, Mitch Lewis, BJ Hartmann, Dane Chisholm 2 tries; Dane Chisholm 5 cons, 3 pens) d Penrith 32 (Jerome McKenzie 2, Peni Nairube, Notise Tauafua, Pufi Sihaki tries; Robbie Mate 2 cons, pen) at Nepean Rugby Park.