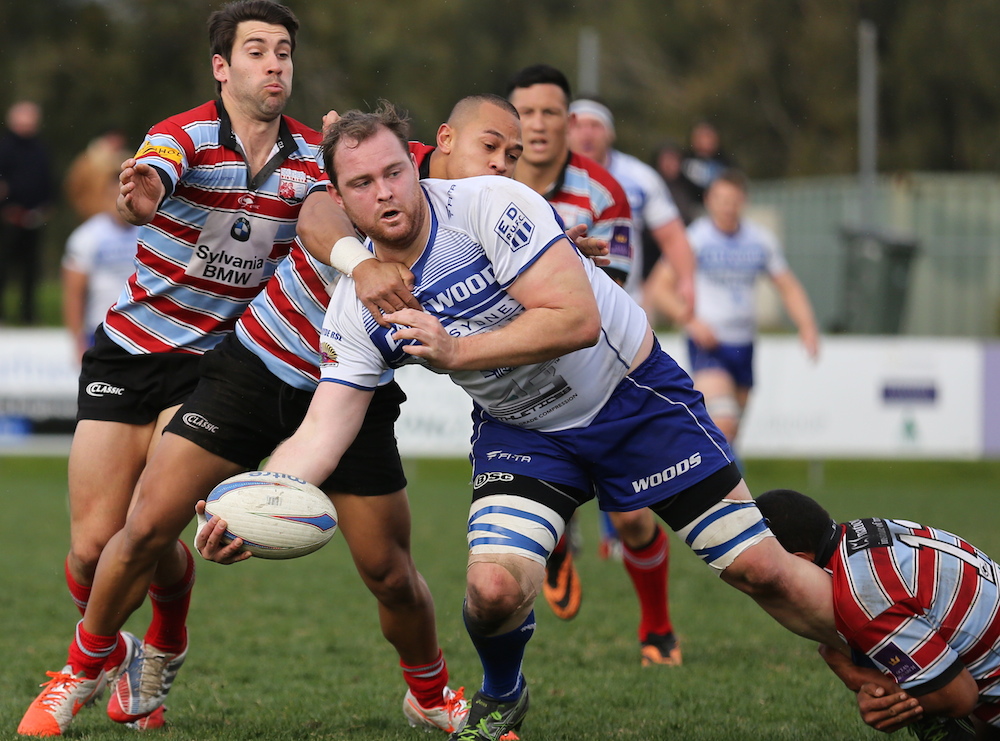 The Woodies have secured second place in the Magners Shute Shield home and away season, thanks to yesterday's 16-13 away win over Southern Districts.
By Ben Harrison
The win takes Eastwood to 69 competition points, six points behind leading Manly and six points ahead of third-placed Sydney University. Warringah's loss to Randwick means the Rats drop to fourth, two points off the Students.
With just one round remaining, the top four teams cannot be caught and Manly and Eastwood are locked in at one and two.  Souths look to be safe in fifth and Randwick's win yesterday will have helped the Galloping Greens' cause as they battle to hang on to the last remaining finals place.
A number of Woods' players were at their attacking best at Forshaw Rugby Park, including the exciting and ever-reliable Mick Snowden.
"We knew coming into today they were going to be tough," said Snowden.  "They were very strong in defence and really made us work hard for our points."
Snowden revealed the game plan for the Woods was to really shut down and nullify the opportunities of the Rebels massive backrow. "Their loosies are extremely big and very strong ball runners so we knew we had to pick our line speed up and stop them from getting over the advantage line. It was fairly windy and cold so maybe that helped us over the line."
But Snowden's sin-binning meant he got to cool his heels after an altercation with Rebel Kieran Black. A rangey backrower, Black was in the mix for best on field.  Although in a beaten side, Black was everywhere causing many headaches for the Eastwood side. "It was a very physical game and they really took it to us," he said.
"Their forwards run very good lines and we just couldn't contain them, it's something we will need to work on coming into the business end of the season."
After a last minute withdrawal of Waratah Ben Volavola, the Rebels found themselves behind on the scoreboard after a Ben Batger penalty goal got the Woods started before Mick Snowden laid on the perfect pass to give his side an 8-0 lead at half time.
The second half saw Paul Asquith get the Rebels on the board with a penalty goal of his own, before adding a second from the penalty that also saw Snowden yellow carded.  Tom Hill got the Woods going again, notching up three points before Michael Kovacic pilfered the ball near the Rebels' tryline and pounced over to give his side the win.
Paul Asquith crossed for a late try to secure his side a losing bonus point and bring up the final score of 16-13.
Coming into the final regular season round, the top five spots look confirmed.  Sixth-placed Randwick go into their final Round 18 match against Northern Suburbs needing just two competition point to secure their place in the hunt for the 2014 Magners Shute Shield title.
Southern Districts will end the season by travelling to Chatswood Oval, where they will look to secure their place in this year's finals series, while Eastwood will make the trip to Pittwater Rugby Park where they will face a Warringah side looking to bag third spot, knowing a win could see them leapfrog the Students.
Eastwood 16 (Michael Kovacic, Brad Curtis tries; Ben Batger pen, Tom Hill pen) d Southern Districts 13 (Paul Asquith try; Paul Asquith con, 2 pens) at Forshaw Rugby Park.
The Beasties picked up maximum points after scoring four tries and showing good form in their 28-12 win over Parramatta. The Two Blues just could not match it with Eastern Suburbs but gave them a scare with rampaging forward Evan Olmstead continuing his try-scoring run.
---
Eastern Suburbs 28 (Richard Stanford, Matt Armour 2, Anton La Vin tries; Warrwick Percival 4 cons) d Parramatta 12 (Evan Olmstead, Alex Somoa tries; Dione Taumata con) at Woollahra Oval.
The Marlins have secured the Minor Premiership for the 2014 season. Manly put on a master class as they ran out 47-point winners and got things back on track as they look to knuckle down coming into the finals series. Running in 10 tries including three doubles for Mark Swanepoel, Kasye Greer and Alex Northam, the Marlins again showed why they are favourites for this year's title.
---
Manly 66 (Mark Swanepoel 2, Kasye Greer 2, Alex Northam 2, Eddie Aholelei, Brian Sefanaia, Mitch Lewis, Dane Chisholm tries; Dane Chisholm 8 cons) d Northern Suburbs 19 (Ben Matwijow, Hugh Sinclair, Cale Holmes tries; Mitch Walton 2 cons) at Manly Oval.
The Galloping Greens have all but secured their place in the knockout rounds with a 32-22 win over Warringah. Andrew Kellaway showed why he is one of the brightest prospects in the competition as he crossed for a double. Sireli Tagicakibau also crossed twice; both will be key as the two sides look to fire up for the last round match of the regular season.
---
Randwick 32 (Kuki Ma'Afu, Andrew Kellaway 2, Dave Horwitz tries; Dave Horwitz 3 cons, 2 pens) d Warringah 22 (Sireli Tagicakibau 2 tries; Hamish Angus 4 pens) at Coogee Oval.
The Penrith Emus secured their second win of the season, pulling off an upset, two-point win over West Harbour. Despite welcoming back Dave Harvey, the Pirates just could not hold on, as the fired up Emus snatched victory from the hands of their western rivals. Penrith winger Arthur Brown had a day to remember crossing for four tries. On the day his brother made his Super Rugby debut in the Brumbies' Semi-Final victory, new Waratah Mike Ala'alatoa did his best to make it a double for the rugby family, finding the tryline himself.
---
Penrith 38 (Arthur Brown 4, Malakai Zelezniak, Andrew Pelasio tries; Robbie Mate 4 cons) d West Harbour 36 (Bradford Kapa 2, Harrison Orr, Michael Ala'Alatoa, Dave Lolohea tries; Dave Harvey 4 cons, pen) at Nepean Rugby Park.
The Students have came through with the goods in a hard-fought win over Gordon. The 10-point win has seen them move into third spot, leapfrogging Warringah.  The match also marked a milestone for referee Amy Perrett, who in taking charge of the first grade match became the first female NSW female to take charge of a Sydney Premiership.
---
Sydney University 32 (Jock Merriman, Tom Robertson 2, James Dargaville tries; Daniel Kelly 3 cons, 2 pens) d Gordon 22 (Jack Dempsey 2, Xavier McCoy tries; Henry Carmichael 2 cons, pen) at University Oval.
For all your live updates and team news follow us on Facebook and on Twitter. You can also get all the highlights and previews from our match of the round at our YouTube Channel.
Magners Shute Shield ladder (after 17 rounds)
  Team
P
W
D
L
F
A
Df
BP 4t
BP <7p
BP
Pts
Manly
17
15
0
2
700
295
405
14
1
15
75
Eastwood
17
14
0
3
646
403
243
12
1
13
69
Sydney University
17
12
1
4
621
370
251
11
2
13
63
Warringah
17
13
0
4
518
454
64
9
0
9
61
Southern Districts
17
9
0
8
496
464
32
8
3
11
47
Randwick
17
8
1
8
381
438
-57
5
4
9
43
West Harbour
17
7
0
10
529
530
-1
10
2
12
40
Parramatta
17
6
0
11
450
561
-111
10
2
12
36
Eastern Suburbs
17
6
0
11
367
513
-146
6
2
8
32
Gordon
17
5
0
12
369
556
-187
4
2
6
26
Northern Suburbs
17
4
0
13
389
583
-194
6
3
9
25
Penrith
17
2
0
15
449
748
-299
11
2
13
21
 P=Played   W=Wins   D=Draws   L=Losses   F=Points For   A=Points Against   Df=Points Difference   BP 4t=Four Tries   BP <7p=Close Losses   BP=Total Bonus Points   Pts=Ladder Points