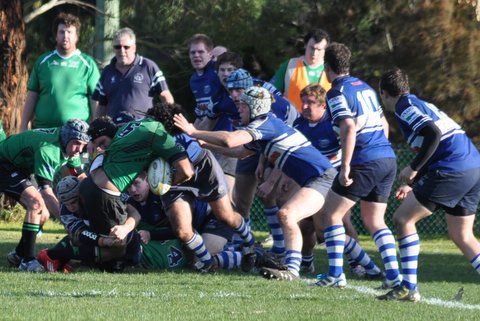 RUGGED BULLS INTERCEPT PENGUINS RUN
Devonport Bulls showed the capacity to win big matches in Hobart with a resurgent and gallant 22-21 defeat of Taroona Penguins in a fascinating contest at Rugby Park on Saturday.  An intercept 85 metre try to Bulls' left wing Alex Reimer, converted from wide out by Connor Mack five minutes from time lowered the Penguins' colours for the first time in 2012
Taroona conducted business as usual from the kick-off, leading 18-0 courtesy of tries to Charlie and Rob Holmes and some poor Bulls discipline, leading to two successful penalties.  Devonport then dominated territory and break-down possession to confine the Penguins to their own defensive zone, resulting in a penalty and charging try to Roger Compaign to trail 18-8 at half-time, despite courageous defence from Penguins Mikey Whyte and brothers Dave and Jeremy Climie.
With the game in the balance both sides launched promising counter attack from frequent turnovers, but leaking of penalties close to their line cost the Blues a yellow card and the Bulls reduced the margin to 21-15 via Mark Meo during further raids.  In an attempt to seal the match Taroona kicked deep but the Bulls cover allowed Reimer his successful gamble.
'Devonport used their resources well and at 18-0 down they had the will to challenge', said Penguins coach David Whyte.  Derik Joubert said that the Bulls wanted to show they could win in Hobart, rating Johann Joubert, Matthew Young and Ayden Whish-Wilson as their best.
Harlequins continued their recent form, beating Glenorchy Stags 44-26 at Eady Street, with double try-scoring efforts from Sunia Ma'afu and Don Leota amongst two blitzes by Quins who led 15-12 at the break and were best served by Jamon Starcovic, Sid Fielea and Chris Lobley.  For Glenorchy Doug Smith, with two tries, Chase Scott and Josh Dorahy performed well.
Burnie Emus overcame losing Sunia Radravu to an early red card, prevailing 19-17 at University.  Emus Brett Bentley, Dayne Apiti and Laurie Apiata were dominant as the Emus varied the play, whilst Duncan Watson and Michael Kadjiolka typified a determined performance from the Red Men.
Eastern Suburbs Roosters won again over AMC Vikings, their backs scoring a late try to win 22-19 at Warrane with Jake Hyland, Mark Whitfield and Jon Elliott constantly involved.  Amongst AMCs best were Hugh Kanaley, Dave Evans and Callum Bird – the Vikings threatening their first scalp with three tries.
Hobart Lions conceded two late tries to home side Launceston Bees to escape 15-12 at Royal Park, despite leading throughout.  Both camps agreed the margin flattered Launceston, who failed to capitalise on the elements in the first half.  Hobart overcame injuries with Jon Cook, Dave Craig and Tristan Lawrence showing great commitment.  The Bees best were Colin Montgomery, Glen Morgan and Jake Shayer, who overcame a shaky start to spark the revival.
Results
Devonport 22 def Taroona 21
Harlequins 44 def Glenorchy 26
Burnie 19 def University 17
Eastern Suburbs 22 def AMC Vikings 19
Hobart Lions 15 def Launceston 12
Ladder update
Taroona 62
Devonport 58
Hobart Lions 55
Launceston 41
Harlequins 36
Burnie 33
University 29
Glenorchy 28
Eastern Suburbs 9
AMC Vikings 3