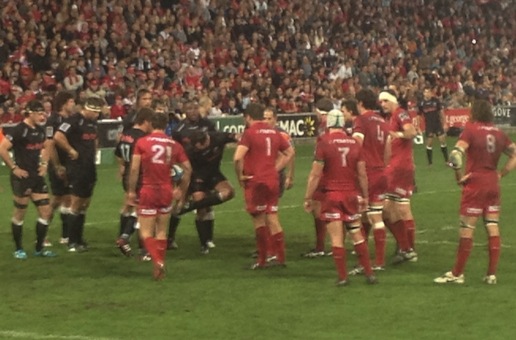 In Bob Dwyer Rugby Workshops, my colleague Mike Penistone and I compile a list of discussion topics for our Global Coaching Conferences, as we think of them. A couple of examples: 'It's difficult to change ingrained habits'; 'Width — is it important to your attack?' 
The aim is that, via interactive discussion amongst the coaches, they will understand the full implications of the topic and then, with our assistance, develop a coaching strategy and content for practice sessions to achieve the desired performance. Recently Mike added another topic: 'I want my team to dominate the opposition'.
It's pretty clear that John Plumtree – also Todd Blackadder – asked himself and his coaching team this very question, and that he arrived at accurate conclusions on just how to achieve that aim. Indeed, dominate they did. Words coming from the TV commentary team described the Reds as 'confused', 'rattled' and 'shell-shocked' – and they were. They chased the game for much of the 80 minutes, and were consequently hurried and hopeful in lots that they attempted. In my match notes 'inaccurate' is a frequently occurring word.
A couple of seasons back, the All Blacks had need to chase a few of their matches and won all of those, I think – in the last quarter or less. When questioned on this ability after one such victory, champion lock Brad Thorn replied 'We all knew that, if we all did our own simple jobs really well, that we would win. So we focussed on doing just that!' In terms of the analysis of what has to be done, it is really that simple.
Remember Michael Lynagh's clear direction to his forward pack, just minutes from full-time in the RWC 1991 quarter-final against Ireland? 'You guys win the ball and give it to us. We'll score the try!' Clear, focussed, simple direction – that's great leadership, and great support of the leader.
The Sharks were very focussed. Before the match, Bismark du Plessis – what a superlative season he's having – confided to Brendan Cannon that they were intent on 'a good set piece and applying a lot of pressure'. I'd say that they definitely achieved those two aims. They constantly applied pressure at the set pieces and then got off the line – probably a bit early at times – like rockets, and tackled accurately for the whole 80 minutes. In the 59th minute, the Reds were awarded a penalty on the attacking 22-metre line. Mike Harris tapped and passed and the Sharks made the tackle at 21 metres out – that's continued focus!
The injury to Ben Lucas was a huge blow to the Reds. Maybe they could have used Ben Tapuai and kept Will Genia at scrum-half, with Mike Harris moving to the stand-off position, but they chose not to. They will know why better than me, but certainly Tapuai was only just back after a long absence. In any event, the loss of Lucas and the movement of Genia were costly. Genia made some great individual plays, as always, but he did not play well in any constructive sense. Way too many long cut-out passes! Too many 'Hail Mary' plays – no thought of 'if we all do our simple jobs well, it'll all work out'. Pressure, with its attendant confusion, can do that to you.
read more….