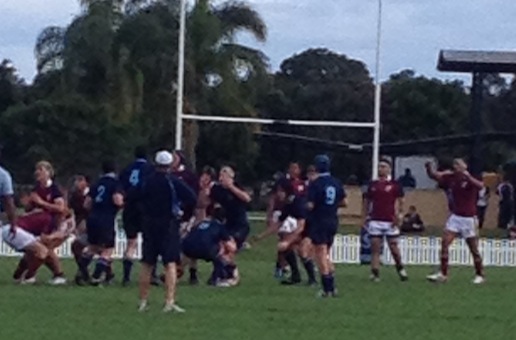 Brisbane Grammar School has announced that they are here to play this year after a fantastic performance against a struggling Brisbane State High School at Northgate. Grammar looked cool, confident and in control as they breezed past a State High side that struggled severely for the majority of the game.
State High started the game well and raced out to a 10-8 lead through some tight forward play against a Grammar side that looked rattled early. This was as good as it got for the State High men as Grammar turned on an outstanding performance both offensively and defensively which would have beaten the majority of sides in the competition.
Grammar began their run of 58 unanswered points with a great try by the winger Lewis Radford after a swift play off the back of the scrum orchestrated perfectly by Sam Greene at 10. From the kick-off, Australian Schoolboys representative Jack Cornelson made a run straight up the middle of the park, easily brushing some horrific defense by the State High boys. This lead to another backline move off the back of some quick ball which again put Radford in the corner for his second try of the game. Greene converted and Grammar led 20 – 10 going into half time.
The second half began with Grammar having to defend for 3 or 4 minutes, showing some fantastic determination and class to keep the State High boys out and causing an eventual penalty. Grammar immediately entered the State High 22 and after 4 or 5 phases strolled over for what really was a soft try. Greene again converted and Grammar lead 27 – 10.
Again from the kick-off Grammar made a break and entered the State High red zone. A penalty ensued and Greene knocked it over to put Grammar 30 – 10 up. The floodgates really opened up from this point onwards as State High struggled to hang onto the ball for longer than 3 phases, losing line-outs and scrums by the minute. Radford sliced straight through some woeful High defense to go under the posts and put Grammar ahead 37 – 10.
At this point State High were just throwing the ball from side to side in hope, Grammar moving up swiftly and taking care of any threat that High posed. Working to either force a penalty or turn the ball over and throw it wide. On this occasion a turnover lead to another Grammar try as Blackhurst got over the line after a few phase of quick pick and drives from the Grammar forwards.
State High retained the ball from the kick off but a long cut-out pass was intercepted by the outside centre Joshua Birch who ran 60 metres to go under the posts and increase the lead to 49 – 10.
Grammar again worked up the field and put Birch in the corner, a great conversion from Greene to put Grammar up 56 – 10. Another intercept and more ensuing forward play again put Grammar over the line just before the full time siren and leave the final score at Brisbane Grammar 63 – Brisbane State High 10.
---
Stand-out Players:
1. Cody Blackhurst (BGS) worked hard all day in an outstanding forward pack, had numerous powerful runs and was fantastic at set piece time, throwing in at line out time and scrummaging State High off the park.
6. Michael Gilbert (BGS) was at every breakdown pressuring the State High ball, has an enormous motor and didn't coast once Grammar was ahead.
10. Sam Greene (BGS) was outstanding and clearly the best player on the park, guiding his team around well, making a number of dangerous runs and kicking superbly both in general play and off the tee.
11. Lewis Radford (BGS) scored a triple and looked dangerous with every touch he had, fantastic feet that mesmerised the High outside backs.
15. Hugo Starr-Thomas (BGS) showed real class at the back and had a number of great kicks and probing runs which set up others around him.