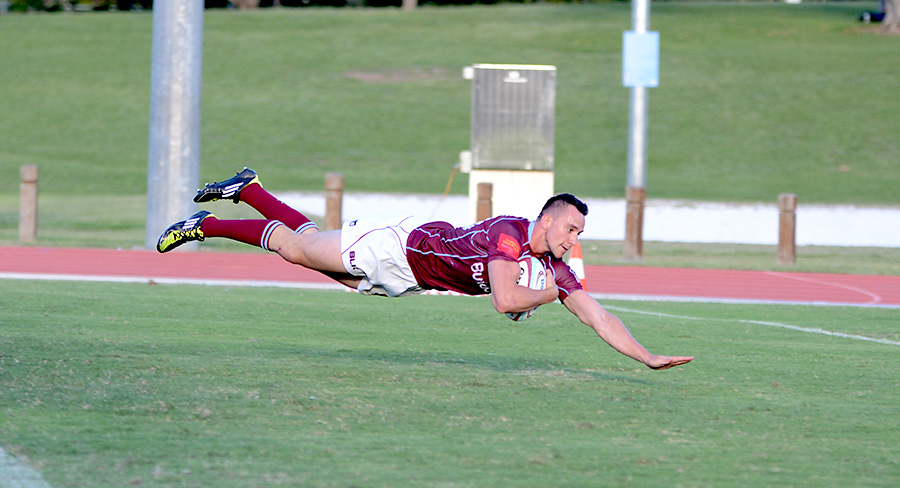 Souths v Brothers
By Rebecca Thompson
Brothers have ended Souths' undefeated 2014 season run after a convincing 37-13 win at Chipsy Wood Oval in Round Four of Queensland Premier Rugby.
Both teams came into the encounter undefeated and Souths were looking to retain their second placing on the ladder while Brothers were looking to claim this spot.
Souths were quick to add pressure to the visitors in the opening minutes after Pat King made a break for the try line, only to be stopped short by an intercept from Brothers' Dave Campbell.
The Brethren's new recruit Sam Greene was clinical with his boot, slotting all four conversions and three penalties.
Souths captain James Turner had the opportunity to score a try off a rolling maul towards the end of the first half but the ball fell from his grasp just short of the line.
The first half saw Souths utilise quick-thinking attack but it was hard for them to break through Brothers' solid defensive barrier which resulted in a try-less first half for the Magpies which culminated in Brothers leading 16-3 at halftime.
Trailing by thirteen points and running the risk of losing their undefeated record, Souths launched into the second half with a 3-pointer slotted by Giorgio Phillips who converted Simana Halaifonou's runaway try just minutes later. The margin closed to just 16-13 which left little room for error for either side.
Responding to the new found pressure added by the home side, Brothers' Clynton Knox crossed the line to score his second try of the match to give his team some breathing space which was further extended when the Brethren scored a five-pointer in the far right corner minutes after.
Brothers' strong forward pack proved to be a test for Souths as any ground they gained was halted by the visitors' unrelenting defence.
Brethren prop Adrian Dixon added impact after coming on from the bench and scored a try which sealed the 37-13 win and picked up a four-try bonus point.
Both teams have byes for the Easter weekend next week but the following round sees Souths face Sunnybank and Brothers will return to Crosby Park to play Wests.
Brothers 37 (C Knox 2 tries I Mosese A Dixon tries S Greene 4 cons 3 pens) d Souths 13 (S Halaifonou try G Phillips con 2 pens)
In other results, GPS had a tight 40-34 win over Wests at Yoku Road. Uni put on a show for their annual Ladies Day after defeating Bond 47-5, while Easts recorded a bonus-point 43-13 win over Norths.
UQ v Bond Uni
By Shane Sullivan
Uni have accounted for Bond 47-5 in front of a big crowd at their St Lucia home. Despite a few hiccups with their scrum the home team simply over powered the Gold Coast team, seemingly scoring at will throughout the match. Bond competed bravely but what appeared to be a significant size advantage across the field began to pay dividends as Uni worked their way into scoring positions time after time. Bond never stopped trying and to their credit were still running the ball at the final whistle.
Photos by Shane Sullivan
University of Queensland 47 (M Wade T Buchanan H Parker H Elliott S Gale T Tela B Cohen tries T Pincus 6 cons) d Bond University 5 (C Masson try)
A quick apology: I got caught up in taking photos and didn't pay attention to what was a very good game. The result? The vague match report above.
GPS v Wests
By Bulldog Bob
GPS out classed Wests 40-34 in a classic encounter at Yoku Road. In what was a hard fought and torrid affair, the gallopers stormed out of the stables hoping to make-up for the loss to Souths in the previous round. However Wests were equally resolute to do better after falling short to reigning premiers Easts the week before. The game started off as the average punter would have guessed, with GPS showing some clockwork like attack to split the Wests defence out wide and post the first try of the match. However Wests weren't about to lie down, hitting straight back with a nicely slotted penalty through halfback Tim Smith. However the dogs weren't about to rest on their laurels scoring a spectacular try via winger Tubinai Turaga who latched on to a perfectly weighted Tim Smith grubber to score beside the post.
The half continued in a similar seesaw fashion with both team's forward packs going through a mountain of work in what was real slobber knocker affair up front. However this war of attrition was not for nothing as the men out wide free were left free to plunder, in what was a real showcase of pace and finesse. Case and point was when GPS fullback Semiti Tela displayed some wonderful speed and footwork to crash over just before halftime to give the gallopers a slight advantage going into the break.
The second half continued in a much similar fashion with both backlines running rampant and causing some real headaches for their opposition. Wests had just managed to sneak into the lead with about 20 minutes of play left, and murmurs in the crowd of an upset where getting louder. However it was not to be as GPS rallied together and pulled off the ultimate smash'n'grab when Qld Red Nick Frisby chased down a kick, ripped it from the grasp of a wests player to score. However the gallopers weren't done yet as they followed up with some slick play and outside centre Sam Johnson crossed over in the corner to make the score 40-27. The game was all but over from here and you could not help but feel that scoreline did not really reflect the Dogs efforts. Fortunately the wests players agreed with this logic and stumped up the energy for one last attacking raid as they regained possession to eventually score through flyhalf Devyn Smith. Making the score a respectable 40-34. In a game that produced some real exciting passages of play but also showed some real areas for improvements for both teams to rectify over the break.
Easts v Norths
By Tigerland 12
The Easts v Norths game was a pretty standard affair, and given that the Tigers had the win in the bag quite early, both teams slipped off a bit and there was a fair amount of handling errors and turnovers.
The result was a good indication of where both sides are at. Easts were pretty ruthless in the first half, and although Norths showed glimpses of what they are capable of, they were well off the pace.
For the Tigers, Johnny Wilder had the best game I've seen him play (and I've watched him play since his First XV days), Blake Enever was great in all facets of the game, including a few good line breaks, and Manusa Rokosuka was destructive with his ball running. Pettowa Parakka makes a HUGE difference to Easts scrums, and he dominated the Norths tighthead all game.
The performance I was most impressed with was Adam Deck. I thought he was outstanding, he's very energetic around the park, and he has a great box kick on him. His goal kicking wasn't too shabby either.
Easts really are getting a good amount of depth this season, and putting a lot of competition on for starting spots.
For Norths, you feel for Vuki, he really must feel like he has to do everything by himself, and aside from a few moments of brilliance, he was caught trying to over play his hand sometimes.
Easts 43 (P Paraka 2 tries M Rokosuka J Wilder T White J Placid tries A Deck 5 cons pen) d Norths 13 (B Ritchie J Harris tries J Harris pen)
Premier Rugby Match Video – Available for On-Demand Download
This year and for the first time, all Premier, Premier Reserve and Premier Colts matches for the season are available for purchase and instant download in high definition.
Matches are usually available by 8pm on Saturdays, and 25% from all sales are being donated straight back to your nominated club. To download, go to the DoubleTake Productions website (click here).