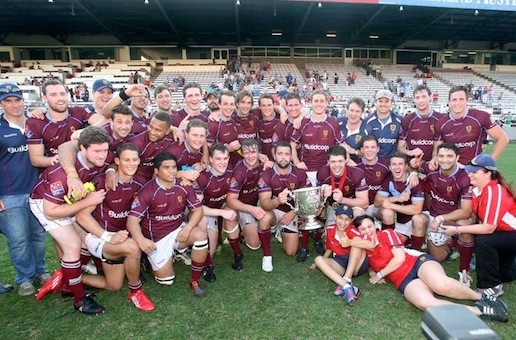 Now that Silly Sunday and Mad Monday are over for another year, it's time to take some painkillers, grab a hash brown and reflect on the year that was.
Uni took out the Hospitial Cup, defeating last year's Premiers Sunnybank in a 46-20 whitewash.
Uni got an early lead and although Sunnybank came back with several tries, the Heavies were just too good for them this time around. Reds player Ben Tapuai and his brother Rex were strong performers in the Sunnybank side while Uni's Curtis Browning was a stand out performer. A massive congratulations to Uni for earning a well-deserved premiership.
PREMIER RUGBY
Grand Final
University of Queensland 46 (E Hagen 2 tries J Taulagi W Thompson M Arvier C Browning tries M Harris 5 cons 2 pens) d Sunnybank 20 (B Tapuai R Tapuai tries D Taumata con 2 pens M Lucas con).
PREMIER COLTS
Grand Final
University of Queensland 14 (H Parker try penalty try J Taulagi 2 cons) draw Rugby Gold Coast 14 (J Finigan L Duncan tries L Duncan 2 cons – University of Queensland declared Premiers – first try scorer
Brisbane 1st Grade
Grand Final
GPS 37 (P Kite 2 tries M Atkinson S Satui M King tries S Satui 3 cons 2 pens) d University of Queensland 18 (F Hess T Pincus tries T Pincus con 2 pens)
Brisbane 2nd Grade
Grand Final
GPS 26 (B Wood S Kerevi M Pilat tries M Viallet con 3 pens) d Brothers 18 (M Copeman J Colvin tries S Lynch con pen D Wilson pen)
Brisbane 3rd Grade
Grand Final
Sunnybank 31 (T Appleton 2 tries B Wardlaw tries M Wenck 2 cons 4 pens) d University of Queensland 28 (N Lennan J Baum  B Mills C Winship tries M Mortimore 4 cons)
Brisbane 4th Grade
Grand Final
GPS 47 (R Strelow 2 tries L Rector N Styman S Cutmore D Slade S Slade tries D Slade 6 cons) d University of Queensland 14 (A Cullen A Paterson tries R Murray 2 cons)
Brisbane Colts 1
Grand Final
University of Queensland 48 (T Holt E Palupe M Holt 2 tries P Stewart try M Harman 5 cons pen) d Sunnybank 5 (C Leduc try)

Brisbane Colts 2
Grand Final
University of Queensland (1) 24 (S Mcconnell N Sexton M Van Der Merwe S Hubbert tries T Thorn con M Devlin con) d Souths 12 (J Lindstrom J Bakon tries J Scahill con)
Brisbane Women
Grand Final
Sunnybank 27 (T Harden K Sefo N Marsters U Biau tries L Gould 2 cons pen) d Redlands 0
QSRU Barber Cup
 
All games at Pine Rivers Pumas RFC
Preliminary Final
Ipswich 30 d Pine Rivers Boars 9
QSRU Pegg Cup
Preliminary Final
Beenleigh 59 d Ipswich 24
QSRU Scotney Cup
Preliminary Final
GPS 15 d Southern Bay 3
QSRU Normanby Cup
Preliminary Final
Logan City 25 d Easts Longhorns 20
QSRU Wyatt Cup
Preliminary Final
Wests 15 d Easts Longhorns 11
All finals were strongly contested and many tight results were achieved.
So now that club rugby is over for another year, we might all be a bit lost for a few months but it's been a great year and I've done the rounds of most clubs this year and there's been such a good community feel. That's why I love club rugby and I can't wait until next year.
Until 2013 stay well, everyone! Long live 3rd Tier rugby.
Photo care of Sportography