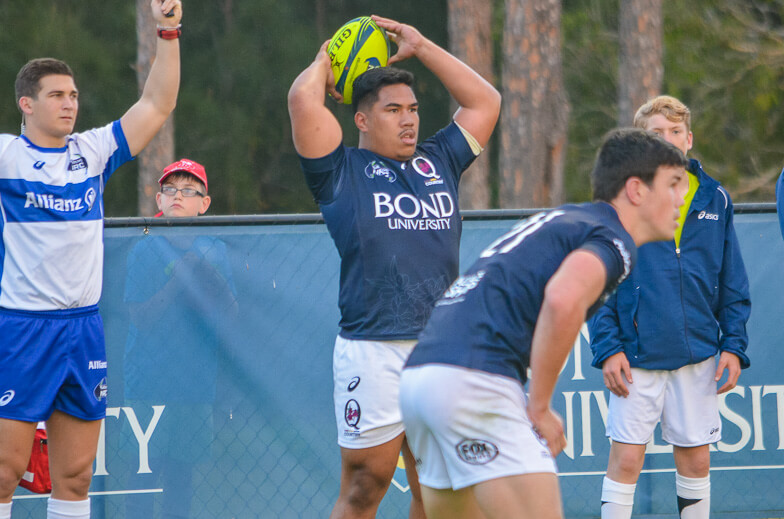 Queensland Country played their first home match of the 2017 season at Noosa Dolphins against Brisbane City.  Off the back of a close loss last week and never having won the intrastate derby, they needed to master their defense and continue their strong attack to have any chance of nullifying Brisbane City.  Additionally their coach Brad Thorn needs to win more than just the Super 20s to justify any discussion about him replacing Nick Stiles at the helm of the Reds coaching team.
Tuttle and Stewart gel
Queensland Country looked very comfortable from the start with James Tuttle and Hamish Stewart having the edge early over their counterparts.  A beautiful break down the sideline by Izaia Perese was only just thwarted by Brisbane City.  Their confidence paid off with a lovely offload from Chris Feauai-Sautia to Stewart who darted through to score.
Country were showing definite improvement on the last few years with some good kicking from Stewart, great calls from Tuttle and, I believe, a far better group of players than has been named previously.  I think the first two to three years of the competition Brisbane City got the cream of the available players and Country weren't up there in the pecking order.
Equality helps
With City failing last year to defend their back to back titles and the introduction of Thorn as head coach for Country, perhaps this year saw a more equitable distribution.  After all, a stronger Queensland overall is what rugby fans up here want (and need since 30% off all players in Super Rugby spend the majority of their time coming through a Queensland pathway).
Brisbane City took a very long time to gel in this match – long loose passes to no one, phases that weren't built upon, pace they couldn't match.  And when they did gel it was momentarily before becoming once again that yucky watery kind of non-gel.
Country's second try of the first half was the exact opposite a stellar inside quick offload from Tuttle to Perese who charged over the line.  It was blink and you miss it, and a testament to their skills that neither blinked or missed it.
Pick and go should never leave
Up to this stage City had little ball and little go forward when they did have ball.  This shifted though as the first half progressed.  They repeatedly used a driving maul for sustained pressure inside the 22.  Their pick and go was matched with penalties awarded against penalties and quite a few warnings meted out with no cheese.
Eventually though, Country's very solid defense wasn't enough and Radike Samo crossed for his first try for City.  Alatimu converted successfully and Country went into the break up 12-7.
The 71% possession by Brisbane City in the first half saw early forward changes in the second half with Korzcyk and Vanzati taking the field.
Country advanced their lead with an absolutely smashing try to Stewart.  It was an absolutely superb charge then pass from Tupou to Tuttle who offloaded to Stewart who crossed underneath the dot.  Lovely attacking rugby.
Holy moley
City, to their credit, really did continue to give it their all, but with Quade Cooper missing and Alex Horan stepping in late there were a lot of holes in the City backline.  And oh my, so many coughed up opportunities.  By the time the match finished, City had lost the ball 4 times (yes, FOUR) over the tryline.
Duncan Paia'aua crossed to post Country's fourth try of the match  as he straightened and ran a beautiful line through City defenders.  This highlight was offset by his yellow card in the 73rd minute for a no arms tackle, but the one man difference was never going to be enough for City to pull the rabbit out of the hat.
A consolation try to Chris Kuridrani was all City could muster.
well deserved with D
Despite having only 39% possession Country absolutely dominated this match to claim the Andy Purcell Cup for the first time.  With a bye next week and Sydney Rays in Round 4, I am fascinated to see where this young, hungry team will head.
---
Key Moment
Appointing Brad Thorn coach.  They traded tries last week with the Vikings and this week locked out Brisbane City very convincingly while also keeping their score flowing.  Defense looked GOOD.
The G&GR MOTM
James Tuttle's quick ball, full coverage and his fabulous partnership with Hamish Stewart enabled Queensland Country to attack beautifully.
Oz BaaBaa Watch
Alex Casey had a great match for Country – their lineouts were superior to country and he set Tupou up for his try in the 65th minute with a lovely inside ball.
---
The Details
Score & Scorers
QUEENSLAND COUNTRY: 31 Tries: Stewart (2), Perese, Paia'aua, Tupou Cons: Tuttle 2, Paia'aua 
BRISBANE CITY: 12 Tries: Samo, Kuridrani Cons: Alatimu 
Cards & citings
Yellow: Paia'aua