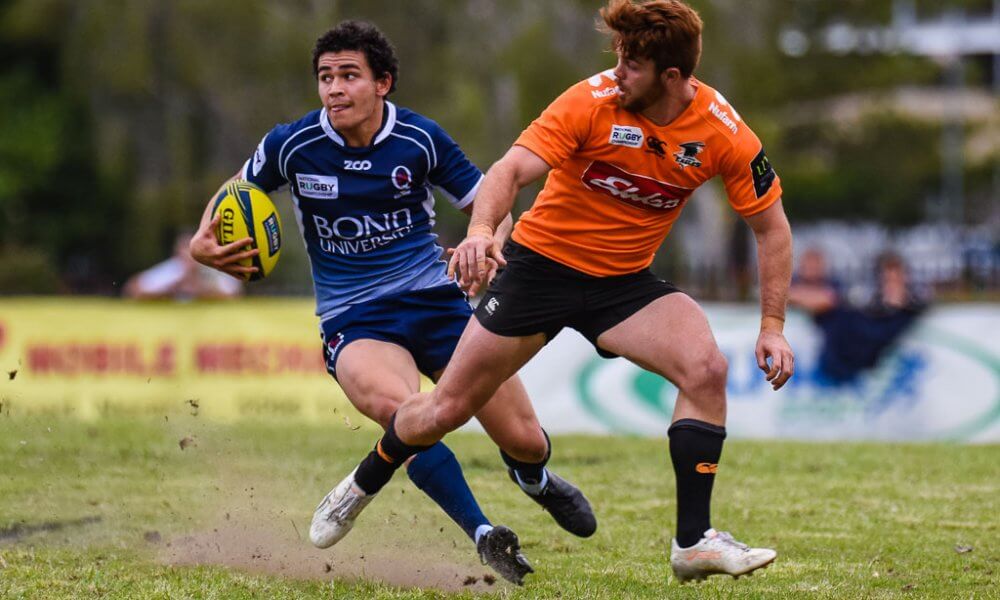 Queensland Country is leading the competition. NSW Country is on a roll with two wins in a row. Who will come out on top? This was either going to be a legendary game or…… one of those games that you want to put out of its misery before it is done.
First Half
Well, the heart got firmly planted in the mouth when 28 seconds into the game Patrick McCutcheon charged down a Hamish Stewart clearing kick. Luckily for QLD Izaia Perese was switched on enough to beat McCutcheon to the ball and force a 22 drop out.
It wasn't long before the Queenslanders started the scoreboard ticking over. Hamish Stewart kicked to the corner from a penalty, and a few phases after the line out Patrick James slipped through the NSW line to score.
For the next 20 minutes, possession was traded between the teams as each played a territory game. Eventually, QLD got their back line humming and after a series of slick passes and some nice running Angus Scott-Young was pushed over for a try. (Boy he is starting to look like his Dad. I actually wrote SSY in my notes….).
The battle continued with NSW Country being their own worst enemies by kicking possession away and with a bunch of handling errors. They were probably lucky that QLD didn't make more of the opportunities as QLD only scored once more in the half after Izaia Perese made a great break downfield. Following a number of settling phases, Daugunu stepped through the defence & dotted the ball down for yet another try.
The teams went into the halftime break with the score 17 to zip.
Second Half
In the first six minutes of the second half it looked like QLD were going to put NSW to the sword.
Eto Nabuli thought he would join the forwards and executed a perfect pick and drive to score a try. Then from the kick-off, he gathered the ball, stepped through some defenders and made a nice pass to put Perese over for a try. Other than a penalty kick at 69 minutes this was the last time QLD troubled the scorer. For the rest of the game, NSW took their opportunities and started the relentless chase.
Persistence paid off when eventually one of Tayler Adams' cross field kicks found it's mark and Andrew Kellaway scored in the corner. NSW was excused the embarrassment of a nudie run.
QLD started to get a bit eager in their defence and was repeatedly penalised when NSW ventured into the 22. From a line out NSW mauled the ball over the line with replacement hooker Connal McInerney coming up with the points.
After QLD's last scoring penalty, NSW pulled probably the best stunt I have seen in an NRC game. Adams kicked off so quickly that most of the QLD players were still returning to their positions with their backs to the ball. The grubber kick was gathered by Maclean Jones who bullied his way through the disorganised opposition to score. Boys. Never. Never turn your back on the ball.
A few minutes later Adams decided that we needed to see a replay of the first NSW try. Again he kicked across field to find Kellaway to prove the first wasn't an accident and bring NSW to within 10 points of QLD.
They continued to apply pressure to QLD and eventually, Referee Cooper binned Caleb Timu with less than a minute to go. From the resulting scrum Jake Gordon topped off a good game with a try.
QLD just hung on in the coastal country clash to win 34 to 31. Phew.
---
The Game Changer
What happened after QLD's second try in the second half? They seemed to switch off and NSW switched on. I see some long sessions in the QLD Country's future. Although coach Torn appeared calm on the outside right to the end I can't see him being all that happy with the last 30 mins of the game.
The G&GR MOTM
This one is hard. The best of QLD was probably Daugunu. He scored a try, made some wonderful attacking runs and absolutely bone crunching tackles in defence. Timu also played a good game, only for it to be blotted by a yellow card for being in the wrong place at the wrong time when the ref ran out of patience. From a NSW perspective Adams was probably their most important player, controlling their game in the second half and clawing their way back into the game. But my MOTM actually goes to Tom Stamiforth. He was in everything. Ran and tackled all day.
Oz Baabaa Watch
Again there were not many players in this game who are not already spoken for by a Super Rugby club. I really hope Daugunu is signed somewhere. He is an elusive winger that is sorely needed in Australian rugby. Other than those mentioned in the MOTM comments, McInerney showed promise when he came on for NSW. Liam Wright and Maclean Jones also continue the churn of decent openside flankers in Australia. 
---
The Details
QLD Country: 
Tries: James, Scott-Young, Daugunu, Nabuli, Perese
Conversions: Tuttle  (3/5)
Penalties: Tuttle (1/1)
NSW Country:
Tries: Kellaway (2), McInerney, Jones, Gordon
Conversions: Adams (3/5)
Penalties: n/a
Yellow Cards – Timu