Bond University continued their impressive start to the season by recording a controversial, bonus point win at home over Brothers on Saturday to surge into 3rd spot on the ladder.
The 32-25 victory was built upon a first half performance where Bond dominated possession and territory, thanks in no small part to some poor discipline from the Brothers forwards which resulted in three yellow cards.
Brothers were 24-10 down at half time, conceding 11 penalties to 5 in that first half, as the visitors drew the ire of referee Damien Mitchelmore. Mitchelmore sent Criff Tupou, Luke Beauchamp and Matt Mafi to the bin, all in the first half, as well as Bond winger Jamie Evans.
Bond opened the scoring through an early Sam Cox penalty, putting the visitors onto the back foot. Brothers were uncharacteristically sloppy with their handling in the opening exchanges, with Sam Greene and QPR debutant Taniela Tupou both dropping simple passes to add to the pressure.
And it was from Tupou's error that Bond scored their first try. A dropped pass was hacked forward for Bond hooker Nick Turner to race through to bully his way to the try line. Cox added the simple conversion and within five minutes Bond were 10-0 up.
Brothers got into the game on the back of their hugely impressive scrum. The Brothers forwards repeatedly demolished their opponents pack, and won three scrums against the head throughout the match. Bond winger Jamie Evans cynically killed the ball after Bond lost their first disastrous scrum and earned the games first yellow card.
From the resultant scrum, the Brothers forwards marched through a disintegrating pile of blue shirts, and taking advantage of the extra man by spreading the ball left then right, Terrin Walls crashed over curtesy of a Taniela Tupou offload to make the score 10-7.
Bond immediately struck back. Humbled by their scrums capitulation, Bond's forwards made immediate amends with a clever set-piece move from a lineout. Livewire winger Gus Qasevakatini earned a penalty after being hauled down short of the line by Brothers fullback Pierce Fitzgerald, and Jaye Paton dived over after catching the Brothers defence napping from the set move.
Greene added his first penalty of the afternoon shortly after to reduce the deficit, however it was about to get a whole lot more difficult for the visitors.
As Evans returned from the bin, Brothers number 8 Cliff Tupou almost immediately took his place. A bit of niggle turned into a couple of push and shove sessions amongst the forwards, from which Tupou was singled out and sent to the bin.
With Bond desperate to take advantage of the numerical advantage, the home team failed to take advantage of four successive penalties.
Even when Luke Beauchamp was sent to the bin for repeated infringements, the Brothers defence could not be breached. In a remarkable effort, the six man Brothers scrum was still strong enough to win a penalty against the feed, highlighting their total dominance in that facet of the game.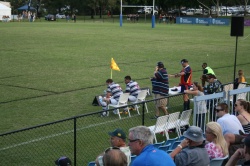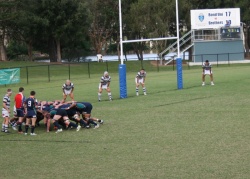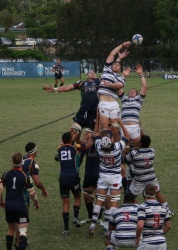 However Bond finally made the two man advantage count, after a superb run and offload from Qasevakatini set up Cox to dive in under the posts.
When Cliff Tupou re-joined the action, Brothers were momentarily back up to 14, however this was a short-lived reprieve. After a bit more push and shove, Matt Mafi was singled out by referee Mitchelmore and he sheepishly made his way to the sideline.
Despite Cox missing the resultant penalty on the stroke of half time – a rare blemish on his record – Bond went into the break with a handy lead.
But Brothers were unlikely to settle for being behind for long, and struck early in the second half to get straight back into the game.
The forwards continued where they had left off in the scum, and after disintegrating Bonds effort, Beauchamp dived over in the corner to reduce the deficit. Greene missed the conversion, but Brothers were on a roll, striking again from the restart.
A loose pass from Cox – looking to open up from space for Qasevakatini – was expertly read by Giles Beverage, who ghosted in under the posts, bringing Brothers back to within two points.
The momentum had shifted, but when the officials missed a blatant knock on Cox, Bond seized their opportunity to regain the initiative. The home side launched a succession of scything runs from their outside backs, and Nick Turner finished a move to pick up his second try of the game.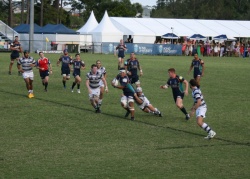 During a tense final quarter of the game, Greene and Cox exchanged penalties to make the score 32-25, as Brothers dominated the closing exchanges in search of an equalising try. However Bond were not to be denied a famous win.
In his pre-game notes, Bond Coach Sean Hedger said, "This weekend presents a great opportunity for BURC to test itself against a traditional powerhouse of Queensland Rugby. BURC is taking continual steps forward on an attempt to emulate the standards set by clubs such as Brothers."
And Bond have certainly demonstrated they are able to do this. For those that haven't been down, the set up at Bond University is excellent. The ground is developing into an excellent place to watch rugby, and the results on the field have matched the organisation off it. Although it's still early in the season, Bond have shown they should be challenging the top four come the end of July.
Despite the forwards being outclassed by Brothers at the set piece, however there were some excellent performances, including a brace for Nick Turner. It is however the outside backs that look dangerous – particularly winger Qasevakatini, who has pace to burn and with a decent step and strength in the tackle, looked dangerous every time he got the ball.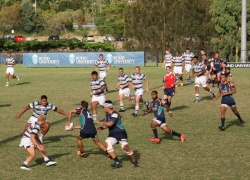 Brothers will not be interested in excuses, but may feel that they have a cause for complaint after some key decisions went against them. But it was losing three forwards to the bin in the first half to give Bond a head start that cost them the game.
There were positives though. The Tongan Thor, Taniella Tupuo made his Premier Rugby debut and played a solid 80 minutes that showcased his array of talents. The Brothers scrum moved forward at every opportunity, and his work at the breakdown was exceptional, winning at least one penalty in the opening exchanges.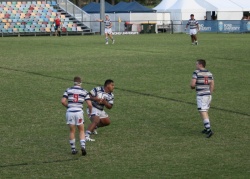 Tupou was also devastating in the loose. Showing safe hands in catching a high ball inside his own half, he proceeded to knock over several would be attackers on a rampaging 30 metre plus run. In the second half, he was at it again, breaking one tackle and busting through several more to make another 30 or so metres.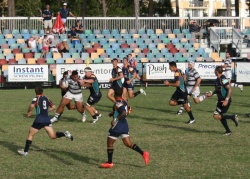 Playing a major role as part of a dominant scrum will be hugely beneficial to his development, and could see him as an outside bet to step up to the NRC at the end of the season.
Both sides now have a competition bye week for the Easter weekend.
Bond University 32-25 Brothers
4 Tries 3
3/4 Conversions 2/3
2/3 Penalties 2/2
9(3) Scrums (Lost) 7(1)
11/4 Lineouts (Won/Lost) 7/0
9 Penalties Conceded 14
1 Yellow Cards 3
Scorers: Bond 32 (Tries – Turner '5 '60, Paton '21, Cox '35; Conversions – Cox 3/4; Penalties – Cox 2/3); Brothers 25 (Tries – Walls '15, Beauchamp '47, Beveridge '50; Conversions – Greene 2/3, Penalties – Greene 2/2).
Yellow Cards: Bond 1 (Evans '14); Brothers 3 (C.Tupou '26, Beauchamp '30, Mafi '40).
Named Sides: Bond: Smith, Turner, Clifton; R.Fuimaono, Fattall; Bracewell, Paton, J.Fuimaono; Quigley, Buatava; Sikisini, Jones; Evans, Qasevakatini; Cox. Brothers: Bermingham, Mafi, T.Tupou; Walls, Maui; Symes, Beauchamp, C.Tupou; Webby, Greene; Gendle, Beveridge; Mosese, Felsman; Fitzgerald.