University of Queensland produced a hugely impressive eight try performance to defeat a Sunnybank side that badly fell away in the second half at St Lucia after being just eight points in arrears at the break.
In what was an ominous show of force to the rest of the competition ahead of next weeks finals, the Students completed a comprehensive 54-22 victory over the Dragons, under the watchful eye of international referee Nigel Owens.
As if a big defeat to their big rivals wasn't bad enough, to make matters worse for last seasons defeated finalists, news began to filter through that Souths had achieved a victory over Brothers that was necessary to knock Sunnybank out of the top four, ending their season.
The final day of the season was always guaranteed to excite supporters of at least five of the nine Premier Rugby teams, especially given the unpredictable results in recent weeks.
Although the permutations surrounding the exact finishing order of the top five clubs was relatively complex, the short story was simple. Easts, UQ and Brothers – separated by just 4 points – all went into the final day with a chance of finishing in top spot.
Meanwhile, Souths were a chance to cap off a fine season by finishing inside the top four with a victory over Brothers and a Sunnybank defeat.
With so much on the line, the Students flew out the blocks at St Lucia, stunning the Dragons with an early try to flying winger Gareth Kalell, who finished off a chain of passes with a stunning pick up off his own bootlaces to dive over in the corner.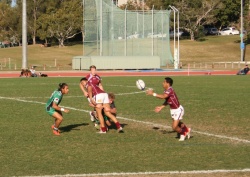 Sunnybank were quick to respond though through their own wingers just 4 minutes later. Matthew Feaunati managed to break a tackle and passed to his wing partner Junior Laloifi.
UQ were superior in the lineout all afternoon, putting pressure on the Sunnybank throw at every opportunity, and it was from a lineout that the Red Heavies took control of the first half. A pushover try for Tonga Ma'afu, followed 5 minutes later by Reuben Leilua scoring off the back of a rolling maul gave the home side a 17-7 advantage.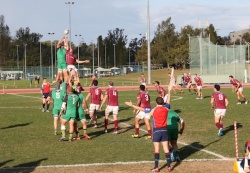 Sunnybank did not allow the Students to canter off into the distance though, Feaunati providing for himself this time with a cheeky chip and chance over the defensive line.
This try rattled the Students, James Dalgleish kicking the restart out on the full leading to a period of dominance by the visitors. However it was the home side who competed the scoring before half time. Dalgleish, despite struggling from the kicking tee, couldn't miss from bang in front, putting the home side 20-12 up at the break.
It was immediately after half time that University really outlined their title credentials this season, and snuffed out any hope of a Sunnybank comeback.
Three unanswered tries and a penalty goal from Dalgleish, following some scintillating back play, had the healthy sized home crowd off their seats. Replacement forward Angus Scott Young got the ball rolling, driving over from a yard out, followed in quick succession by Clifton Setu and Sham Vui as the Red Heavies shredded the Sunnybank defence at will, extending the lead to 30 points.
Sunnybank threatened to get back into the game with tries to Ben Tapuai and Feaunati, but the faintest glimmer of danger was extinguished by UQ, who wrested back control of the game and scored two further tries from Kalell and Campbell Wakely.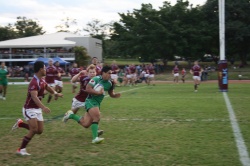 Sunnybank's afternoon was already looking fairly bleak, but with news of Souths dramatic one point win over Brothers in a thriller at Chipsy Wood Oval filtering through, it got a whole lot worse for last years finalists.
Visiting referee Nigel Owens was impressed with the overall standard of the rugby, and although saying that he enjoyed refereeing a good contest in the breakdown and the scrums, he expects a bit more niggle next week at Lang Park.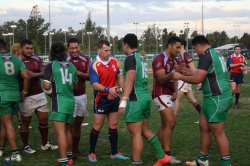 The best referee in the world according to most fans, Owens is in Australia preparing for next weekends Rugby Championship clash between the Wallabies and South Africa. Hear what he thought of the game and how he will be preparing for next weekends Test match in the clips.
As for Premier Rugby, Easts, University, Brothers and Souths now move on to Ballymore and the semi-finals.
University of Queensland 54 – 22 Sunnybank
7 – Tries – 4
4/8 – Conversions – 1/4
2/2 – Penalties – 0/0
8 – Penalties Conceded – 10
6 – Scrums (Lost) – 6 (1)
7/1 – Lineouts (Won/Lost) – 5/4
Scorers: University of Queensland 54 (Tries – Kalell '4 '72, Ma'afu '13, Leilua '17, Scott-Young '44, Setu '50, Vui '57, Wakley '75; Conversions – Dalgleish 3/6, Pincus 1/2; Penalties – Dalgleish 2/2); Sunnybank 22 (Tries – Laloifi '8, Feaunati '24 '67, B. Tapuai '62; Conversions – McIntyre 1/4).
Named Sides: University: Campbell Wakely, Tonga Ma'afu, Reuben Leilua; Phil Potgeiter, Angus Ryan; Maclean Jones, Conor Mitchell, Jack Cornelson; Scott Gale, James Dalgleish; Nathan Russell, Tom Pincus; Clifton Setu, Gareth Kalell; Jamie Taulagi. Reserves: Pat Fepuleai, Sham Vui, Angus Scott-Young, Connor Moroney, Tom Perkins, Moses Sorovi, Steve O'Leary, Jock Campbell.
Sunnybank: Haydn Hirsimaki, Samuel Mellor, Feao Fotuaika; Toandrew Gentles, Brendan Mitchell; Hofeni Matamua, George Blomfield, Jeffrey Faamausili; Sean O'Connor, Mitchell Third; Ben Tapuai, Rex Tapuai; Matthew Feaunati, Junior Laloifi; Jake Mcintyre.