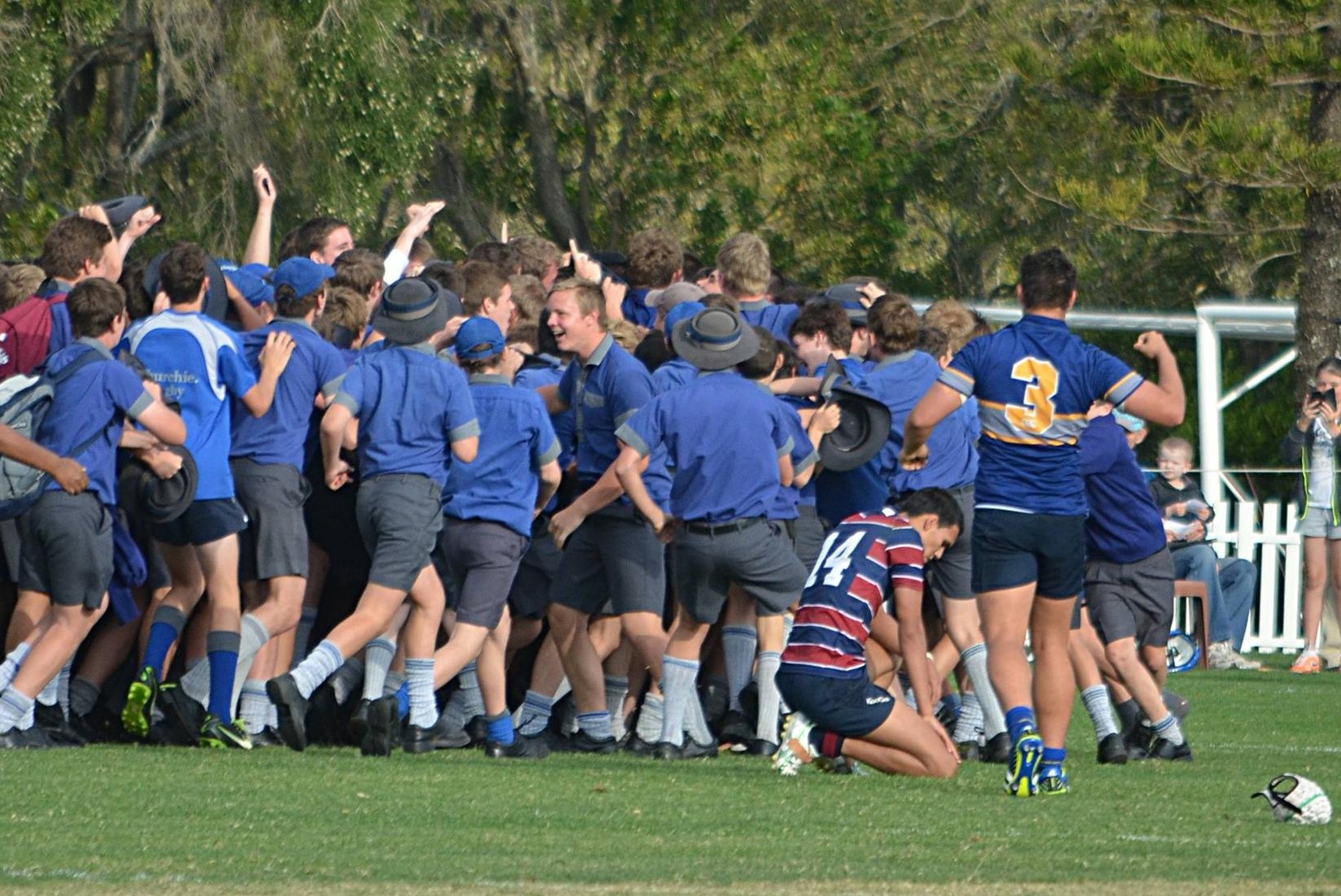 In this week's instalment of Queensland GPS Rugby, our scouts scoped out the action between TSS and Churchie, Ipswich and Brisbane Grammar, and for the first time ever the Toowoomba Derby between Downlands and Toowoomba Grammar (review coming soon). All three proved to be incredibly exciting affairs, with 5 points the largest margin of our coverage. 
In the other matches of the round, Nudgee College handed out a 55-0 beat-down to Brisbane State High to maintain their pole position on top of the ladder, assisted in no small part by a shock result covered below.
Gregory Terrace also were out to prove a point as they comfortably beat premiership hopefuls BBC 35 to 22 in a stunning upset, effectively ending BBC's hopes of their first premiership since 1954.
TSS 24 tied Churchie 24
by Jordan Ayton
Churchie came from 24 points down to steal a season defining draw against a strong TSS side who looked to have wrapped up the game 10 minutes into the second half. 
Scrum-half Harry Nucifora slotted a conversion on the 80th minute to draw the game, seriously damaging TSS's title hopes after last week's debilitating loss and leaving them a point behind new competition frontrunners Nudgee.
TSS had the lion's share of the possession early on and were able to capitalise with captain Sam Clifton running over on the blindside from 10 metres out to open the scoring.
They continued to control possession and after continuous pressure on the Churchie defence frontrower Evander Guttenbiel barged over from close range for their second.
TSS scored again before the break after Churchie made a rare incursion into TSS's 22, but after handing over possession centre Joey Fittock ran them out of danger and a linebreak a phase later by lock Tom Perkins got them 5 metres out from the Churchie tryline.
Scrum half Isaak Fines-Leleiwasa then weaved and darted his way over to put TSS 19 points ahead of a scoreless Churchie at the break.
The Second half started much like the first with TSS camping themselves down in Churchie's 22 and after some expansive play flanker Luke Papworth crossed out-wide putting TSS 24 points ahead.
But Churchie finally got on the board with a try to Aiden Dempsey after launching an expansive set play off a lineout, which the speedy winger finished by stepping inside
beating his opposite number and the fullback.
Momentum began to swing in Churchie's favour and a flicker of hope emerged when star centre Nigel Tanuvasa made a streaking 40 metre run down the wing to score.
Building upon their newfound vigour Churchie scored their third five minutes later after some rumbling forward play muscled them from the 40 metre line to the tryline and no. 8 Harley Fox barged over to put TSS in sight.
TSS tried to quell the resurgence and winger Isaac Nathan went close to putting them out of reach, but Churchie kept a heavy foot on the pedal and spent most of the latter stages of the second half in TSS's 22.
And after some strenuous pressure centre Izaia Perese muscled over from inches out putting Churchie just 2 points behind.
Nucifora stepped up to take the conversion from the sideline in front of the Churchie supporters and slotted it between the sticks with the whole of the TSS team running at him to record a monumental come-from-behind effort.
As always, kudos to Forum User HJ Nelson, whose photography is always appreciated here at Green and Gold Rugby.
TSS 24 (tries: Sam Clifton, Evander Guttenbiel, Isaak Fines-Leleiwasa, Luke Papworth, cons: Third 2)
ACGS 24 (Aidan Dempsey, Nigel Tanuvasa, Harley Fox, Izaia Perese, cons: Harry Nucifora 2).