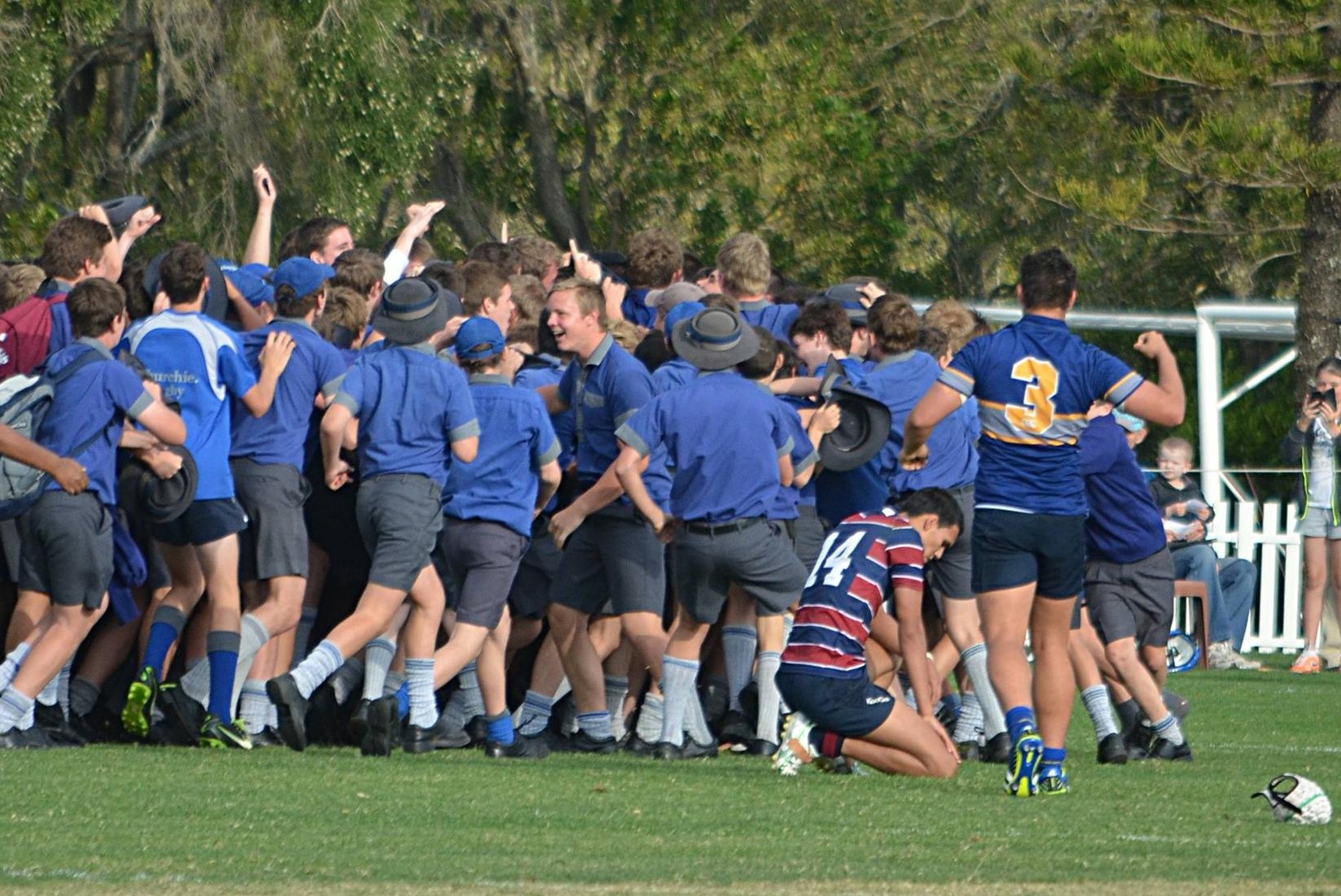 Downlands 38 d. TGS 33
Always drawing a huge crowd, the 2013 edition of Toowoomba's annual local derby presented a fantastic spectacle for the assembled masses. The opening 20 minutes were tight, but the game quickly opened up, with Downlands dictating for some crucial periods.
From opening kick-off though, Downlands were placed under immense pressure. Pinned on their own line after a lineout error, Toowoomba were able to build the phases in the engine room, before quickly spinning it wide. A great ball in contact from Toowoomba captain 12. Harry Wathen (c) allowed 11. Malachy Sweeney to stroll over untouched. TGS were up 5-0 early.
The entertaining match then stagnated on the scoreboard, but never settled. Both sets of halves were throwing it around. Downlands' 9. Will Jackson kept the TGS fringe defence busy, and 10. Iziah Tittor's boot was a handy advantage that often gained his side significant territory. Similarly, Toowoomba 10. Thomas Kidston played with great width, the Toowoomba boys often finding space on the flanks with quick hands and flat cut-out balls wide.
Play went end-to-end, but was disrupted. Neither team could build any significant number of phases, succumbing to either simple errors (handling, obstruction, or crooked lineout throws) or the referee's whistle.
It wasn't until the 20th minute that Downlands earned a penalty on the Toowoomba line, and went for the lineout. They secured the ball well, and 12. Trae Tane and 13. Jordan Weribone flew in to join the maul. Heavily outnumbered, TGS folded and Downlands 8. Damian Vagg had his side's first.
After much of the same play, though with Toowoomba on the wrong end of a few successive penalties, play found itself down near the Toowoomba line with a lineout to the same. The ball overthrown, Downlands skipper 7. John Moloney did well in traffic to take the ball right up to the TGS line, and quick service from 9. Jackson sent 3. Andrew Gough crashing over in the corner. The touchline conversion was good and Downlands were up 12-5.
After only one phase post-restart, Downlands 9. Jackson saw opportunity to box kick. It soared too deep, and with some quick hands, good lines and clever kicks from Toowoomba's 15.Harry Whyte, 12. Wathen and 10. Kidston, Toowoomba were able to hit back within a minute. It was a great try.
Downlands then hit back themselves, with 7. Moloney finishing off a messy toe ahead with a fantastic aerial regather and try just inside the dead-ball line. Downlands were up 19-12, and then soon after, Downlands' superior kicking game again bore fruit, with 10. Tittor racing almost unchallenged onto a this-time perfect box kick on turnover ball from 9. Jackson to score in the corner; the Toowoomba winger had yet to drop back in defence. It was the final play of the half. Oranges with Downlands leading 26-12.
The second half opened with a bang. Again on turnover ball, Downlands 9. Jackson spotted space in behind and popped another perfect box kick over for 11. Teina Cameron to fly through and score within two minutes.
Shortly after, and after some repeated foul play (more ill-timed than ill-intended) from Toowoomba players, 6. Jimmy Gordon earned a spell for a late tackle. Though the resultant kick for touch failed to go out, a TGS knock-on into touch gifted a lineout, from which their #23 skythed through, popping to 7. Moloney on the line, gifting the skipper his second and Downlands a significant lead, with 38 playing 12.
Toowoomba, after some wholesale changes, then went up a gear and Downlands couldn't compete with the new ferocity. With better front-foot ball, Toowoomba were able to score three times without reply, including two spectacular long-range tries in as many minutes, taking them t0 within five of their crosstown rivals.
But it wasn't enough. Despite five minutes in the red-zone, Toowoomba couldn't find another five-pointer and went down 38-33 in a see-sawing match befitting its billing.