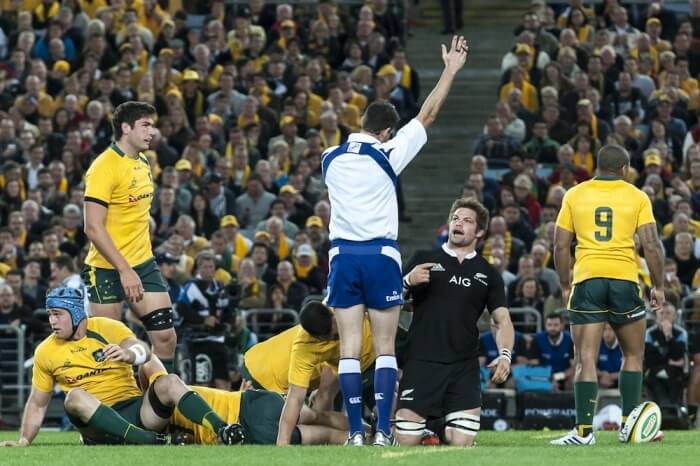 New Zealand's execution in attack was better than Australia's execution in defence and New Zealand's execution in defence was superior to Australia's execution in attack. These are the two contests the All Blacks won on Saturday night and with them the Test match. Here are the key areas of detail that I believe contributed to those wins.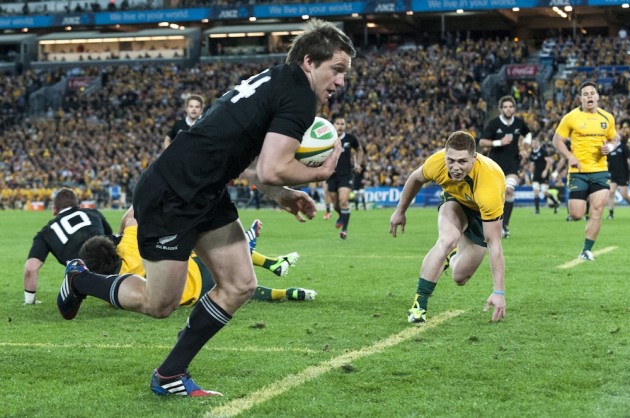 Support and Realignment
This was deficient in both attack and defence for the Wallabies and it has been there for some years. It was most obvious in attack, with a total lack of the ability to re-form a line with urgency in order to take advantage of opportunities. The number of breaks that were spoilt through either a lack of support or lack of belief in support let us down hugely. The lack of this skill led to passes being thrown to the opposition (Mogg) or no-one (Folau).
More often though, because there's no understanding or belief that someone will be there, the ball carrier isn't even looking for the man or considering to pass. In defence there's a saying that "The threat is the ball" – you've got to structure your defence around and from it. This is the same, in reverse, for attack; support players must give the ball carrier options. Looking at the replays you can see maybe two of our forwards chasing the play, and then a huge space in which there are only All Blacks. We seem to be waiting for the "next play", when actually there is no "next play" – just the one you have now!
I know that Ewen and Jim have a strong appreciation that forwards need to chase the ball and backs need to be getting back into position to take advantage of opportunities. But we appeared to have no intention of this. The All Blacks would have four forwards at every tackle, and we would have two. We got so seen off at the tackle contest that even Greg Martin could recognise it! How many times over recent years have we lost the tackle contest? How else do you ensure quick ball without putting people there to make sure it is?
All of this isn't the fault of Jim McKay or Ewen at the moment, because they haven't had the time to get this into their players DNA. We know this wasn't going to be fixed in two weeks, but I was disappointed to see that no real impact has been made. I remember my own debut as a Wallaby coach when I only had 3 days to make changes, and probably tried too hard, exhausting my charges before the match!
Granted we looked OK in the first 20 minutes (with notable exception James O'Connor – he left himself no options, except to wave his hands like a chook for Ben Smiths try) and then in the last 10 when the match was lost. But what happened from the 20th to the 70th minute was very disappointing.
The Scrum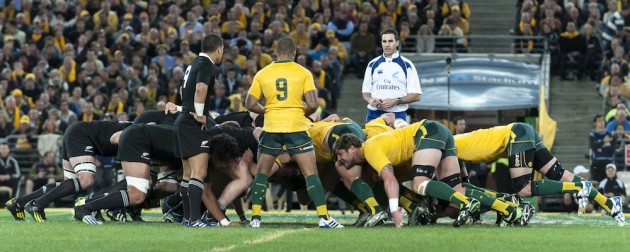 My next disappointment. We knew there are new applications of the law that refs will be looking for, including the straight feed. So, while Will Genia has been one of the most crooked feeders of the ball in Super Rugby, there should be no surprise here. However, Craig Joubert got to the point where he went straight to full arm penalties.
There should have been no need for this – we'd had two weeks to get it right – except that our hookers just aren't able to hook. Look at Saia Fainga'a's first scrum – he hooks three times before the ball is even fed! Stephen Moore is a big strong bloke, you reckon he'd be able to push off his left foot and strike with his right. We should be able to do this.
Dealing with the rush defence
The Wallabies can't keep the play going where there's an overlap if someone moves up quickly to shut down the play. We have no comprehension of presenting our outside shoulder and keep the ball alive with a second touch or loop play. I don't know how many times, especially with plays going towards Israel Folau's wing, that we just couldn't get the ball to him and he is easily the most threatening player on that whole field.
We seem to be happy we have ball players at 10, 12 and 13, but do little ball playing with them. What's the point?
The ref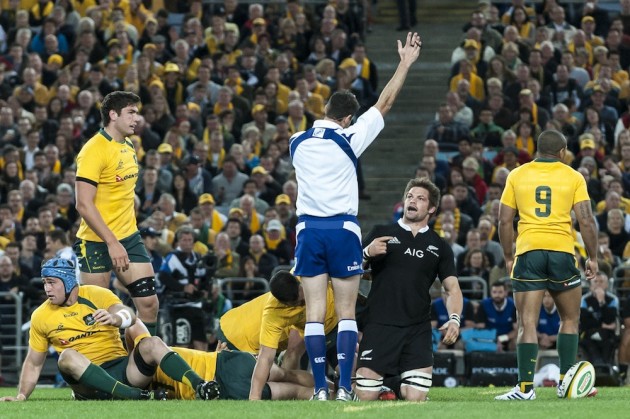 By no means did he cost the Wallabies the match, but once again the referee was dreadful.
What percentage of the tackle contest did there turn out to be an All Black lying between Genia and the ruck, or Genia and the five-eighth? And it doesn't take much to slow Will down. He's a hugely talented rugby player, but this year since the second test against the Lions Genia, as a half-back, has been simply awful. How much better was Nic White at clearing the ball quickly and effectively? I'm not saying drop Will by the way, just fix it up!
It would seem though that having penalised New Zealand a few times early in the match, Mr Joubert felt he'd done his job.
Now even in the 'old days' before assistant refs and TMOs a referee could see when a ball had gone straight through the tunnel and out the other side, but New Zealand were then allowed to pick up the ball and carry off to score a try. How is such a straight error in the law like this possible?
Finally, towards the end when the Wallabies were attacking about five metres out the referee gave New Zealand the penalty because he said McCaw had his hands on the ball. But the first person to arrive at the ball was a Wallaby, and when McCaw then arrived at the ball it becomes a ruck. There is no space then even for  Richie to put his hands legally on the ball – but instead he wins a penalty. How's that possible?
Summary
All errors in play are caused by faulty technique under pressure. The All Blacks had exemplary technique under pressure in both attack and defence. They were infinitely superior, only penalties and a piece of brilliance from Michael Hooper and finishing from Will Genia even kept us in the match on the scoreboard.
Some will say we had a go in the last 10 minutes, but I prefer having enough ticker to keep going when the score is nil-all rather than a lot, to a little. This is something the Wallabies still seem unable to do when comes to the crunch.