I'm pretty sure that after the frankly awful June series and the hit and miss Rugby Championship, Cheika and co. would have been quietly pleased with the prospect of being 3 for 1 heading into the final game against England.
Whilst the Grand Slam would have been nice, let's be realistic – it was probably never an achievable objective for this developing Australian side and it was always likely they were going to struggle against one of England or Ireland, if not both.
So here it is. The final game of the year and it's a biggie for both sides. A resurgent Australia meeting a confident in form England in their own backyard. A chance for revenge, a chance to right some wrongs.
For many people it's all down to Australia's attack against England's defence, and while that does England's attack and Australia's defence a massive disservice it is true that when both sides find their rhythm they excel in those respective departments.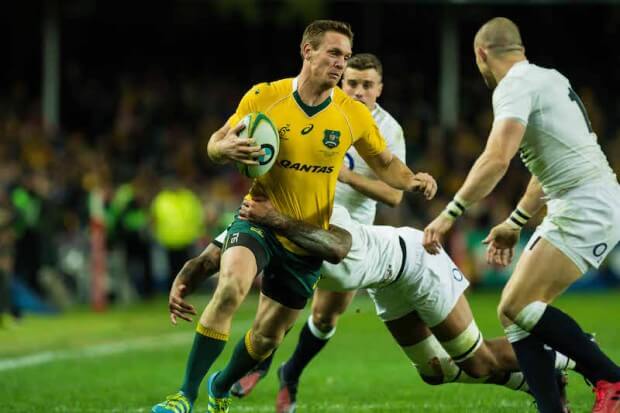 If, for example, England are allowed to, they will happily defend with rhythm. Go back to test two of the summer and their defence flows. They are completely in control both when coming forward and going backwards. They controlled the tempo of the Aussie attack and it was probably the key to England's test series win. They will be desperate to again impose that control over the Australian attack.
The issue is that Australia have come a long way since June and issues we at G&GR highlighted way back then (here) have been addressed, allowing Chieka and Larkham to develop far more complex attacking formations that can adapt and cope with the rigours of test level footy.
The result is an Australian side playing with multiple layers of runners, providing depth, skill and the pace required to deal with the defensive systems of teams like Ireland, France and England.
There are still issues. For example a lot more accuracy would be nice. Against recent opposition they've left a lot of chances out there, chances you'd like to think would be finished by a team of the Wallabies' caliber.
Their kicking game also leaves a fair bit to be desired but I think it's fair to say it's still a young side finding it's feet in terms of attack but the signs are promising and they are rightfully in the top four off the back of a resurgent attack.
The Aussie pattern
Breaking down England is a slightly different prospect but by no means one that is beyond this Australian team. As Brian Smith pointed out, Australia are now building a pattern of play that can break down defences in two or three phases – no longer are they having to expend energy building 10-12.
The Dane Haylett-Petty try is a perfect example of that. For Wallaby fans it's an oldie but a goody, punch it in the midfield dragging the opposition one way and then attack them through that transition zone using runners from blind to exploit the soft shoulders and split defence the punch has created.
In fact we've seen similar from the Wallabies before – oh, yeah that's right against England in the World Cup Pool game and I don't think it's a coincidence that the defensive coach on both those occasions was a certain Mr Andy Farrell. It's an exploit we've seen the Wallabies use against his, and Shaun Edwards Rugby League style defences, on a number of occasions notably the World Cup and all the way back to the Lions tour in 2013.
But it's more than just about a pattern of play, it's about timing. Australia could have run this move at any point throughout that game, but when they choose to use it is key.
If we look below we can see that Ireland are starting to become slow on defence, we can see their pack is slow to wrap and then it's a case of isolating Jackson by sending multiple options down his channel. Best is holding because his team mates are slow on the wrap and Australia are through.
England are different
The problem for Australia is that softness in the middle of the line is not an exploit that's transitioned over to Gustard's defensive systems. Saracens, where Gustard cut his teeth, defend the transition zone hard and it's a similar case with England who fill the middle of the pitch with big hitters and numbers.
In Gustards own words, England's defence is about two things:
creating superiority through numbers.
and then using that to attack and win back the ball.
Gustard wants his defenders on their feet, pressuring the ball and cutting down attacking space and options.
So while against Ireland (and specifically in that move) the punch up was about splitting the defence, against England it's about preserving space.
Rugby coaches talk a lot about getting outside the 3rd man in defence. What they are usually referring to is traditionally the 13 channel. Australia's use of lead runners and those passes out the back allow clever ball players, like Foley and Godwin to pressure that channel, which I think will be key to stressing England's defensive line.
Below is a short sequence from England vs Argentina.
First up look at how narrow England are on first phase defence, this is exaggerated by the fact May sits incredibly deep on the 15m to cover the kick. When Argentina move the ball wide he comes in to shut down the space in front of him.
Joseph Jockeys off the tackle and tracks the ball. But also observe how May bites in on the ball – and that's key to what Australia need to exploit. Because England's back three are not good defensive decision makers. If Argentina had run straight and fixed the midfield May was stuffed, but by drifting they allow Joseph back into the play.
But the damage is done and as we see them recycle we can see bags of space again on the opposite side and the last defender is a second row. A very good defensive second row granted but still, you'd want to fancy Folau or Foley coming around that corner into that space.
If Australia can fix that heavy set midfield defence with one or two punch groups or lead runners and play out the back they'll be able to create indecision in the wider defenders. Create indecision and you've got chances to exploit that indecision.
Another example in the Argentina game was Cordero's try just after half time – in their own 22 Argentina move the ball from left to right, using a screen from Creevy to Hernandez to buy the time to get the ball into that wide channel.
England's cover defenders fall off the tackle and Argentina have the English turned they scramble but that leaves enough space for Argentina to exploit back on the left and some beautiful inter passing gets Cordero on the score sheet.
So it's about boxing clever and I believe Australia's best chance is to keeping the ball in hand and continually asking England's outside defenders to make decisions in defence.
If they do then it's likely we'll see them pull the England defence out of shape and keep it moving around the park at speed. People think of Gustard's defence as being an out and out Blitz defence it is in actual fact highly reactive to what the opposition is doing. If you have the numbers on them they'll forget that space wide and look to push hard in that wider channel closing the gate early and drive the attacking side back in.
But if you can get to the gain line before them, or into that 13 channel they'll back off and trust they'll be able to jockey in defence buying time. If they are lucky they can isolate the attacker and look for their turnover or setting up ready to get off the line early this time..
If Australia can fix that midfield and stop it from drifting I think we'll see guys like DHP and Kuridrani taking advantage of the space it creates.
Fearless prediction: Aussie to upset Eddie Jones Apple cart by less then 10.