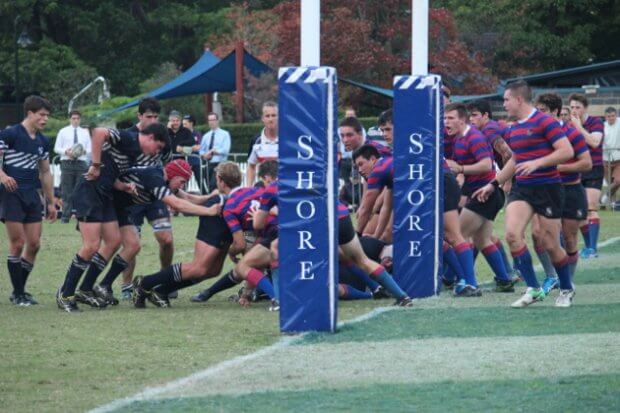 There were more crossover NSW Schools trials between GPS and CAS schools on the weekend and whilst neither Association can brag too much, one school is making the running.
Waverley is looking like the premier school in the GPS and CAS – but what's that you say? These are only trial matches?
Don't tell that to the "Waves" – "the Double V" – they're making every post a winner.
Shore v Joeys
By "Armchair Selector"
It took 30 seconds from the kick off for Joeys to open their account. A line break from the opening ruck saw Joeys #11 Lachlan Shortis over in the corner. Joeys 5-0.
The start was was ominous for Shore but they hung in with scrambling defence and kept the Joe Boys at bay for 20 minutes. Then Joeys' outside centre Dan O'Brien created a chance for #8 Cody Edstein-Boyes who spun around in a tackle from a ruck ten metres out and rounded to score near the posts. #6 Jack Quinn converted. Joeys 12-0.
From the kick-off deft footwork by Joeys #15 Joe Kandalaft got the backline in space and #14 Xavier Ryan scored in the corner. Quinn converted – Joeys 19-0 with ten minutes to oranges.
Shore had opportunities but handling errors cost them in good positions. They charged up the middle several times to effect but their ball work away from the ruck was laboured.
Before the break Joeys' concentration wavered and Shore #13 Dom Walker broke through. Speedster #14 Tim Kendrik-Little received his deft offload and scored in the corner to the cheering of the home crowd.
Half-time score: Joeys 19 – Shore 5.
Six minutes after the interval, Joeys sent the ball out wide from a scrum, and a clever inside ball from #12 Zack Carey had Year 10 player, #13 Dan O'Brien, over for the try. Joeys 24-5.
The error rate and dropped ball increased for both teams especially near the dodgy cricket pitch area. Scrappy loose ball on the ground was picked up by Shore #7 Edward Collard who passed wide to #12 Dan Jackson, and he dotted down in the corner. Joeys 24 – Shore 10.
Shore were playing with growing confidence and self-belief. Loose ball kicked through was picked up by Kendrik-Little who capitalised on his good fortune running into the gap for his second try. Rixon converted. Joeys 24 Shore 17. Game on.
Shore weren't overawed by their favoured opponents. They had pace out wide and looked threatening in space. However many a raid was thwarted with composed Joeys' defence.
Joeys were dangerous in attack and had numbers in support from line breaks through their #7 Julian Heaven and #8 Edstein-Boyes.
With five minutes left Joeys #14 Xavier Ryan finished off an excellent backline move from a scrum near the Shore 22 for his double. Quinn converted: Joeys 31 – Shore 17.
On full time Joeys #12 Zac Carey ran from his own half to score virtually untouched.
Final score: Joeys 36 – Shore 17
Two tries in the last five minutes skewed the winning margin for Joeys, who did well since four of their best players from last week were not available.
Shore had good moments but did not have the players to perform at a high level as long as their opponents could.
Best players
Joeys forwards: #8 Edstein Boyes and #7 Julian Heaven
Joeys Backs: #15 Joseph Kandalaft, #14 Xavier Ryan
Shore Forwards: #1 Luke Edwards, #7 Ed Collard
Shore Backs: #15 Blake Rixon , #13 Dom Walker
Scoring
Joeys 36 (Tries X.Ryan 2, L. Shortis, C. Edstein-Boyes, D. O'Brien, Z. Carey tries; J. Quinn 3 cons) beat Shore 17 (T. Kendrik-Little 2, D. Jackson tries; B. Rixon con.)
Photos by Lee Grant
---
Waverley v Newington
By "WLF"
This promised to be a tight, quality match; Waverley had a convincing win the week before, away against Joeys at Hunters Hill, and Newington were just as impressive away at Warrawee beating Knox.
Great weather greeted both teams at Queens Park as the whistle blew game on.

For the first 20 minutes both sides gave nothing away; so there was no scoring in a tight quarter, though Waverley blew two tries with poor last passes. On each occasion Newington responded with solid counter-attack.
It was clear that both sides came to play – trial or not.
As has been the case in their last two matches the Waves showed their ability to pile on tries quickly —three in a row this time. Two were from sweeping back line movements, and the other was from punishing a Newington mistake on their goal-line.
The combination of Bell/Donaldson/Hardaker was drilling through the New back line defence with brilliant passing and powerful, straight-line running. Waverley lead 21-0.
But on the stroke of halftime the New forwards completed an effective pick'n drive phase to score a try, which was converted.
Halftime score: Waverley 21 – Newington 7
The pattern of play in the second half was similar.
Newington scored again with a pick'n drive. Converted: Waverley 21-14; game on!
However the Double V countered immediately with a strong run by prop Finn Wright to put Donaldson under the crossbar. Converted: Waves 28-14.

This was followed up by two more Waverley tries. Wallace and O'Sullivan both scored following classy back line movements and strong forward support. Waverley 40-14.
Newington then scored two more pick'n drive tries from close to the Waverley line and both were converted. Waves 40-28. Hello !
The Waves then kicked a penalty goal from 40 metres out to put them 15 in front. Waves 43-28; so Newington had to score more than two converted tries to win
But it didn't matter because the 'Double V' back line drilled through the Newington defence again for Donaldson to score his third – and he converted.
Final score: Waverley 50 – Newington 28
The wrap-up
I think most would agree that it was the Waverley back line that was the difference. Their combinations and class were evident and we saw some quality schoolboy tries.
Both packs were strong for the whole game: there was little between them in an intriguing contest.
Best for Waverley: Donaldson, Hardaker, Wright, Cornish,Moretti,O'Sullivan,Ellis.
Best for Newington: Devine, Icanovski,Lynch, Bell, Kearns, Caputo.
Scoring
Waverley 50 ( Donaldson 3, Hardaker 2, O'sullivan,Wallace tries; Donaldson 6 cons pen.) beat Newington 28 ( Devine 3, Reserve #23 tries; Caputo 4 cons.)
---
Scots v Knox
By "Waratahs To Win"
Both Scots and Knox have secured back-to-back GPS and CAS titles over the past two years and this game was shaping-up to be a real "battle of the clansmen".
It was a balanced tussle in the first half and the two teams shared possession evenly.
Scots used their main weapons, their outside backs, repeatedly; so barnstorming winger, Tom Yassmin, and outside centre Billy Smith got plenty of pill. However, the Knox outside backs were successful in containing them for the first quarter.

But Knox fullback, Twinkle Toes, Michael Pavlakis, wasn't going to let the Scots backs do all the running. With several blistering breaks, spins, twists and turns he made good metres for Knox into the Scots 22. He also pulled-off a try-saving tackle to halt the Scots barrage.
Scots' first points came through ball to Yassmin who bashed through a couple of defenders to score. Fullback Ben Baker converted.
Scots then scored another through THP Darcy Breen after fine lead-up work from Smith. Baker converted again and Scots led 14-0.
To their credit, Knox fought back and parked themselves in Scots quarter for the next ten minutes and after multiple pick'n drives, hooker Ben Adams barged over.
Both sides were playing well at the break.
Halftime score: Scots 14 – Knox 5
Knox came out fighting and parked in Scots' territory but silly errors meant they couldn't benefit.
And when Knox turned the ball over Scots ran it from their own ten-metre line and after some poor Knox defence Baker kicked through to score for Scots at the other end. He converted his try too: Scots 21-5.
But Knox kept their heads and took advantage of several Scots' penalties, kicking well for touch and utilising their dominant lineout.

When they won a lineout on the Scots' 22 they mauled it to their goal-line for no. 8, Daring Dan Garing, to smash over. Michael Pavlakis converted. Scots 21-12.
Scots were struggling to contain the Knox forward pack who created another try for lock Nick Frost from a pick'n drive. It was converted.
At 21-19 to Scots it as anyone's game.
Knox forwards kept the pressure on. However, after a few errors of judgement by Knox, the Scots backline used the ball to better effect and winger "Tricky" Frederick Tricks scored after some good ball work.
The game was slipping away from Knox when Scot's 'Fabulous Baker Boys' set up their last try as Charlie Baker scored near the posts and brother Ben converted.
Final score: Scots 33 – Knox 19
Scots deserved the win, but will be annoyed by their own lack of discipline at times.
Knox will take some confidence from the game in that they can threaten any team and have the attitude and skills to beat them.
Best Players:
Scots – Yassmin, Smith, Breen, Baker x 2
Knox: Pavlakis, Cutrone, Garing, Frost
Scoring
Scots 33 (Yassmin, Smith, B. Baker, C. Baker, Tricks, tries; B. Baker 4 cons.) beat Knox 19 (Adams, Garing, Frost tries; Pavlakis 2 cons.)
---
Barker v Joeys 3rd XV
By Rod Skellet
In a high quality game of rugby, Barker scored six tries to one to defeat a stoic Joeys 3rd XV 40 to 7.
After last week's horror first half where Joeys 2nd XV put on 21 unanswered points, Barker came down a grade to make amends.
Joey's on the other hand were looking for another CAS scalp, having claimed Waverley 2nd XV the week prior.
First half
Joey's were on the attack for the attack opening ten minutes, with 10 Ben Tate guiding his troops with precision . The Red wall held and after winning some possession, the Barker backs opened up Joeys for 10 Nercessian to score under the crossbar. Barker 7-0.
The restart was clean and Barker were on the front foot after a nice chip and chase by Tejcek. Lloyd received a sweet ball from a maul 15 metres out from Tejcek to break through and score next to the uprights. Barker 14-0.
But Joey's are a good side, and from the restart the forwards worked the ball into Barker's half. A series of solid pick and drives led to 5 Jet Williams going over and the extras reduced the Barker lead to 14-7. Game on.
With Reimer and Flaherty unavailable, Barker's set piece was pressured by the Joeys' 8. Despite this, an impressive steal in the ruck by Barker winger Galloway, put Nercessian into space to claim his second try, which he converted.
Halftime score: Barker 21 – Joeys 3rd XV 7
Barker's defensive effort was wearing Joeys down. Despite having an even supply of possession the Joe Boys could not crack the Red wall despite some huge hit ups by 8 Nicholls and 3 Freudenstein.
Barker on the other hand were being innovative and a deft kick chase by Tejcek led to a maul close to Joey's line. Joeys buckled and Barkers' lock Dring scored out wide. Converted: Joeys 28 – Joeys 7.
From the restart, Barker kept the ball tight with Weymouth (6) and Hutton (7) prominent at the breakdown ensuring possession.
Another fine chip by Tejcek, had the Reds on a roll and this time it was 8 Pollard who crashed over. 35-7
Barkers sixth try came after LHP Chalmers, one of the best running props in the comp, made a fine bust down the blind before passing to speedy winger Lloyd , who scooted away for his second try.
Fulltime score: Barker 40 – Joeys 3rd XV 7
Despite the scoreline, Joey's were always in the game as one would expect from the Thirds of a fine rugby school. They always threatened with ball in hand and it was only Barkers' defence that stopped them from scoring more tries.
Best for Joeys: Tate, Nicholls, Sevil
Best for Barker: Lloyd, Tejcek, Chalmers

Photos by Penny Cruickshank