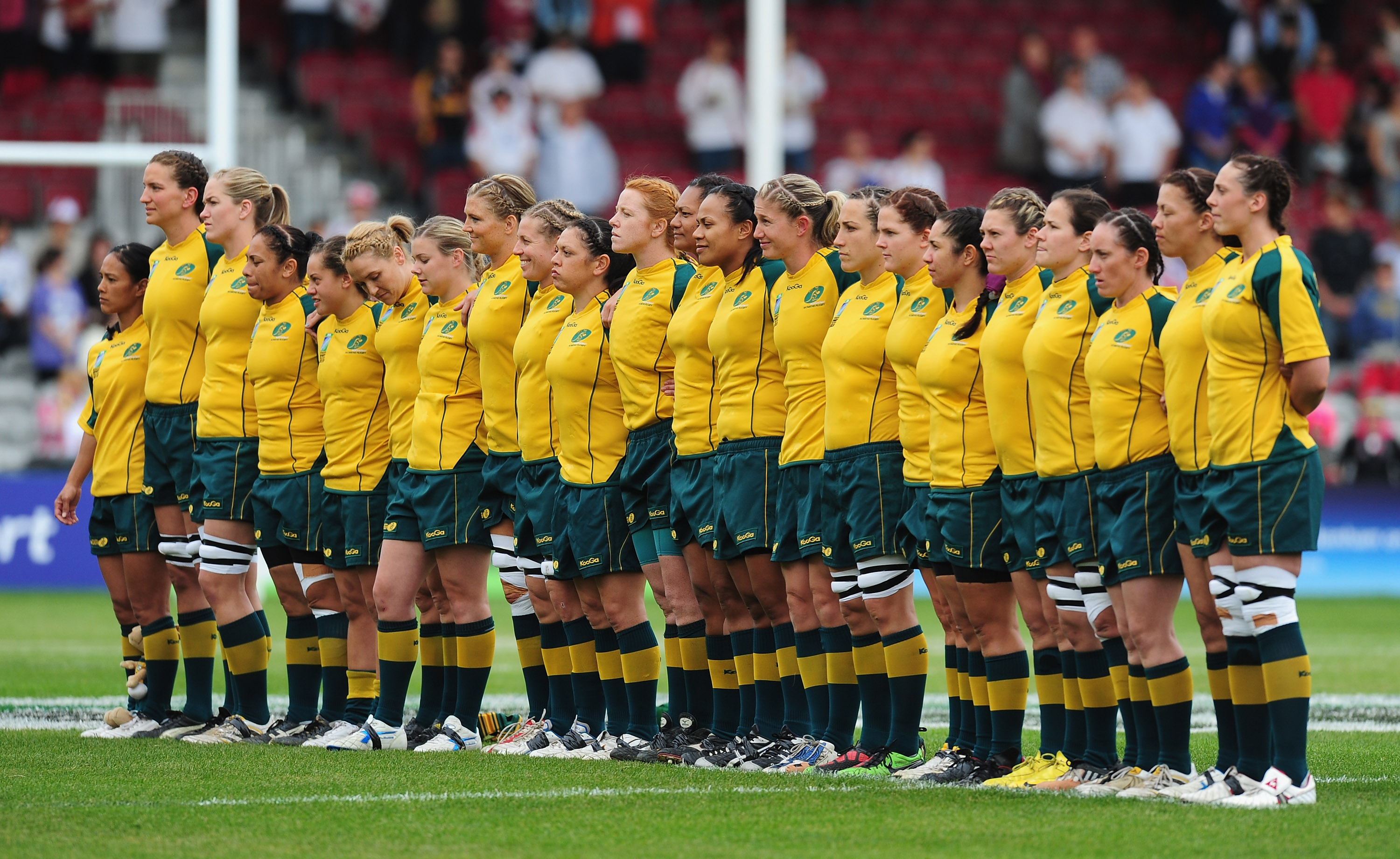 Monday's Rugby News has the Wallaroos squad, the Rebels confident they're getting cut, an embarrassed Dave Wessels, and injury forecasts.
---
Wallaroos Squad Named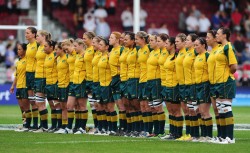 Wallaroos coach Paul Verrell has named 7s stars Shannon Parry and Sharni Williams as co-captains ahead of the Wallaroos' upcoming three-test tour of New Zealand.
Joining Parry and Williams in the 28-woman squad will be mostly rookies, with 17 players either making their debut or having debuted only one year ago.
"We have been monitoring players in training and in matches since we returned from New Zealand last year, and the players named in this squad is a testament to their hard work and performances over the last twelve months," Verrell said to rugby.com.au.
"It has been very encouraging to see the next generation coming through. They have really lifted their work rate both on and off the field, which has led to their selection in this squad. Combined with the experience of Shannon Parry, Sharni Williams, Ash Hewson, Cheyenne Campbell and Rebecca Clough, we feel we have a very strong squad for this tour.
"We'll continue the hard work for our three tough Test matches this June, as we continue to build depth for our Women's Rugby World Cup campaign."
Australia (ranked 6th) will take on New Zealand (1st), England (2nd) and Canada (3rd) in preparation for the Women's World Cup, to be held in Ireland in August.
Fixtures: Friday 9 June – Australia v England, Porirua Park, Wellington Tuesday 13 June – Australia v New Zealand, Rugby Park, Christchurch Saturday 17 June – Australia v Canada, Smallbone Park, Rotorua Squad: (*uncapped) Forwards: Cheyenne Campbell, Liz Patu, Violeta Tupuola*, Evelyn Horomia*, Caroline Fairs, Hilisha Samoa*, Hana Ngaha, Rebecca Clough, Alisha Hewett, Millie Boyle*, Alexandra Sulusi, Shannon Parry, Chloe Butler, Grace Hamilton, Vesinia Schaaf -Taufa, Victoria Latu*, Natasha Haines,  Backs: Cobie-Jane Morgan, Katrina Barker. Samantha Treherne*, Fenella Hake*, Sarah Riordan, Sharni Williams, Kayla Sauvao*, Nareta Marsters, Huia Swanell*, Ashleigh Timoko*, Ashleigh Hewson,
48-72 Hours Later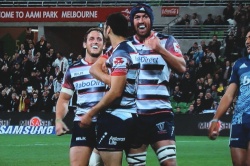 Wayne Smith has written in the Weekend Australian that the ARU has "backflipped", and is now re-targeting the Western Force for the chop.
This comes in the wake of the Melbourne Rebels and their owner Andrew Cox saying "For the avoidance of any doubt whatsoever, neither the Melbourne Rebels not its owner will engage with the ARU in relation to the sale of cancellation of its Super Rugby licence".
"For the past week, Rebels ­players and coaches have been on tenterhooks, dreading the seemingly certain news that Cox had taken a rumoured offer of $6 million from the ARU. But late yesterday, they were rejoicing after Cox put an end to the speculation…the Rebels players and staff are now breathing much more easily knowing that they are not to be cut from the competition at the end of the ­season," writes Smith.
That means, the ARU now have their sights on the Force again, Smith reckons.
"Significantly, too, none of the legal defences that the Force were sheltering behind have been damaged or eroded during the period the ARU was focusing all of its ­attention on Melbourne. Perth's main hope is that the ARU signed off on an agreement when it took the Force over in August last year, specifically stating that there would be a Super Rugby team in Perth until the end of the ­broadcast agreement. The point in law is whether that agreement, which is now due to terminate in 2020, has now been superseded by SANZAAR's plans to reduce the Super Rugby competition from 18 teams to 15.
"But despite chairman Cameron Clyne's insistence earlier this week that the ARU is not floundering in its attempts to honour its promise to SANZAAR to cull one of its five teams, the national body will become even more of a laughing stock if, after missing its intended target, the Rebels, it now rounds on the Force.
"Certainly the longer the ARU persists in its bid to eliminate a team — in the face of condemnation from inside and outside the code — the greater the likelihood of a no-confidence motion in Clyne, CEO Bill Pulver and the ARU board being raised.
"The ARU has arranged to hold a special summit next Thursday or Friday in Sydney but the real ­action is likely to take place when the EGM is staged in the second week of June. It's at that meeting that any no-confidence motions will be held."
Smith also adds that Cox has told him he still plans to press ahead and sue the ARU for damages.
Wessels Embarrassed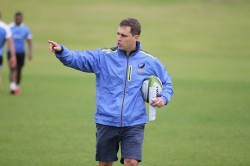 Force coach Dave Wessels ain't very happy at his team's spanking at the hands of the Highlanders on Saturday. The Force lost 55-6.
"I didn't think we played well at all," Wessels told rugby.com.au.
"I thought we were passive from the start of the game, behind the pace of the game from the first whistle, really. I also think in the slippery conditions we tried to play too much rugby and tried to be too clever without being tough enough.
"What we needed to do was to set a platform, get some go forward and play smarter rugby. In these conditions it was about intensity and it was about go forward and we didn't have either of those – they did."
Despite beating the Jaguares in Argentina, Wessels conceded that this loss might have had something to do with preparation.
"We've had to travel around the world in the last two weeks and we have to look not only at the game but also the intensity of our prep over the last couple of days. "I know our boys, their hearts are in the game. I have no questions about their intentions.
"But I just think we need to learn actually how to manage games better and our prep better to actually get the outcome that we want.
"We've got to learn what the critical things are in a shortened week that we have to get across – those sort of things. They're big learnings for us and it's important we recognise what those things are."
Centre Bill Meakes, who made his debut as captain on the night, had this to say. "This review process needs to be pretty honest because tonight was pretty embarrassing for us." Hmm ok.
Injuries Sminjuries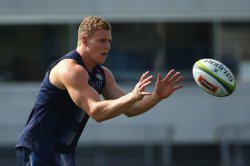 Reece Hodge was stretched off in the second minute in yesterday's game against the Tahs, after Israel Folau's body parts knocked Hodge's noggin. Hodge didn't return to the field, but he did thumbs up just as he left the ground on the stretcher.
The extent of his injury – believed to be concussion – is yet to be finalised.
"I don't have a full update but I spoke to him at half-time and he seemed well aware of where he was and what he was doing," Rebels coach Tony McGahan said, according to rugby.com.au. "It's not a great knock to take early on but he seemed in good spirits and we'll see where that goes."
Meanwhile, Kurtley Beale has injured his hammy playing for Wasps over the weekend.
That means Beale is in doubt for the Aviva Premiership final, which Wasps got to thanks to Beale's try in their 21-20 win over Leicester. Beale, who is rumoured to be returning to the Waratahs only one year into his megabucks Wasps contract, may see his time in England bookended by injuries.
"He went off with a bit of a hamstring injury, so fingers crossed it's not something that's too bad," said Wasps' Director of Rugby Dai Young, according to the Daily Tele.
"Obviously it's a tight turnaround. But to me I'm really hoping and fingers crossed it's not too bad and we can get him out there at Twickenham.
"It would be a really fitting final game for him. He showed all his quality early on before he went off, he was a real threat every time he had the ball."
Wasps will meet Dean Mumm's old club, Exeter, in the final next weekend.
---
PS There'll be no Rugby Report Card this week; Blake has gone and done his shoulder in, and we wish him well. The race is on to see if his shoulder heals faster than than the ARU makes decisions.