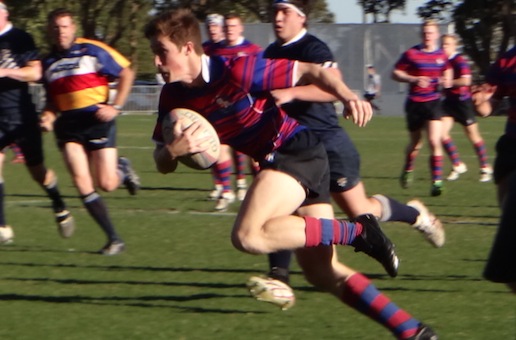 Joeys and Shore were just playing for third place (or hopefully second) but they competed like they were playing in a Grand Final.
Shore played with the fire in the belly that had seen them beat teams that had more rep players than they did this year, and when they nearly beat Newington last week. Joeys were determined to end their season strongly by using the momentum they got from their victory at Kings.
Joeys 24 – Shore 14
Joeys started the stronger: they got into the right real estate from a penalty kick and when Barclay got the ball from the scrum he had too much pace for Shore to cover him. 7-0 Joeys after 10 minutes. Five minutes later a Shore player got a card but it didn't cost his team any points.
Soon after he came back on, 10. Clancy of Shore kicked through sweetly for 11. Buchanan-Reeks to score near the posts. 7-7 at 30 minutes — and game on. But Joeys were wearing Shore down and after a few pick and goes 3. Sandell went over escorted by several of the Joeys pack. 14-7 Joeys. 
Just before before oranges Shore were hammering the Joeys line in wave after wave, trying to draw level before going into the sheds, but at one breakdown Joeys hacked the ball upfield. After a bit of razzle-dazzle 11. Newsome was over at the other end — a 14-point turnaround.
Half time 21-7
There's not as much to tell in the second half. Joeys showed respect by kicking a penalty but neither team could break through. At 12 minutes to go Shore were close to the line and committed Joeys to defend with too many players near the ruck. 8.Buckling found a crack when the defenders went to ground and went through it to score — 24-14 Joeys, but lots of time left.
Five minutes later Shore got over the line again but were held up, and Joeys held on to win.
Joeys took most of their chances but Shore lacked a bit of zing in the backs to do the same.
Shore
8. Buckling was in everything on attack and defence and 12. Davies was their main threat. But the strength of this side this year has been their team play and for that the boys and the coaching staff should be proud of themselves.
Joeys
The forwards were the key again. 5. O'Donahue relished his second row gig again and his partner 4. Bartlett finished off a fine season. Oz Schools props 1. Robertson and 3. Sandell deserve the wraps they get and were tough again in the match, but 2. Carolan is an unsung hero; he had a cracking season. 13. Barclay, 12. Pay and 14. Wilde were key in providing more back line threats than Shore did.
St. Joseph College – 24 – [Tries: S. Barclay, M. Sandell, A. Newsome. Conversions: J. Kay (3). Penalty: Kay.]
Shore – 17 [Tries: M. Buchanan-Reeks, C, Buckling. Conversions: S.Davies (2).]
Referee: Mr J. Scholtens.
Well done to Joeys for finishing off the season strongly to get third after losing two of their first three games. Congratulations also to the Joeys 2nds and 3rds for winning their competitions.
This old blog is being used for WordPress Exercises
.
.
First half
Second half
The players
Wrap-up
Scoring
.