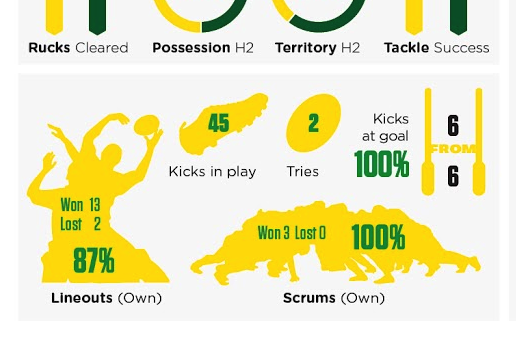 If there was an ironic sight on Saturday, it was Berrick Barnes pulling up lame after what must have been his 40th kick of the night. In the end the Wallabies managed to out-kick South Africa by an astonishing 45 to 38 kicks in play. 
To give you a perspective on just how many kicks that is, the average number of kicks per team per game in all of the June internationals (including bore machines England and South Africa) was less than 25. Yes, you got it, the Wallabies almost DOUBLED that on Saturday night.
Kicking in itself isn't bad — it won the Saffas a world cup. But what was even more spectacular than its frequency on Saturday was the appalling result of that kicking. Against a team with renowned goal-kickers with the last name Steyn, despite hoofing the leather off the ball the Wallabies managed to end up with only 36% territory. No team averaged less than 42% in the June and in only one game did a team has less territory — Wales in the second Test with 31%.
Of course not all of Australia's kicking was designed to gain territory (although even in those duels we came off second best) — notably the default chip/grubber option  that has become rife. However, it doesn't take a genius to calculate that grubber kicks from your own 22 are unlikely to leave you with a territorial advantage, or in fact, any advantage.
The general consensus on Twitter during the match was that this was clearly a defined team tactic from the Wallabies — even if it was misguided or poorly executed. However, in his half-time interview, Robbie Deans' position was that these weren't team tactics at all, but poor decisions by individuals – surely one B. Barnes. If only Robbie had some sort of influence over Berrick….
The numbers may not all be pretty, but here's a couple of stunning infographics of the stats from the weekend care of our arch-nemesis from across the ditch, Ruggerblogger.
Thanks to Ruckingoodstats for the other stats in the article.
Click to embiggen.