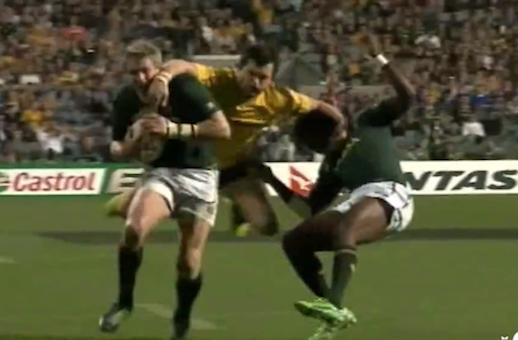 The Wallabies came home strongly in the second half to extend their winning streak over the Springboks to five on the trot. This is in total contrast to their recent record against the All Blacks and a number of South Africans have asked my opinion on how this is so. 'We can beat or hold our own against pretty well all other teams, but rarely against Australia. Why is this so?' They are puzzled and frustrated.
Well, here's my shot at an analysis.
The Wallabies are not short on courage and will tackle all night. We've seen numerous instances of this – last game versus NZ, RWC quarter-final, etc. If courage and determination are the only qualities needed, then we can hold out with the very best of them.
Quality attack is simply about asking questions of the defence. The more complex the question, the more difficult for the defence to consistently come up with the correct answer. NZ constantly ask complex questions; SA rarely do.
If the attack starts too deep, the question is partly solved before any answer is needed. Morne Steyn starts way too deep; Carter, and Cruden even more so, play much more in the face of the defence. This should be a lesson for the Wallabies also, where second-line plays (therefore much deeper) can take over our attack.
But, back to Saturday night's game. I watched the game in a bar in the south of France – on, of course, a French TV channel. Nice spot to be, but not my first choice of location for a serious examination of a rugby match – or for a subsequent replay.
Our attack is not so hot either, especially without O'Connor and with Beale and Cooper still not back to their best. We should not forget that it nearly always requires some time for great players to come right back to top form after a significant injury. Remember that even Richie McCaw was somewhat off his outstanding best in last year's World Cup.
In the first half, with South Africa clearly dominant, we were able to contain their limited attack. They had several opportunities to post tries, but were only able to achieve one – even that a pick-and-go from the excellent Bryan Habana. We held them to 6-13 for the half – only one score between us.
In the second half, we clearly lifted the accuracy of our effort and asked trickier questions – not super-complex ones, but better. The Boks were not able to contain us – I thought that they defended poorly on occasion – and we came up with 20 points to their 6 for this period of our dominance. Our improved attack was too good for their below par defence. That was it!
Only the Boks' kicking – both from hand by Morne Steyn and Kirchner, and for the posts by both Steyns – kept them in the game. Most countries have moved ahead significantly in the professional strength-training era – not, I hasten to add, in vision and skill – and the traditional South African physical superiority is not nearly so marked. For example, we saw the previous week that the Pumas were their equals, and a number of other teams are up there also.
The Wallabies' commitment and numbers at the tackle contest were improved and Samo and the front row were prominent. Samo, in the right mood, can be punishing – giving some of what Vickerman provided in the past – and he was clearly in the right mood. Both Robinson (he also is back after a significant injury) and Alexander made much better contributions than for some time. They were well overdue.
Sharpe has never played better than at present over the full course of his long career and I, for one, was concerned that he may have to be subbed. He is, thank goodness, made of stern stuff. Hooper handles this level with no problem and he is just as effective. Higginbotham, coming on around the 50-minute mark, was most productive. This may well be his most effective role – to commit his power, pace and footwork against less-than-fresh defence when his lower workrate can be carried more easily for a shorter period.
Our backs were more ordinary. Genia was better; Cooper a shadow of his former self and Beale likewise. With nothing happening inside them, our centres did not threaten at all. Ioane showed some flashes, but he needs his amigos at numbers 9 and 10 to be firing. Shipperley alone looked good. His instinct was to go forward – not the worst idea – and his speed, power and footwork make him a handful for any defence.
They tell me that Robbie constantly asks of his players that they consistently present 'bodies in motion' to the defence. In this way, tricky questions can be asked of the defence. The problem is that this rarely happens. Either they don't understand his concept or they don't agree with it. Either way, this is unacceptable.
We're still Number 2 – and we're still a long way from Number 1!