Monday's Rugby News has Reece Hodge reactions, Tatafu Polota-Nau without a contract, new news on the IPRC and NRC semi-finals losing their semi.
---
[one_half last="no"]
Hodge Ain't Podge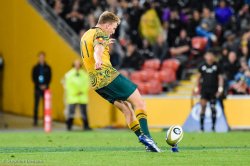 The big news coming out of the Wallabies-Japan game is Reece Hodge. Specifically, is he good or is he whack?
Paul Cully over at the SMH reckons he's not whack, even going so far as to say the ABs have a bigger flyhalf conundrum than the Wallabies.
"Hodge is by no means the finished article but it was evident that the hat fits when it comes to directing a football team," writes Cully, the Kiwi-based rugby columnist. "He looked composed and confident and has such strong defence and goalkicking to base his game around.
"His performance was another tick for the Wallabies coaching set-up and perhaps a message to the Rebels that they have found their director."
New Zealand have four amazing players in and around the flyhalf position – Beauden Barrett, Lima Sopoaga, Damian McKenzie and Richie Mo'unga – and Cully reckons that Barrett is better as a fullback, and Mo'unga – who played for the Barbarians against the All Blacks on Saturday – is a better bet for the Black 10.
"The uncapped Crusader Richie Mo'unga outplayed Beauden Barrett at Twickenham to the extent that Barrett was promptly shifted back to fullback at the start of the second half," writes Cully.
"It seems remarkable that Mo'unga is rated behind Barrett, Lima Sopoaga and even Damian McKenzie…the questions about Barrett's most natural position are legitimate. Is he truly a No 15? The All Blacks are convinced he is a No 10 but Mo'unga displayed the greater control and creativity, especially with his kicking game."
Cheika meanwhile loved Reece's stuff.
"Reece wanted the opportunity and has been preparing and I thought Japan tested him with line speed many times and he made some good decisions," Cheika told rugby.com.au.
"(There's) still a long way to go but a great start for him in that no, 10 jersey.
"I was very happy with his game.
"He probably got a bit tired towards the end, he had a lot of decisions to make and no second playmaker but I thought he did a fantastic job."
[/one_half][one_half last="yes"]
Taf Want Job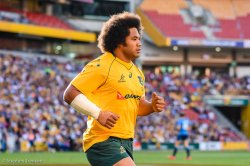 Eternal winner of Australia' Greatest Fro, Tatafu Polota-Nau is a bit down because he's struggling to find a club.
The froed one originally left the Waratahs in 2016, seeking new horizons overseas. However, an elbow injury sunk his move to Bristol, with the English club withdrawing their contract offer.
Luckily for Taf, the Western Force were able to step in and give the hooker a year-long contract, but like everyone else there, he's had to find a new club after Bill Pulver and co. cut them.
"I've actually got no idea because there's been lots of chats about relocating Super Rugby franchises but, to be honest, I haven't had any offers," Polota-Nau said to Fox Sports.
"I'll have to go back to my whiteboard and start afresh. There were options (overseas) but I think I've missed out on the window there."
Given the amount of hooker contracts has been reduced to 12 from 15, given the Force's cut, TPN is finding it hard to find a gig in Australia. All teams – the Rebels (Jordan Uelese), the Tahs (Tolu Latu and Hugh Roach), the Reds (Alex Mafi and Andrew Ready) and the Brumbies (Folau Faingaa) – have 1 or 2 up-and-coming rakes, which makes an old, injury-prone (but very good) hooker a difficult proposition.
"I even said give me an EPS (Extended Playing Squad contract) but no," Polota-Nau said.
"It's great that all the spots are full because it gives me another opportunity to challenge myself whether it be overseas, or in retirement, who knows.
"I just have to make sure what I do now is pass on all that I know to guys like Jordie, Folau and Tolu because they'll be the guys that come in and take the jersey (after my Wallabies career)."
Despite all these contract woes, TPN is keen to forge ahead to the 2019 Rugby World Cup.
"Absolutely, I'm looking to play to the World Cup and the opportunity to have consistent starts has given me that hunger again," Polota-Nau oofted.
[/one_half][one_half last="no"]
IPRC Not All Gold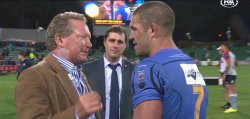 Twiggy Forrest is a smart businessman, who had the brilliant business idea to dig metals out of the ground and then flog it to a booming economy of a billion people that might need the stuff.
Using that nous of his, which is so good, Twiggy set up the IPRC. Basically to keep the Western Force a going concern. And he's continued to mine them metals, this time turning up with a bit of silver.
Twiggysloe, which is a far better name than Twiggyball, has had a few changes announced to it. Ready? Ok go –
The IPRC will run at the same time as Super. This is because those pesky Asians, who Twiggy is so fond of flogging stuff to, have a thing called a 'monsoon' season. This 'monsoon' season, or a seasonal change in atmospheric circulation and precipitation associated with the asymmetric heating of land and sea to use laypeople, means it rains heaps during a part of the year. That part of the year is also known around these parts as NRC & Walllabies time – i.e. around July-ish to October-ish.
The IPRC will also launch in 2019, instead of next year, and will consist of 6 teams. Who the other 5 will be, no one knows. The ARU also hope for each team to have
"This is a transformative day for the players and the fans of Rugby in the Indo Pacific region," Forrest said, according to rugby.com.au.
"I am so proud to have reached this position where we have aligned with Rugby Australia on some core principles and a path forward."
[/one_half][one_half last="yes"]
NRC Semis
There were 2 (two) NRC semi-finals on the weekend, which means there'll be 1 (one) NRC grand final this weekend.
First's first – the Tuggeranong Canberra ACT Kookaburras Vikings saw of a brave Perth Spirit, who had a lot of spirit but not enough. Despite a Rory Arnold hatrick, and a yellow-card late in the game, the Spirit only went down by 5 points, 40-35. As the scores might suggest, the Vikings won the game 6 tries to 5.
The Vikings win means they get to host the grand final, to be played this Saturday night.
But who will be the other team in the final, you ask??
That will be Queensland Country, who beat the Fijian Drua yesterday, racking up a tropical island party score of 52-17 against the excellent, sometimes eye-gouging, Fijians. In that game 9 tries to 3 were scored, with some random bloke by the name of Brett McKay saying that the Tongan Thor had a brill game.
[/one_half]