g>
So here we are at the pointy end of the season. Queensland Country and Fiji Dura playing off to see who will meet the Vikings next week in Canberra in the big dance.
First a word on the curtain raiser. As a demonstration of a strong girls comp on the Darling Downs the Toowoomba Anglican College and Preparatory School (TACaPS) and Scots PGC played U14's and U16's 7's games. The U14's ended in a 17 all draw and the U16's ended with a runaway victory to TACaPS 27 – 0. I love to watch these games and see the skills and talent that is on display and from what I have seen the Downs will be supplying some players to the QLD and Australian sides for a few years yet.
First Half
Fiji Dura had the first chance to put a score on the board but an attempted penalty by Apisalome Waqatabu was disallowed. Despite everyone but the referees thinking that it went through the posts.
A short time later Queensland country was over. In a well-worked move off a lineout, Hamish Stewart put a thundering Taniela Tupou through a gap, who then completed a dinky little offload to Caleb Timu who crossed for the first try of the game. Converted by James Tuttle.
The Dura had another shot a goal which also……. Missed? Okay. It must be the angle I am looking at the posts. Or the glass I am looking through….
Ball retention was looking difficult for both sides. Yeah, it was hot. Yeah, it was humid, but the predicted storms had not materialised so it seemed a bit incongruous that the handling was this bad.
After another penalty against the Fiji Dura, Country got to show off their set-piece skills again. With lineout following lineout from consecutive penalties the Country lads mauled towards their line and after getting another advantage unleashed Duncan Paia'aua who strolled through the Dura defence. After Tuttle's second conversion the score was 14 – nil.
 Country continued to apply pressure to the Fijians, but handling errors and some reasonable defence resulted in them knocking on over the try line. From the resulting scrum, things descended into a blue. James Slipper came off the worse for wear with what appeared to be a rather serious eye injury and the Fijian tighthead prop, Kalivate Tawake, was treated to 10 mins on the naughty chair.
From the resulting scrum, Timu went over for his second dragging a couple of defenders with him. Tuttle's boot was still on form.
This seemed to spur the Dura into action. They started keeping a better eye on Tupou so that he wasn't making as many breaks and pressured Country into to making more errors. Eventually, the hooker, Vesi Rarawa, put his head down and kept pumping the legs until he crossed the try line. I am not sure that the whole Queensland team would have been able to stop him.
The last word before halftime was to come for Tupou though when he made one of his trademark bullocking runs and went over for a try. That took the teams to the sheds at 26 – 7 to Queensland Country.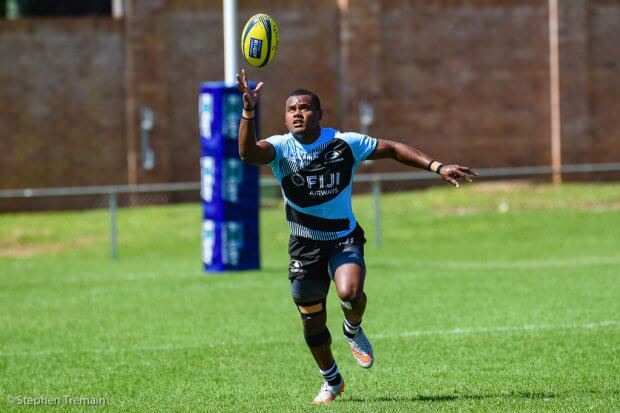 Second Half
The second half started as the first finished. ChrisFeauai-Sautia crossed the line after what appeared to be an almost impossible offload from Eto Nabuli.
Rarawa again displayed his strength picking up his second try through a show of pure strength. Was this the Dura coming back? Was Queensland Country going to have a second half like they did last week against the Spirit?
Country sorted themselves out though. Tupou took things into his own hands and made a break downfield and offloaded to Paia'aua, who kicked ahead for Nabuli to make a nice pass to Patrick James who went over in the corner.
Not to be outdone in the big man stakes  (or should that be steaks) though, Rarawa was back for his hattrick. Any young forwards could do worse than watch his three tries and emulate his body position and technique. Keep low and keep pumping those legs.
 Not quite 20 mins into the half Fiji lost their second player to the bin. Eroni Mawi upended Paia'aua in a dangerous tackle. Not long after Tupou decided that he could do just as well at the driving try as Rarawa and pushed his way over.
At this point, handling started to deteriorate even further. Fatigue and the heat were starting to take their toll and both teams made numerous knock-ons.
Six minutes from full-time Filipo Daugunu made a beautiful chip ahead which was regathered by Paia'aua who was over for his second try of the match.
There was one more try to come. The ball spat out the back of a Fiji Ruck. Nabuli picked it up. Stopped to check with the Ref that he was right to continue, and trotted 40 meters to score. Some reward for a good game and setting up a couple of tries for his teammates earlier.
Full time. Queensland Country wins 57 to 21.
---
[one_third last="no"]
The Game Changer
The discipline of Fiji Dura again seemed to let them down. It is hard enough to play in these conditions without having to do it for 20 mins without a full compliment on the field.[/one_third][one_third last="no"]
The G&GR MOTM
Has to go to Calab Timu. Other than the two tries he scored he made heaps of big hits in defence and some nice runs in attack. Honorable mentions to Hamish Stewart & Duncan Paia'aua.[/one_third][one_third last="yes"]
Oz Baabaa Watch
You could do worse than most of the boys in the QLD Country squad. Hockings, Scott-Young & Blyth all had good games. James & Daugunu did well in the backs..[/one_third]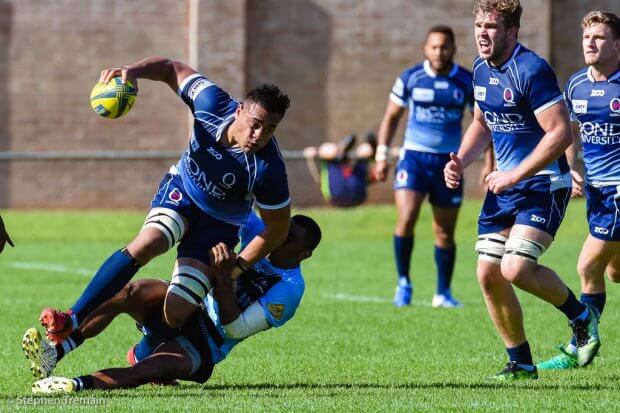 ---
The Details
[one_half last="no"]
QLD Country: 57
Tries: Timu (2); Paia'aua (2); Tupou (2); Feauai-Sautia; James; Nabuli
Conversions: Tuttle (5/8); Daugunu (1/1)
Penalties: N/A
[/one_half] [one_half last="yes"]
Fiji Drua: 21
Tries: Rarawa (3)
Conversions: Waqatabu (3/3)
Penalties: Waqatabu (0/2)
[/one_half]