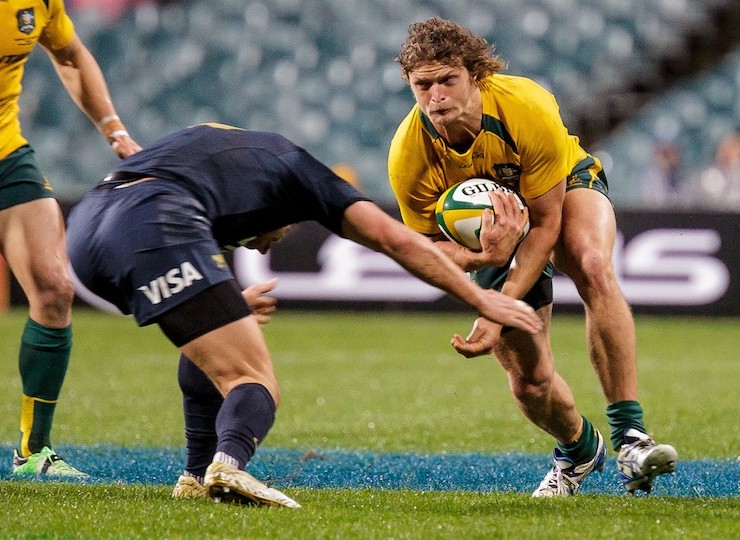 I don't think there's anyone who isn't shocked and a bit saddened by the announcement today that Nick Cummins will be leaving Australian rugby next year to play in Japan  – effectively ruling him out of playing for the Wallabies in the 2015 Rugby World Cup.
For me the loss is hardest in the sense that The Badger is one of the few modern sportspeople able to communicate genuinely and effectively at a time when media management has rendered players as cliche machines.
Before we howl too loud at the moon though, it's worth understanding the background to Nick's decision. We don't know the exact ins and outs yet, but Nick comes from a family of 8 siblings, two of whom have cystic fibrosis, looked after in rural Queensland by their single parent father who also has prostate cancer. You can imagine the pressures on this remarkable family as outlined in the video below:
So, while it hasn't been stated as much, if a club came knocking with a stack of low tax cash, you can imagine that it would be pretty hard for the Badger to turn such an offer down.
Reading between the lines from Bill Pulver's statement, it would seem that's what's happened:
"We have been working with Nick and his management team to explore ways to retain him within Australian Rugby since we were notified of his circumstances."

"Due to his unique and extreme personal circumstances, we have reluctantly made a decision to grant Nick an early release from his current contract based on compassionate grounds.

"We wish him well for the future on and off the field and he is aware that we – and Rugby fans across Australia who have embraced him as the 'Honey Badger' – would love to see him back in Australia in the future."
There you have it. No doubt the hardest decision the Badger's had to make, but you can't knock him for it.
UPDATE – Below is Nick's statement from Instragram, just released: