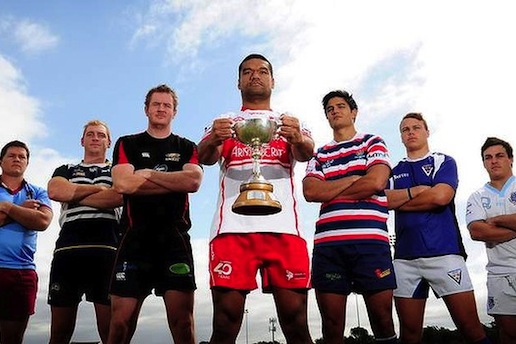 The John I Dent Cup recieved a huge boost in talent this week, with 12 Brumbies contracted players named in the initial starting lineups.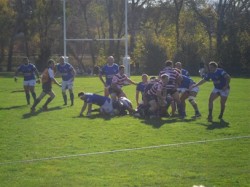 Round six saw the most Brumbies contracted players in the named starting line-ups this season due to the University of Canberra Brumbies having a bye in the Super 15.
The Canberra Royals have maintained second spot of the John Dent Cup ladder with a scrappy 26-13 win over Eastern Suburbs at Griffith Park.
In a very physical affair, the Royals showed their ability to earn momentum at crucial times, and the bonus point win only strengthened their credentials for this season.
Coach Russell Ingram was disappointed with his men's overall display, but was happy they lifted in the second half.
"It was probably our worst first half, and I told them that [at half time]," he said.
"But we picked it up in the second half and controlled the possession and territory, and that got us through in the end."
"Last week takes a lot out of you- a big game like that- so to back it up with this win was always going to be tough."
Both sides entered the match on cloud nine, with the Royals having stunned the Queanbeyan Whites after the siren a week ago to win by a point, while Easts came off a bye.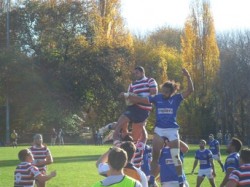 But for Easts, it has been huge turnaround in it's clubs history, having stunned defending runners-up the Wests Lions a fortnight ago in an upset victory.
With two wins so far this season, they achieved their best start to a season for many.
Coach Jeremy Osbourne had been proud of his men's improved ability to stick to planned structures, and wanted them to continue executing the simple plays well.
However he was disappointed with his men's flatness in attack on Saturday, and said poor execution cost them points.
"Our execution again just let us down. We had a couple of opportunities- three on ones- and just didn't pass the ball, " he said.
"We'll bounce back, and credit to Royals. They out-played us."
Easts looked the goods to start the match, and came out with an attacking mindset.
They had all the field position , and in-form Brumbies contracted fullback Stephan Van Der Walt took no time in crossing the line after supporting an overlap on the right edge.
However the Royals exposed their right edge defence, and still managed a 12-8 half time lead.
They struggled for early possession, but a small linebreak from winger Matt Rowlings was all that was needed for him to open his side's account; grubbering ahead before soccering into the in-goals and pouncing on a try.
Easts dominated the ruck and their big forwards continually kept the Royals at bay, but they were unable to find try-line as passes went to ground.
It only took the Royals one set in attacking field position to start the second half to take control, with front rower Sokai Tai's double extending his side's lead.
Much of the second half was played in the middle of the field, with both sides fighting for any advantage.
Easts began to throw the ball around and came back within six points through #4 close to full time.
But they failed to get the ball in the right place at the right time, and ultimately that cost them the game.
Meanwhile, Osbourne has praised the efforts of Brumbies centre Clyde Rathbone, and believes he should be back in the Brumbies 22-man squad soon.
He said Rathbone has been like another coach for his outside backs, and has been instrumental in getting his side to two wins to start the season.
"His experience is great for us. He's like an extra coach for the backs which is a positive," he said.
"In all honesty hopefully he goes back up there [to the Brumbies]."
Canberra Royals 26 (Tai 2, Rowlings, Davis tries; McMahon 3 cons) bt Eastern Suburbs 13 (Oosthuizen, Van Der Walt tries; Laudenbach pen) at Griffith Park.
---
Gungahlin Eagles v Queanbeyan Whites at Nicholls Oval
The Gungahlin Eagles leap-frogged the Queanbeyan Whites into third place on the ladder after upsetting them 12-10 in a low scoring affair at Nicholls Oval.
The Eagles have hit fine form in recent weeks, dismantling an out-of-form Wests Lions outfit 34-18 last week, and on Saturday squeezing past the Whites who entered the match from a loss after the siren to the Canberra Royals last week.
Whites coach Adam Fahey was very unhappy with his men's effort the shut out last week's game, but despite Saturday's loss, said his men were in the game the whole way through.
"I can't fault the effort, it's just our execution and decision making that are letting us down at the moment," said Fahey.
"As a club and as individuals we've got to find a way to fix it quick."
Both sides were very even in the match, and went toe to toe.
The Gungahlin Eagles were outstanding in defence, and their ability to continually disallow the Whites any points got them over the line in the end.
Gungahlin Eagles 12 (Mannix, Connolly tries; Connolly con) bt Queanbeyan Whites 10 (Howe, Camivuna tries) at Nicholls Oval.
---
Wests Lions v Uni-Norths Owls at Jamison Oval
The Wests Lions finally hit winning form again on Saturday, continuing the win-less season of the Uni-Norths Owls in a 43-14 demolition at Jamison Oval.
The Lions found themselves in very unfamiliar territory coming in to the game, being a bottom of the table clash after having had just one win.
They were boosted tremendously with the inclusions of Brumbies contracted players Pat McCabe and Scott Fardy, which may have proved the difference this week given the Lions have played without three specialist hookers in recent weeks.
Coach Craig Robberds said the win brought back glimpses of making the grand final last season.
"We held on to the ball very well. Generally we were very good," he said.
"Our set pieces became very good, and our line-out was very good."
He said his forwards were very impressive, and was pleased to get points through them.
He said McCabe and Fardy lifted his men at training during the week, and were instrumental in their win.
Wests Lions 43 (Dobson, Taylor, Latu, Southwell, Parsons, Leteru tries; Small 5 cons; pen) bt Uni-Norths Owls 14 (Cox, Ivaratire tries; Irwin 2 cons) at Jamison Oval.