A record crowd of 43 188 gathered at Allianz Stadium, eagerly awaiting the debut of the biggest player Australian Rugby has ever produced, Will Skelton.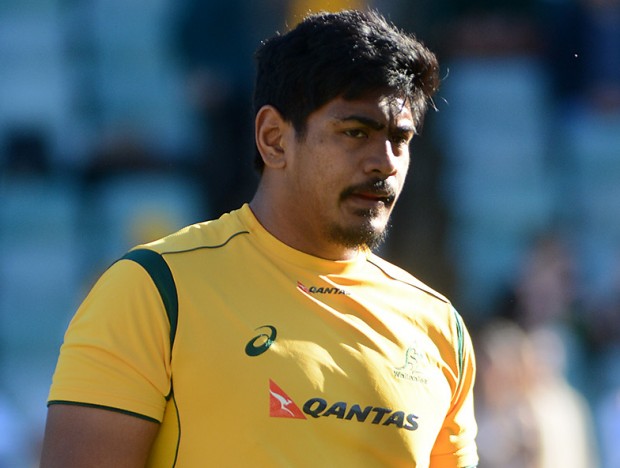 Will Skelton – product of the NSW Waratahs – stepped into the number 4 jumper for the third and final test between the Wallabies and France, replacing seasoned veteran James Horwill who was relegated to the bench.
The 203cm, 140kg lock barnstormed his way to an incredible debut – one not seen since Israel Folau's first game for the Wallabies against the British and Irish Lions last year – Skelton scoring one try and setting up another.
Skelton took his opportunity with both hands, and made a devastating impact on a depleted French side that was looking forward to heading home after a long International season.

For his shear size, Skelton is a damaging ball-runner, getting the Wallabies over the advantage line on numerous occasions, which in turn provided quick ball for the outside backs to work off and attack the French defensive line.
In a 56-minute onslaught, Skelton was able to produce numbers that rivalled those acquired by his opposition and counterparts who played more minutes then himself;
SKELTON (AUS): 1 linebreak, 1 linebreak assist, 1 offload, 2 tackle busts and 5 runs for 28 metres.
FLANQUART (FRA): 3 runs for 14 metres.
MAESTRI (FRA): 3 runs for 10 metres.
CARTER (AUS) – GAME 1: 2 tackle busts, 9 runs for 34 metres (played 80 minutes).
The difficulty with comparing these statistics is that each player has a different role and there are also differing tactics for each game, however, on Saturday afternoon it was very noticeable how easy Skelton propelled the Wallabies over the advantage line.
As the above statistics point out, not only is Skelton a devastating ball-runner but he also has immense skill for his size, most notably when he produced soft hands to deliver an exquisite pass to send Israel Folau straight through a gaping hole and over for his second try of the match. Before Skelton gave the pass, he drew in a second French defender, with the illusion he was going to run hard and straight.
Even Wallabies coach Ewen McKenzie alluded to Skelton's ability, "his skill was very interesting", and also mentioned how he was not at all surprised with the skill level of Skelton, judging from what he had seen at Super Rugby level.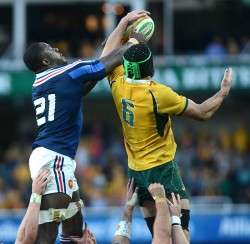 One problem identified with the inclusion of Skelton in the starting squad, especially over the likes of Horwill and Carter, is the lineout. Due to his size, it is virtually impossible to lift him, and so takes away a lineout option for the Wallabies. However, it provides the opportunity for Australia to use him in the backline in a crash ball scenario.
Skelton's substitution in the 56th minute also provided a talking point, with question marks surrounding his fitness. However, the Wallabies implemented other changes shortly afterwards for Palu, White and Toomua, with McKenzie stating at the conclusion of the game that he, "tried to give everyone an opportunity to play", especially before the Rugby Championship.
Skelton's substitution at that period in the test, allowed the fresh and experienced legs of James Horwill enough time to make an impact in the game, and also shows that Skelton could also be used as more of an impact player for the Wallabies in the future, to exploit oppositions defenses at a vulnerable time in a match.
Since the Wallabies had already obtained the trophy after winning the first two tests, Skelton was able to play his natural style without the added pressure of a must-win-game. Wallabies coach Ewen McKenzie eased Skelton into test match rugby, giving him a number of weeks to immerse himself in the environment of the team and learn from the more experienced individuals at training.
McKenzie was impressed with the effort from Skelton and was all praise for the young man, "He had a significant impact on a test match against a tier one country in his first game" McKenzie stated, "He did a good job", he added.
Wallabies captain and fellow Waratah Michael Hooper followed on from McKenzie's words, identifying that Skelton played a key role in the Wallabies win on Saturday and was delighted with how his teammate took his Super Rugby form into the test.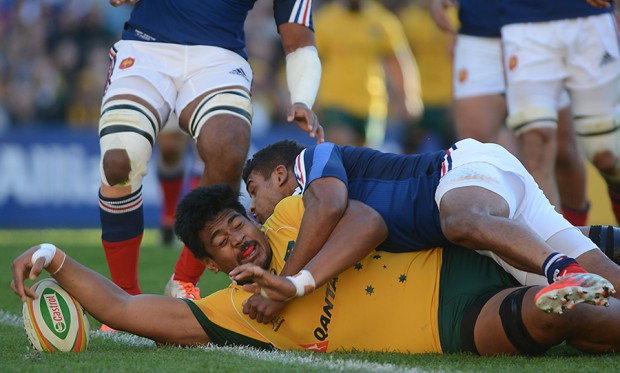 "I've always seen he can carry the ball and be damaging at rucks, it was just doing it at a new level", Hooper stated.
Hooper also added, "our locks are in great shape", which highlights the Wallabies depth in a number of positions now, especially lock and number 8 following the excellent debut of Skelton.
LOCK: James Horwill, Rob Simmons, Will Skelton, Sam Carter.
NUMBER 8: Wycliff Palu, Ben McCalman, Scott Higgenbotham.
The Wallabies added the Trophée des Bicentenaries to their trophy cabinet following their clean-sweep of France in a 3 match series and look in good shape ahead of the upcoming Castrol EDGE Rugby Championship in August.
Statistics sourced from: http://www.rugby.com.au/wallabies/GameDay/livegame.aspx?matchid=IRB20140109