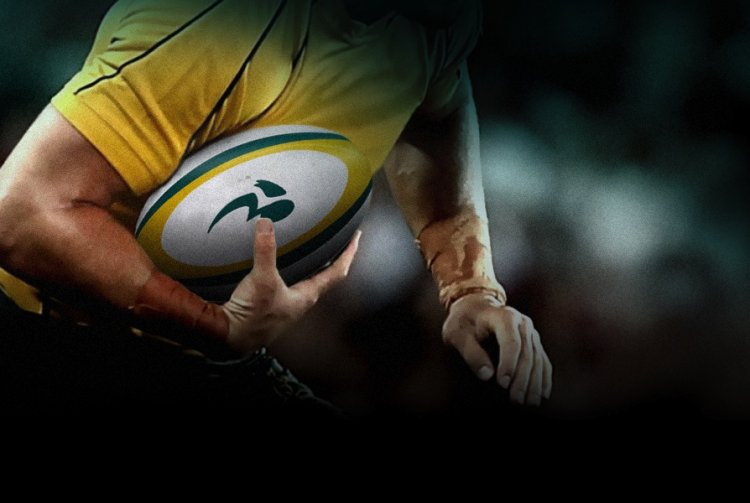 The Reds took their first tentative steps toward the launch of the 2010 season by unveiling their new kit for next year. It was rumoured to be something a bit different, and indeed it was with the players looking resplendent in red from head-to-toe.
Gone are the usual navy shorts to be replaced by a new dashing red version. Resident fashionista and Reds' Chairman, Rod McCall, was quick to praise the new kit designed and manufactured by local sportswear company, KooGa.
"The red shorts were a big call, I don't know if everyone's on board with that, but I like it and I think it's a good move"
To be honest, I don't think the new kit makes enough of a statement and I was a little disappointed that new coach Ewen McKenzie hadn't added a flourish of pink to the mix – maybe next year…..
Perhaps one piece of attire that was more un-excepted than the bright red shorts was the boot that Captain James Horwill had on his right foot. Speaking to G&GR Big Kev explained the reason for the boot was some scheduled off-season maintenance, rather that a re-occurrence of his long term injury from last year.
"It's just a bit of a toe problem I've been carrying since the end of the Super 14 so it was a good time to get it fixed. It's no big deal and I should be back running by January."
With a new coach and a new way of doing things, Horwill was keen to get amongst it, however he explained that coming back from the Wallabies to the Reds half-way through pre-season was not always easy.
"It can be difficult, and with a new coach there's a whole new set of things the team is working on but I've been down to training a few times just to try and get a handle on things. We've (the returning Wallabies) got to work pretty hard once we get back, and that's our responsibility, to make sure we're up to speed and we don't hold the team back"
By all reports pre-season training has been going well and it certainly looks to be agreeing with Ewen McKenzie. Big Link has dropped a few weight divisions going from Super Heavy Weight to Cruiserweight. One might ungraciously observe that instead of using his spare time on Twitter, Link has been spending his downtime on the treadmill.
A relaxed McKenzie is clearly enjoying being back in Australia, and between bites of his low-fat Blueberry muffin, explained to G&GR the vast difference between the Reds and his last coaching engagement.
"In France we'd play 38-odd games a season, over here you only play 13. While in France you learn to get a fair bit done in a short space of time, in Super 14 you get more of a chance to refine things.
"Pre-season is going well but it's not hard to make gains in just the physical stuff, the football stuff is harder. We've identified that defence hasn't really been a focus over the last couple of years so that is something we are really working hard at. In the end it's about strategy and skill on the day so we are putting plenty of thought into that.
"We are re-organising lots of bits and pieces of the game, not because it needs to change necessarily, but we are just trying to make sure everyone understands what we want."
As when McKenzie took over the Reds, he was quick to point out that bringing on the young talent within the squad was a priority.
"We've got one of the youngest teams in the competition, and that will probably continue as we will keep rewarding that young talent. Being a younger crew, it's very important we keep directing them in how we want to play.
"With a younger side you've got to put more effort in and you can't make assumptions about the game. It's a complex game and having the right strategy on the day will be important, but making sure we've practiced and trained how we want to play is the most important."
Over the last few years Reds supporters have always enjoyed pre-season, it's not until the season actually starts that reality hits home.
While it's too early to tell if the 2010 season will be any different, let's hope the players in their new kit of red socks, red shorts and red jerseys aren't forced to also wear the red faces that have defined Queensland rugby for too long.