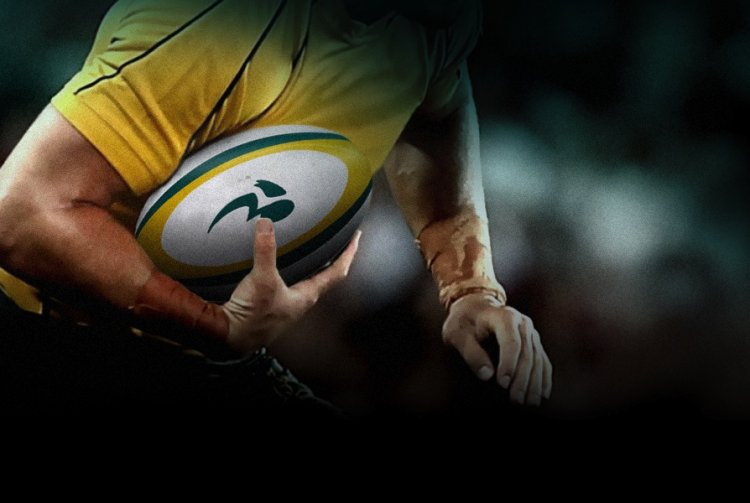 From the period 2000-2009, just nine different men have worn the Wallaby Ten jersey in a test match.  They are:
Steve Larkham (69); Matt Giteau (31); Elton Flatley (6); Matt Rogers (6); Berrick Barnes (5); Rod Kafer (3); Nathan Grey (1); Sam Norton-Knight (1); Julian Huxley (1)
Interestingly if you discount Bernie Larkham and Gits, then the cumulative starts of the rest of the players is just 23.  It shows the dominance of Larkham for starters but also the reliance on Matt Giteau as his replacement.
Anyway, the team at G&GR didn't have too many dramas coming up with our three leading candidates this time around. They are:
Elton Flatley
Picking the third man for this list was always going to be tough after the first two effectively picked themself.  What got Flats the mark? A big factor was his composure under pressure and pure dependability. Because he played in the era of Steve Larkham, when he played it was generally as a replacement for the injured Bernie.  Because Larkham was such a crucial player, it was always such a blow to have out of the team, and conversely, Flatley in the team.
But many people forget that it was Elton who played 10 in that crucial 3rd test against the Lions in 01.  And again in the upset win over England at Twickenham in 2004. The England win in particular was a credit to Flatley as he marshalled an injured impact Wallaby outfit to their first win at English HQ against the Poms for six years.
As it would turn out the test would be the last start for Elton, a singly appearance off the bench against the All Blacks in 2005 would be his last in Wallaby colours. Soon after constant head injuries would force him to premature retirement and he left the scene how he played his footy. With minimal fuss and flair. Oh, except for the couple of months on celebrity survivor with the glamour models, actors and musicians. Other than that….he just slipped into the shadows.

Matt Giteau

Ever since he broke into the Wallaby team as a bolt from the blue in 2002 it seemed Giteau was the man to replace Steve Larkham in the Wallaby 10 shirt. Much of this was because we all wondered just how much longer Bernie's body would hold up.  It is long forgotten that Gits's first test start was as fly half. Sure it was against the major minnows of Namibia, but it was certainly a pointer of things to come.
An apprenticeship served outside Larkham at the Brumbies, and the Wallabies, was broken when Giteau decided to head West to the Force and spend some quality time as first receiver.  Perhaps there was frustration when he was thrown into the number 9 jersey for a number of tests as well.  He handled the move well, in my opinion, but he craved for the space out wider and the responsibility of being the chief play maker.
It is a battle that still remains. Is he better served drifting wider and running in the greater spaces, or do the Wallabies use him best as the key ball player. In form there is no doubting he is the Wallabies' best back, and if that's the case we need his hands on the ball as much as possible. His two full seasons at 10, in 2008 and 2009, have each seen him score in excess of 150 points for the season. A sign, perhaps, that why he is still adjusting to the role he is a vital part of a firing Wallaby backline.

Steve Larkham

Well, surely this is a case of put down the glasses? No competition right?  But let's take a moment to recall the glory that was Steven Larkham. It is easy to forget that Larkham started the decade, having starred at the RWC in 1999, with just a tick over 30 caps.  Less than Cliffy Palu, Adam Ashley-Cooper and Drew Mitchell have now. That was where he was it. Still pretty bloody green, I guess you could say. Even more remarkable is that he had less than 20 tests as a fly half.
But he was still such an dominant figure.  Clichés tend to be run ragged in rugby circles but the one describing Larkham as 'ghosting' through the defence was always so accurate to me. At one time he'd be on his side of the defensive line and then, before you knew it and when it seemed least possible, he'd be on the other side as if magically appearing behind the opposition tacklers.
And then there was is his kicking game which improved remarkably over his career.  He gained the distance and accuracy to rival most in world rugby. But where his game stood him apart from opposition 10's was his sheer physicality. His willingness to take on the advantage line, ball in hand, regardless of the size and ugliness of the forward pack in front of him. Likewise his absolute enthusiasm for getting dirty in defence.  He loved to get one over his opposition in a tackle, whenever he could.  Put simply, a magical player, very much once in a generation.
And there we stand. I don't expect to see much argument as to the fly half of the decade. But who do you reckon have been our top three? Does Flats deserve his spot? Has Berrick already proven to be more accomplished than Elton, or even Gits? And what about that man Matty Rogers.  A freak for sure, did he ever really get to show it off at ten for the Wallabies? Join the discussion both below and at the forum, and don't forget to vote!
[poll id="50″]